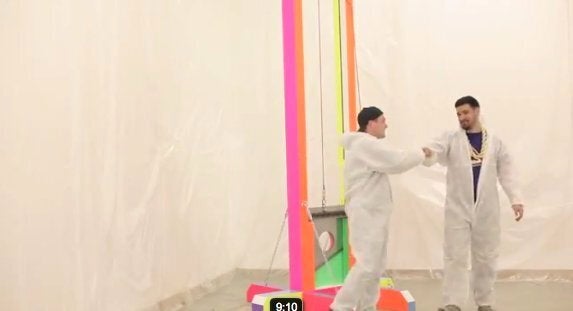 An anonymous buyer from the U.S. has purchased a homemade guillotine from two German art students for $2.3 million. The guillotine was the centerpiece of a wildly viral online art project, in which the artists planned to decapitate a live sheep if enough online votes were cast in favor of its death.
Last week, The Huffington Post ran the initial story involving the art students and the online vote. They'd set up a website with a simple video explaining the project, showcasing the colorful guillotine and introducing the world to their lamb, which would either live or die when voting ended.
In a previous e-mailed statement, the artists said they were taking on "the role of the executioner, sacrificing their own desires and ethics for the good of the majority." And the project, they said, simply made them "instruments of democracy."
A spokesperson for the artists, Iman Rezai and Rouven Materne -- both of whom are students at Berlin's University of the Arts -- would only say that the guillotine's buyer was "a private art collector from the USA" who had heard about the project through the media. Apparently there had been a number of inquiries to purchase the guillotine, but the artists wanted to wait it out until the "voting period" for killing the lamb had finished.
"But for the young artists, this is a surprising big deal," the spokesperson said. "So they sold."
The buyer has not yet decided whether he will lend out the guillotine for exhibitions, or whether he will let the voting period on the lamb's life run out.
The spokesperson said: "He bought it because of the art. Also, it is a fact that it might be a way to save the sheep's life."
This news coincides with German authorities stopping a planned performance art piece involving the strangling of puppies. The Guardian reported that an unidentified artist had "planned to use cable ties to strangle the dogs, followed by a brief meditation accompanied by funeral procession music and a giant gong."
The project was meant to be a protest against the killing of sled dogs in Alaska and hunting dogs in Spain.
Watch the initial "Making Of" video for the guillotine: