Enjoy, and avoid the dread of holiday bloat, with these easy guilt-free tips below:
1) Exercise the morning before your feast and walk afterwards:
Gyms and yoga studios offer special classes on holiday mornings. Do an extra long workout. Your digestion and weight goals will thank you. Grab a loved one, or five, for a post-dinner stroll, doing this before dessert is even better!
2) Eat Bitter. Drink Bitter.
If alcohol is involved, choose a bitter apertif or digestif to help you digest the large amounts and varieties of fare you will consume. Add bitter endive, radicchio or daikon to your salad mix. Start your feast with this. Bitter helps to digest heavy, fatty foods.
3) Take a Break Before Dessert:
Drag your feast and fun out as long as possible. Give your digestion a chance to recover from dinner before you dive into Auntie Olivia's pumpkin pie, mom's chocolate cake, and your best friend's apple crisp a la mode. One hour between dinner and dessert is ideal.
4) Eat Slowly and Chew Your Food:
Seems obvious right? Not so easy when you are used to speed-eating, trying to mingle with long lost loved ones and want to experience all of the 50 dishes on the table at the same time.
Don't shovel the food in, chew, chew, chew! Put your fork down between bites. This is vacation. Relax. Your stomach will have a chance to recognize it's full, you will be less likely to overeat and fit into your work clothes on Monday.
5) More Greens. Less Potatoes:
Pumpkin, potatoes, and squash are heavy veggies and sit like rocks in your gut if you eat too many. Save your starch fest for your favorite pick or two on the table and save the rest of the space for some green veggies which have more fiber. You will give extra thanks for this the next day. Trust me.
6) Blood Orange & Pomegranate Cranberry Sauce (Sugar Free):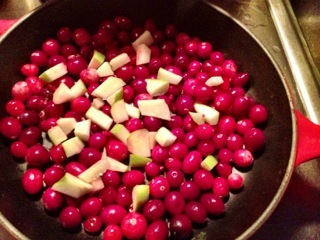 Wow your loved ones with this tasty gourmet cranberry sauce recipe.
It's very easy to make and uses seasonal fruit. It's sugar-free. Add a dash of rum if your family would approve.
7) Root Vegetable Mash (Ditch the Boring Mashed Potatoes)