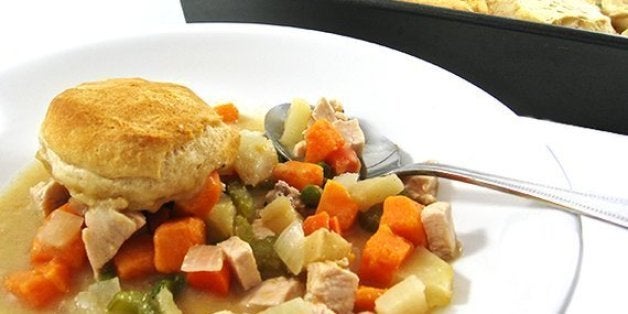 This is such a delicious and decadent tasting comfort food recipe. Perfect to make with turkey leftovers after Thanksgiving. Or, you can use chicken and make it anytime! Besides turkey, it's loaded with veggies, potatoes and butternut squash. Each skinny serving has 266 calories, 6 grams of fat and 7 Weight Watchers POINTS PLUS. Your family will love, love, love this fabulous pot pie. It freezes great too!
Prep Time: 25 minutes
Bake Time: 32 minutes
Ingredients

3½ cups Swanson's reduced-sodium chicken broth, divided
2 cups butternut squash or sweet potatoes, peeled and cubed (½ inch cubes)
1½ cups potatoes, peeled and cubed (½ inch cubes)
1½ cup carrots, peeled and chopped1½ cups celery, sliced
1 tablespoon fresh garlic, minced
3 cups turkey breast or chicken, cooked and diced, see shopping tips
¾ cup frozen peas (un-defrosted)
¼ teaspoon fresh ground black pepper
1 pkg. Pillsbury Golden Layer Flaky Biscuits (100 calories for each biscuit), see shopping tips
1. Preheat oven to 350 degrees. Coat an 13 x 9 inch baking dish with cooking spray and set aside.
2. In a large pan, add 2¾ cups chicken broth, butternut squash, potatoes, onions, carrots, celery and garlic. Bring to a boil over medium high heat. Reduce heat, cover and simmer for 8 minutes, until soft. Add diced turkey and frozen peas, breaking them up. Bring back to a boil, turn heat to simmer, cover and cook for 5 minutes. Place a colander into a large bowl. Pour turkey, vegetables and broth into colander. Add strained broth back to the pan. Set aside bowl of turkey and vegetables.
3. In separate small bowl, add flour. Gradually add milk to flour, stirring with a whisk, until well blended.
4. Increase heat to pan of broth to medium and stir in remaining broth. Using a whisk or fork, stir in milk and flour mixture. Cook for 5 minutes or until thicken. Stir often.
5. Add back turkey and vegetables. Mix in thyme, sage and black pepper. Mix well. Pour turkey stew into the 13 x 9 inch baking dish. Cover with foil and bake for 15 minutes. Remove from oven and remove foil.
6. Open the package of biscuits, separate them and place on top of turkey stew. Line them evenly over the top.
7. Place pot pie back in oven and bake, uncovered, for 14-16 more minutes until biscuits are golden brown.
8. To serve, spoon about 1 cup into each bowl and top with 1 biscuit. You'll have 2 extra biscuits!
Serves 8 (each serving ⅛ of recipe, 1 biscuit and about 1 cup turkey stew)
Shopping Tips
Pillsbury Biscuits are sold in most large supermarkets in the refrigerated section where they display all the "ready to bake" items. Look for ones that have 100-110 calories a biscuit.
If you don't have leftover turkey and you're lucky enough to have a Trader Joe's, I love using their packages of fresh cooked and sliced turkey breast. So easy and yummy to add to any recipe that calls for cooked turkey. Or use chicken for this recipe if you don't have access to turkey.
Weight Watchers (old points) 5
Weight Watchers POINTS PLUS 7
SKINNY FACTS: for 1 serving (1 biscuit and 1 cup turkey stew)
266 calories, 6g fat, 24mg chol, 16g protein, 39g carbs, 5g fiber, 988mg sod, 7g sugar