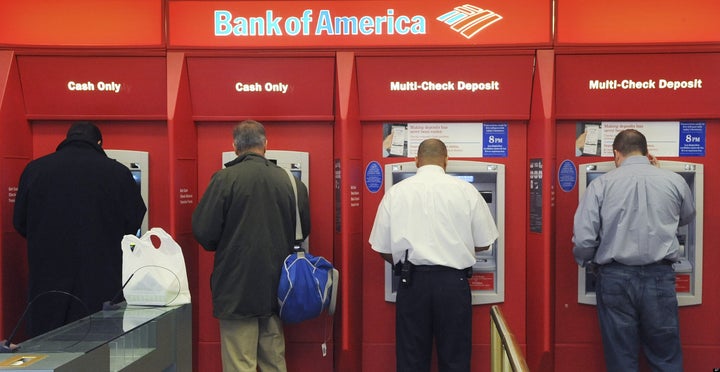 On October 19, 2010, The Huffington Post reported on the federal criminal prosecutions of Vance Moore II and Walter Netschi arising from allegations of their fraudulent sales of investments in Automated Teller Machines ("ATMs"). As reported in that earlier story, from 2005 to January 2008, Vance Moore II and Walter Netschi solicited over $80 million worth of investments in ATMs purportedly placed in various retail locations around the country, including convenience stores, gas stations, malls, and hotels. Moore and Netschi claimed that the ATMs would generate revenue streams for their investors based on fees charged for withdrawals of cash. Moore and Netschi entered into contracts with investors representing that the investors collectively had purchased over 4,000 ATMs.
Okay, so, you know, it doesn't sound like that bad an opportunity. Those ATMs are all over the place and folks really seem to flock to them for cash.
Of course, come on now, why the hell would I be writing about this investment if something hadn't gone wrong?
Talking about something going wrong, how about we simply start with the fact that approximately 90 percent of the machines sold to the victims (at this point, I think I'll stop referring to those folks as "investors" and call them "victims") either did not exist or were never owned by Moore or Netschi. Ah yes, a mere trifle, a little detail, as it were. To further the fraudulent scheme, Moore transmitted monthly reports and monthly payments to the victims relating to their investments in the ATMs. The reports actually contained false information and the payments were not revenues from ATMs, but were simply monies received by Netschi from new investors. Can anyone spell P-O-N-Z-I?
Apparently, not all the victims were easily duped. Some of them noticed discrepancies in the reports or asked too many questions. In response to such queries, Moore apparently told some whoppers. For example, in the fall of 2006, a victim visited the location of an ATM in Florida that he thought he had purchased from Netschi's company and that was purportedly being serviced by Moore's company. The investor could not find the ATM and was informed by the hotel where the ATM was supposedly located that no such ATM existed. Moore then falsely represented to the investor that the ATM in question had been relocated elsewhere in Florida. Now, how would I imagine some of Moore's artful deflections went? How about: Oh, that ATM? Oh, that's not there anymore. We moved it. Where? Oh, either it's in Disneyworld in Epcot or in the middle of the Everglades. I'll get back to you on that.
In reality, Moore and Netschi did not use the victims' funds to purchase ATMs, but rather used the money to further the fraudulent scheme and to enrich themselves. Reality can be a bummer! Seems that there has been lots of self enriching going on the past few years. Nice work, if you can get it.
Alas, our tale comes to a familiar ending. On September 21, 2010, Moore, 55, of Raleigh, North Carolina, and Netschi, 62, of McKinney, Texas, were indicted on one count of conspiracy to commit wire fraud and nine counts of wire fraud. Each count in the Indictment carries a maximum potential penalty of 20 years in prison and a fine of the greater of $250,000 or twice the gross gain or loss derived from the offense. The indictment also seeks $80 million in forfeiture from Moore and Netschi.
On October 18, 2010, Vance Moore II plead guilty in Manhattan federal court before U.S. District Judge Thomas P. Griesa . Moore, 55, of Raleigh, North Carolina, faces a maximum penalty of 200 years in prison, and a fine of over $2,500,000. Moore has also agreed to a money judgment of $50 million and to specifically forfeit his right, title, and interest in properties located in North Carolina and Florida.
Netschi did not plead and proceeded to trial in order to contest the allegations at trial. He faces the same penalties as Moore.
After a three-week trial presided over by U.S. District Court Judge Thomas P. Grisea, on November 12, 2010, Netschi was found guilty by a federal jury on all ten counts of an Indictment charging him with wire fraud conspiracy and wire fraud. Netschi faces a maximum penalty of 200 years in prison, and a fine of over $2,500,000, in addition to forfeiture of the proceeds of the crime. He is scheduled to be sentenced on March 2, 2011.
Netschi's associate Vance Moore II pled guilty to all ten counts in the Indictment prior to trial on October 18, 2010. He is scheduled to be sentenced on January 20, 2011.
Related
Popular in the Community