This article is part of HuffPost's Project Zero campaign, a yearlong series on neglected tropical diseases and efforts to fight them.
JUBA, South Sudan ― It took days for Maker Achuil and others to slowly pull the arm-length, spaghetti-like worm out of his thigh. After a year with the white parasite inside him, Achuil screamed in pain as the grown Guinea worm emerged.
A former soldier in South Sudan, which fought for decades before gaining its independence from Sudan in 2011, Achuil still shudders at the memory of the agony he felt as the worm was gradually wound around a stick.
"It was like putting a cigarette out on your leg ― for days," said Achuil, rolling up his trouser to show the scars from the burning fluids the worm excreted as it burrowed out to breed. "It made you exhausted, but you were in too much pain to sleep. All you wanted to do was swim in the lake to cool the pain."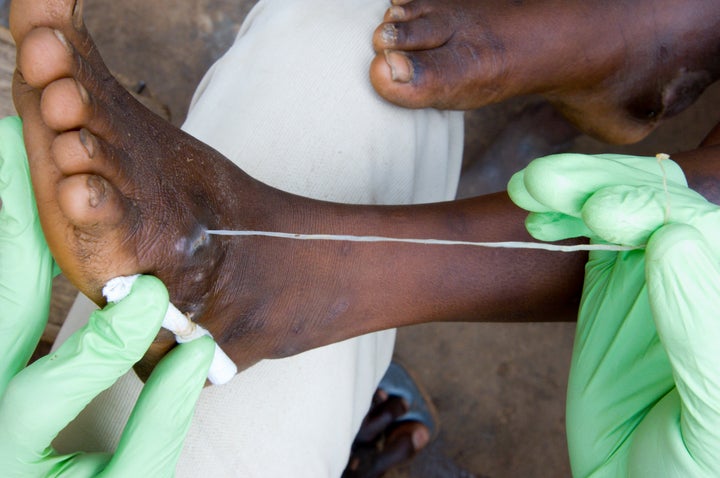 The worms, which resemble stretched chewing gum, lay their microscopic young in stagnant water. People drink the water and ingest the worms, which grow and mate inside the host for about a year. The male dies and the female starts to dig its way out through the human host's flesh. When that person submerges the affected area in water, say, to bathe or to dull the burning pain, the worm spews out its young.
Guinea worm disease was once common across Africa and Asia, with an estimated 3.5 million cases in 1986. But in the mid-1980s, the global health community launched a campaign to eliminate the disease, and today it's limited to pockets of Africa.
Last year only a handful of cases were reported in three countries ― Chad, Ethiopia and South Sudan ― and health experts are confident they can finally slay the worm for good. The fight in South Sudan, once a stronghold of the crippling parasite, could be won soon, despite a brutal civil war that has engulfed that country since 2013.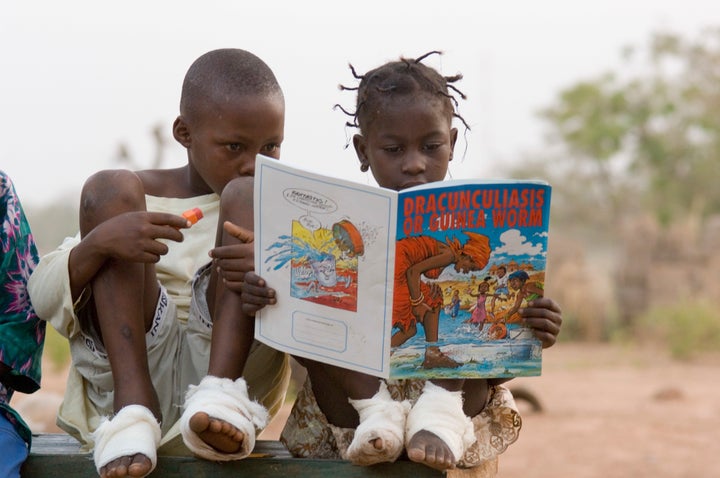 "We are on the very edge of breaking transmission in South Sudan," said Makoy Samuel Yibi, who heads the worm eradication program at the nation's ministry of health. "We are in sight of the end."
Scientifically, the worms that infect humans are known as Dracunculus medinensis. Historians believe it has been around since ancient times and is mentioned in the Bible's Old Testament as the "fiery serpent."
If the Guinea worm is made extinct, it would represent the very first parasitic disease ever to be eradicated, and only the second human disease to be wiped out (after smallpox).
Yibi, a soft-spoken man, has dedicated his life to ending this parasitic disease. The health official remembers how in his home village of a few hundred people, at least 50 individuals every year were so debilitated by the pain of the worms that they could not farm their fields.
"It tormented people, deformed them, but they did not talk about it," he said.
Now across South Sudan, the local efforts led by Yibi have driven down the number of cases by over 90 percent in the past three years. Just six cases were reported in 2016, compared to 70 cases in 2014.
Ethiopia saw only three cases last year, and Chad was hit with just 16.
"The progress we have seen in restricting Guinea worm disease to these few cases in only three countries is a testament to the dedication of people in endemic areas to caring for their health and that of their communities," said Dr. Dean Sienko, vice president of health programs at the Carter Center.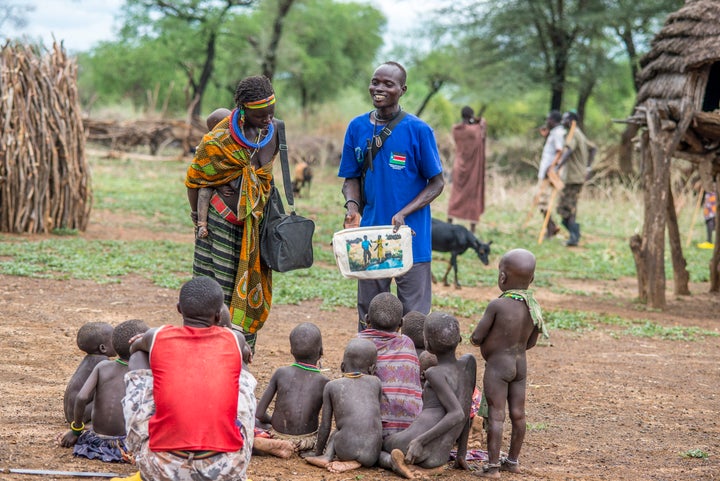 The Atlanta-based center ― which was founded by former President Jimmy Carter and his wife, Rosalynn ― has helped coordinate the decades-long global campaign to finally wipe the disease from the world map, including brokering a legendary three-month ceasefire in 1995 in what is now South Sudan to make sure the Guinea worm eradication program would survive.
"People have lived with this for generations," Yibi said. "We are hoping that in 2017, we will probably get to zero."
While there is no direct medication for the disease, the worm's breeding cycle can be broken by ensuring that infected people do not enter bodies of water ― especially those used for drinking water ― while the worm is working its way out of the skin.
The cycle can also be broken by giving people access to cleaner water sources or by cleaning the water before they drink it. In South Sudan, people have been encouraged to use water filters to avoid swallowing the worm's eggs.
It has been a long, hard process, said Yibi, but "now when I go back to a village where Guinea worm was once common and ask if there are cases, the people shout, 'No! We don't want to even hear its name. That is dead and gone to us.'"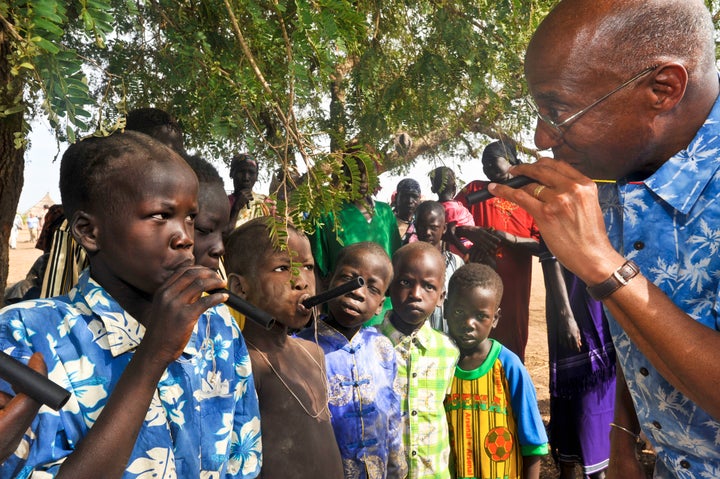 Ironically, even as so many other species face extinction due to humankind's excesses, this human-reliant species is finding new ways to survive. In Mali, which last year reported no Guinea worm cases for the first time in 25 years, health workers have found dogs infected with the parasite. The worms have also been boring their way into dogs in Chad.
Still, health experts remain optimistic.
Dr. Donald Hopkins is the architect of the Guinea worm eradication campaign that started in the 1980s. He serves as the Carter Center's special adviser on Guinea worm and also worked on the campaign to end smallpox. Those infections in animals are just "another puzzle to be solved," he said.
"We've navigated plenty of challenges, including wars, over the 30 years we've been working to eradicate Guinea worm," Hopkins said.
The worm's centuries of agonizing pain may soon be consigned to history.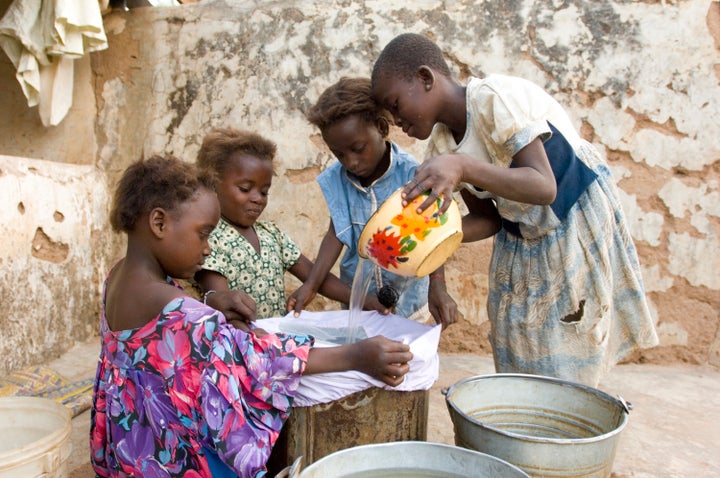 The Carter Center is the recipient of grants from the Bill & Melinda Gates Foundation, which also supports this HuffPost series. All content is editorially independent, with no influence or input from the foundation.
If you'd like to contribute a post to the series, send an email to ProjectZero@huffingtonpost.com. And follow the conversation on social media by using the hashtag #ProjectZero.
Before You Go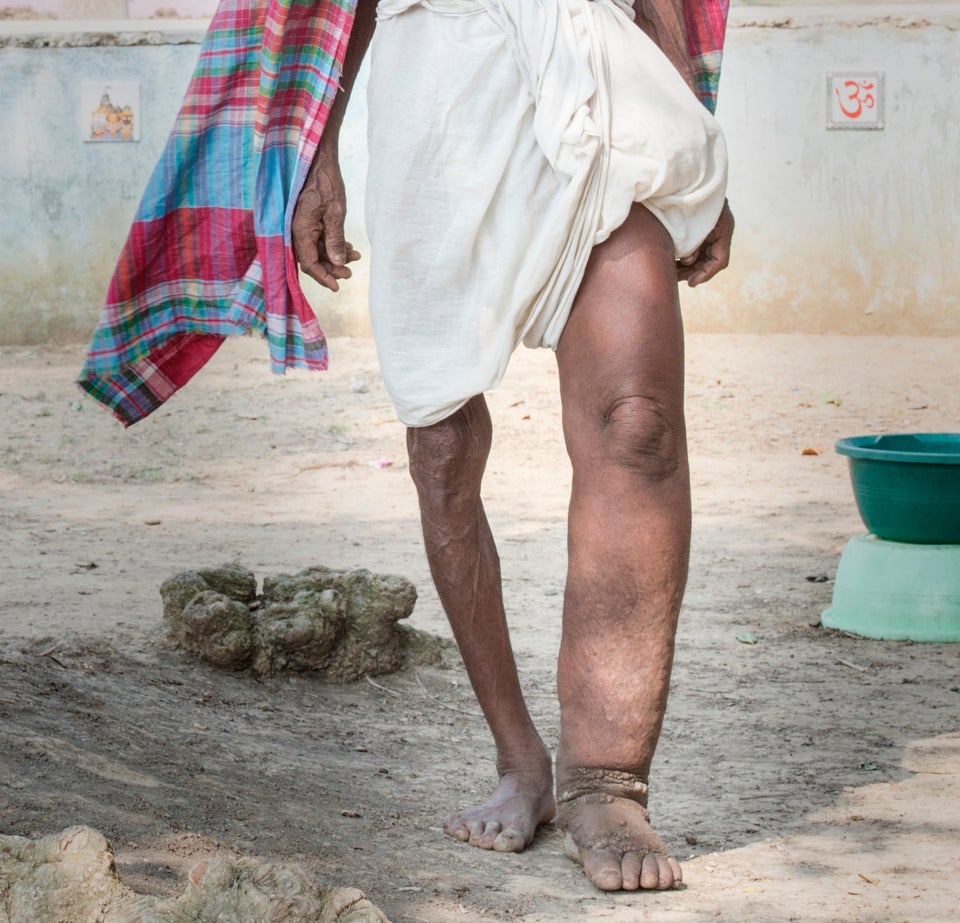 Neglected Tropical Diseases
Popular in the Community