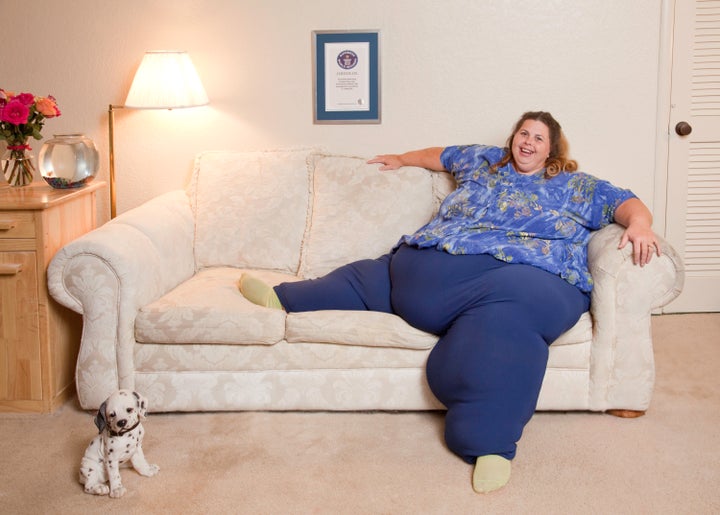 Pauline Potter has found the ultimate motivation to go on a diet.
The 47-year-old woman from Sacramento, Calif., tells HuffPost Weird News that she has accepted the title as "World's Heaviest Woman" so that she can come to terms with the fact that she currently tips the scales at 643 pounds.
Potter's amazing story will be featured in the 2012 Guinness World Records, which will be released Sept. 15. The new book will feature a section on "Extreme Beauty."
PHOTOS: LIVING LARGE (Story Continues Below)
PHOTO GALLERY
Living Large
Simpson entered the Guinness book as the world's heaviest mother. She weighed in at 532 pounds when she gave birth to her daughter, Jacqueline, in 2007. A team of 30 doctors assisted in the procedure.
Eman, a native of Case Grande, Ariz., claims to weigh 728 pounds. However, she has not verified that distinction with Guinness officials.
Potter says she isn't looking to turn her fat into fame -- at least not in the long run.
"I did a lot of thinking about this," Potter told HuffPost Weird News. "I called Dr. Phil, Dr. Oz, Oprah -- and no one would help. I didn't want to call Guinness, but I thought this was the only way to get my story out so I could get help."
Potter says that obesity runs her in family. "My father was 600 pounds at one point and my mom weighed 400," she said.
Still, she does not want to blame her condition on genetics.
"I do have a sweet tooth," she said. "I love Haagen Dazs and a pint is nearly a thousand calories. But, to be honest, my son eats more than me and weighs less so I think I also have a slow metabolism."
A Guinness representative says Potter came forward not for fame, but in hopes of getting help to lose weight.
"[Potter's] reason for getting in touch with Guinness World Records was to gain public attention for her situation, in the hope that a doctor or nutritionist would see her story and want to help her lose weight," the representative said.
Potter describes herself as a single mother raising a teenage boy. Although she is currently unemployed and collecting disability and Medicare, she hopes to get well enough that she will be able to attend school and finish her nursing degree.
Although some have suggested that the inclusion of records such as "World's Heaviest Woman" encourages unhealthy behavior, the Guinness rep says the organization is simply "chronicling the extremes in the existing world around us, which include this particular human body category."
Guinness recognizes 1,200-pound Rosalie Bradford as the heaviest woman in history. She was 63 years old when she passed away in 2006.
"Our job is to be the arbiter of records," the representative said. "This is not a record we are encouraging anyone to break, however, because of the severity of her health crisis. Of course we are hopeful that her story will be heard and that she will obtain medical help she needs."
If all goes well for Potter, she will be a true one-hit wonder, as far as Guinness is concerned.
"Nothing would make me happier than to not be in the book next year," she said. "I want to dance, ride a bike. I don't want to be like the other women who are gaining weight on purpose. I am existing, not living."
WATCH:
Calling all HuffPost superfans!
Sign up for membership to become a founding member and help shape HuffPost's next chapter