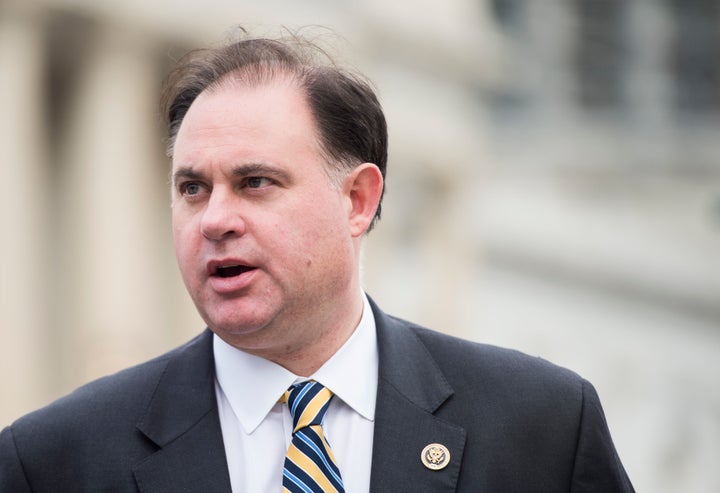 WASHINGTON ― Rep. Frank Guinta (R-N.H.) doesn't seem to have learned his lesson when it comes to claiming his parents' money as his own.
Now Guinta is going a step further. In his latest financial disclosure, obtained first by the Union Leader, Guinta is once again claiming the $355,000 he paid back, ostensibly to his parents, is actually his own asset.
"Rather than refunding the $355,000 in illegal excessive contributions Frank Guinta received from his parents back to his parents, he has instead kept the money himself," Fergus Cullen, former chairman of the New Hampshire Republican Party, alleges in a letter to the FEC.
"It was plainly not the Commission's intent for Guinta to keep the money personally or recycle the illegal excessive contribution he received from his parents back into his campaign committee a second time. Indeed, Guinta is thumbing his nose at the Commission," Cullen wrote.
Cullen told The Huffington Post on Tuesday that he believes the FEC made a mistake in not specifying that Guinta had to repay his parents. "It says refund the money, but it doesn't specify who the money needs to be refunded to," Cullen said.
But Guinta's campaign manager, Jay Ruais, told HuffPost that Guinta has done "exactly" what was required of him.
"To suggest anything else is simply inaccurate," Ruais said. "The loan was refunded to the Guinta Family Fund on which he has been a signatory since 2010, along with his parents. Not a single thing has changed. Granite Staters recognize this, and no amount of politically charged complaints or opinions can change these facts."
Ruais told HuffPost on Tuesday that Guinta had made documents available to reporters in 2010 showing that over the years, Guinta had contributed more than the $355,000 he drew from the account in 2010. Ruais declined to share those documents with HuffPost.
But this isn't exactly a he-said, she-said situation. Guinta's story is at odds with the FEC's findings. A general counsel's report notes that "substantial credible evidence" indicates the money was not Guinta's, and despite all of the supposed evidence Guinta claims to have proving that he contributed significant amounts to the joint account, he accepted the FEC's conciliation agreement stating that he took excessive contributions.
(The contribution limits for a couple are $5,400 for a primary contest and $5,400 for a general election.)
Moreover, when Guinta showed up to a meeting with the Union Leader in 2015 to prove that he had done nothing wrong, he produced documents showing that he maybe had contributed approximately $100,000 to the account, claiming that if one had invested that money in, say, an S&P 500 Index fund ― which isn't to say that his parents did ― that money could have grown to more than $400,000.
Guinta also admitted during that meeting that his parents paid taxes on what he claims was his money.
Fuzzy math aside, Guinta hasn't been reprimanded in any significant way for his actions. He paid the $15,000 fine to the FEC, repaid the $355,000 to the "Guinta Family Fund," and was promoted to the Budget Committee less than a year later.
GOP leaders did nothing about Guinta's transgressions. Reporters twice asked former Speaker John Boehner (R-Ohio) whether there would be any repercussions for Guinta ― Sen. Kelly Ayotte (R-N.H.) and state GOP Chairwoman Jennifer Horn both called on Guinta to resign last year ― and twice Boehner said he was still looking into the matter. Boehner resigned without ever ruling on the issue.
Speaker Paul Ryan (R-Wis.) has similarly been silent.
HuffPost has asked Ryan's office for comment on Guinta multiple times. To this day, we've received nothing.
Ryan's chief communications adviser, Brendan Buck, did not respond to repeated requests for comment Tuesday on whether Guinta's latest conduct was the sort of behavior the speaker expects from his members, and earlier this year, Ryan's office would not comment on whether it was appropriate for Guinta to literally run away from reporters. (Guinta fled when HuffPost began asking him questions regarding the money.)
Cullen has an additional complaint with the FEC, claiming that Guinta, in effect, paid himself twice for a portion of the $355,000. Before Guinta reached his agreement with the FEC, his campaign paid him $81,500 as a loan repayment (back when Guinta was claiming ― as he is now, technically ― that the money was his).
His campaign canceled his remaining debt and reclassified the entire $355,000 as a new debt to the "Guinta Family Fund." 
By not reimbursing his campaign, Cullen alleges, "Guinta has illegally received and retained $81,500 in contributions to his campaign for his personal use."
"In effect, he paid himself this amount twice," Cullen continued.
Cullen also claimed on Tuesday that Guinta may have violated elections laws by mixing primary campaign and general election funds to repay his debt, and that there was now a potential tax investigation related to the $81,500. 
"He's never released his taxes either," Cullen added.
Calling all HuffPost superfans!
Sign up for membership to become a founding member and help shape HuffPost's next chapter