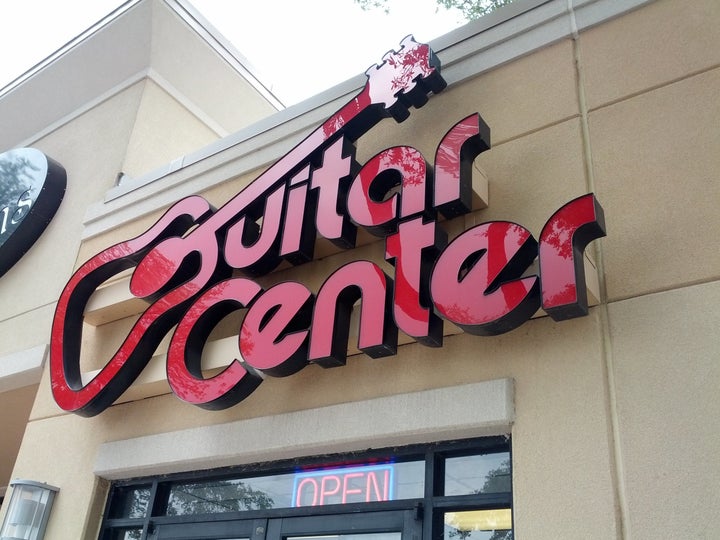 Employees of the music equipment retailer Guitar Center have been told they must sign mandatory arbitration agreements or they will lose their jobs.
The agreement, a copy of which was obtained by The Huffington Post, forces employees to relinquish their rights to sue the company in class action lawsuits over wage violations, workplace discrimination and unjust firings, among other disputes.
Sean Lynch, a sales employee at the company's Las Vegas store, said he and his colleagues were told they must sign the agreement by end of day Friday or they forfeit their jobs.
"It was imposed on us and we have absolutely no choice," Lynch told HuffPost.
Arbitration agreements have become highly controversial for the way they hamstring employees and weaken their legal power. By sending disputes to an arbitrator, they force workers to pursue their claims individually and outside of court, preempting any collective action. And even though they're supposed to be neutral third parties, arbitrators are often cozy with the companies that workers are squaring off with, as The New York Times detailed in a recent series.
A Guitar Center spokeswoman said the company declined to comment.
Corporations are increasingly demanding that employees and consumers agree to mandatory arbitration, whether signatories realize it or not. Nowadays, the clauses are often tucked into welcome packets as boilerplate for new hires to sign. But in the case of Guitar Center, it appears the new policy is being imposed suddenly on longtime employees like Lynch, who says he's worked for the company for seven years.
The Las Vegas resident said he and his co-workers learned about the agreements in December when they signed in to do routine computer training. The PowerPoint-style sessions are usually devoted to matters like music equipment or workplace safety, he said. But in this case, the session was all about arbitration, and why it was good for the company and the worker.
In a question-and-answer sheet on the new policy, Guitar Center says that going to an arbitrator is "less costly, less formal, friendlier and faster" than going through the courts. The document assures a "fair and impartial process," and notes that Guitar Center will pick up the tab for the arbitration (though not for the employee's lawyer, if he or she chooses one). The company is clear that the agreement is mandatory:
As a condition of new or continued employment, all new and current associates are required to electronically acknowledge and agree to be bound by the Arbitration Program and related agreement.
Lynch said he has been circulating a petition in his store that he intends to submit to management on Friday. He plans to sign the arbitration agreement, but not without protest. He said he can't afford to lose his job.
"My main concern with it is that it's 'do it or else,'" Lynch said.
Guitar Center has been wrapped up in a nasty labor dispute with the Retail, Wholesale and Department Store Union, which provided the arbitration documents to HuffPost. In 2013, RWDSU won elections at three Guitar Center stores, including Las Vegas, but the union is still without a contract at any of them. The general counsel of the National Labor Relations Board accused the company of refusing to bargain in good faith, leading to a recent two-week trial. A decision hasn't yet been issued.
Liz Vladeck, a lawyer with Cary Kane LLP who represents the union, said she questions the legality of Guitar Center requiring its employees to sign such a document. Although federal courts have ruled different ways on the issue, the NLRB has declared that such mandatory agreements illegally infringe on a worker's right to "protected concerted activity" with colleagues.
While Guitar Center's agreement says workers can still pursue certain claims, such as unemployment insurance or workers' compensation, the language rules out a strikingly broad array of situations -- including "any other violation of federal, state or local law."
"We're analyzing the agreement in light of the labor board's recent cases. We're considering filing a new charge and pursuing a new round of action," Vladeck said. "What's great is a lot of workers have been individually protesting. They're organizing themselves."
Related
Popular in the Community