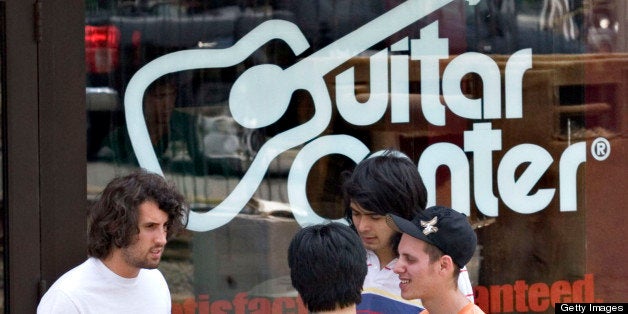 Ernest Hampson has been working at Guitar Center for six years, not a brief span in the world of retail. During that time, the 26-year-old Brooklyn resident said he's seen a pattern emerge for many workers at the nation's largest music equipment retailer.
"Guitar Center workers are doing more work, and they're getting paid less for it," said Hampson, an assistant manager at the retailer's Brooklyn location.
Citing what they describe as deteriorating working conditions, Hampson and other dissatisfied Guitar Center workers in New York City are in the midst of a unionization effort. The Retail, Wholesale and Department Store Union (RWDSU), a powerful labor union in the metro area, recently filed an election petition involving the retailer's flagship store in Manhattan.
Although Guitar Center has fended off unionization efforts in the past, the latest campaign appears formidable. The union has acquired election authorization signatures from roughly 80 percent of workers in the expected bargaining unit in New York. According to RWDSU, Guitar Center has hired the well-known and pricey union-avoidance firm Jackson Lewis.
A Guitar Center spokesman said the company wouldn't comment on the union campaign or publicly discuss employee pay policies out of legal concerns.
The primary worker grievance is fairly standard for the modern retail industry: Employees like Hampson say they don't earn enough money to get by. What makes the Guitar Center case more novel -- and what union organizers are happy to point out -- is the fact that a controlling stake of the private company is now owned by Bain Capital, former GOP presidential candidate Mitt Romney's old firm, which found itself at the center of a national discussion last year on how much private equity helps or hurts working-class people.
"The campaign is important because it typifies what has happened in our economy, where it's workers bearing the brunt of Bain's acquisition desires," said Stuart Appelbaum, president of RWDSU. "I think that what happens to workers at Guitar Center is symbolic of what's happening to retail workers across the country ... Every retail worker should be concerned about this fight."
A spokesperson for Bain did not return a call seeking comment.
According to Appelbaum, a handful of dissatisfied Guitar Center employees first approached the union about representation in 2012. Although Appelbaum declined to discuss union strategy, it appears that if RWDSU can manage to unionize much of the New York workforce, it will take its efforts to other Guitar Center locations.
Even though he's an assistant manager, Hampson makes the legal minimum wage of $7.25 per hour plus commission. But he doesn't actually see that commission until he's sold a certain amount of product against his base pay -- a process known internally as "fading" against the minimum wage.
Hampson said commission rates have fallen for new hires since the Bain takeover. Hampson's own rate has not dropped, since he was grandfathered in as a veteran, but he said his money isn't going as far as it used to. His gross earnings were roughly $25,000 last year, he said.
"It's very stressful," Hampson said. "I've been doing it long enough to know how much I'm making on each sale."
According to employees, managers in New York have also been pressuring workers to sell more extended warranties, the add-on plans that give customers peace of mind beyond the manufacturer's guarantee. Retailers love these extra plans -- a trade journal once pegged it as a $16 billion sub-industry -- as they come with huge profit margins. According to an article in The Economist, if the product breaks within the warranty period, repairs tend to be cheaper than the warranty itself. And in most cases, they don't break.
Anim Arnold, a pro-union employee at Guitar Center in Manhattan, told HuffPost that when he was hired recently he was told his commission could be docked if he didn't hit certain goals on selling extended warranties. That hasn't happened yet, but he said the warranties aren't easy to sell. Many customers seem to understand the economics at play.
"It's something not everyone wants to buy," said Arnold, who also must fade against his base pay of minimum wage. "I try my best."
Started in 1959 in Southern California, Guitar Center now has 244 stores in 44 states and racked up net sales of $2.1 billion last year, according to SEC filings. Carrying guitars, amplifiers, drums, keyboards and audio equipment, the company's stores have long been a staple for musicians throughout the country, with band members found on both sides of the sales counter. Launching an online petition to support the union effort, RWDSU has enlisted progressive, labor-friendly artists to lend their names to the cause.
Indeed, the workforce tends to draw musicians and music lovers, some of whom are just looking for part-time cash, but many of whom, like Hampson and Arnold, are trying to make a living at it. Typical of the sales staff, Hampson's Guitar Center bio page notes an expertise in Gibson guitars, as well as his leanings toward The Mars Volta, Queens of the Stone Age and Deftones. Outside of work, he's one half of a 2-piece stoner rock band called "Natural Strangers." ("Born in the heart of a dying star, deep in the cosmos," reads the band's Facebook bio.)
Bain Capital bought Guitar Center in October 2007 for $2.1 billion, including debt, with Goldman Sachs serving as an adviser on the purchase. The retailer's parent company, Guitar Center Holdings, is now carrying a heavy debt load of $1.6 billion, according to filings. "We are highly leveraged," the company noted in its most recent annual report. Moody's downgraded the company's credit in 2010. Like all brick-and-mortar retailers, Guitar Center is facing more and more competition from online sellers like Amazon, not to mention big-box stores that now carry music equipment.
Those challenges notwithstanding, Appelbaum argued that the company can afford to pay its employees more. "If retailers can only operate by keeping their workers in poverty, then there is something drastically wrong," he said.
Retail sales is now one of the most common jobs in the U.S., as well as one of the lowest-paying. There are roughly 4.4 million retail salespeople throughout the country, but the median pay for such positions in 2010 was $20,990, or $10.09 per hour, according to the Bureau of Labor Statistics. Many retail workers who are stuck part-time go without health coverage or sick leave. Turnover tends to be very high, with many workers disappearing after months or even weeks.
Dissatisfied with stagnant wages, hundreds of retail workers in Chicago went on a one-day strike on Wednesday, calling for a living wage of $15 an hour and the right to unionize without interference.
According to Hampson, he and most of his Guitar Center colleagues appreciate their jobs, relishing the opportunity to be around other musicians and cool gear all day, "like a kid in a candy store." But at the end of the month, none of that helps him cover his rent in New York City.
"We're in this job because we love it," Hampson said. "We just wish it loved us back a little more."
HuffPost Readers: If you're making $10 an hour or less, we want to hear about how you're getting by: the strategies you're using to cope, the things you're cutting back on, the programs you're relying on, or whatever else you want to share.
Give us a call at 408-508-4833, and you can record your story in your own words. Please be sure to include your name and phone number. Or you can send us a note at openreporting@huffingtonpost.com. We will never publish your name or any identifying details without your permission.
Calling all HuffPost superfans!
Sign up for membership to become a founding member and help shape HuffPost's next chapter
BEFORE YOU GO
PHOTO GALLERY
Countries With A Higher Minimum Wage Than U.S.