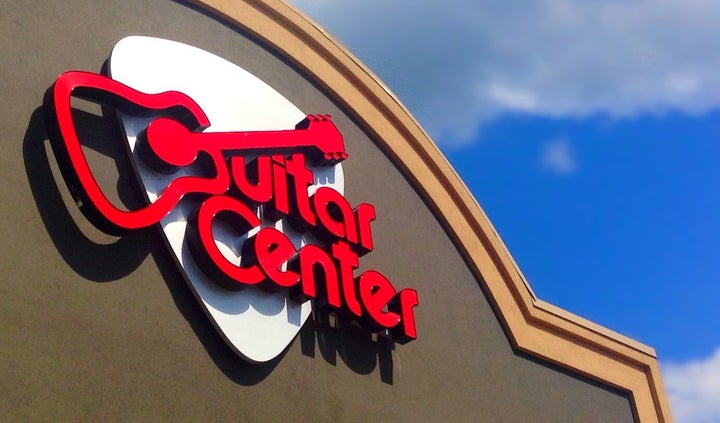 Last year, Vanessa Pettit and many of her colleagues at the Guitar Center store in Independence, Missouri, declared their intention to unionize. The workers had read articles online about a labor group, the Retail, Wholesale and Department Store Union, that was organizing other Guitar Center stores in New York and Chicago. They had some meetings with the union. They wanted in.
Once workers signed union authorization cards and submitted them to management, the atmosphere in the store quickly changed, according to Pettit. With a union election now looming, the laid-back relationship they previously had with management suddenly got rigid. Supervisors no longer hung out with rank-and-file store employees outside of work the way they used to, she said. And soon, a man from Delaware started holding meetings with workers in the store.
His name was Michael Ciabattoni. A barrel-chested former Teamster turned consultant, Ciabattoni was apparently brought in to help Guitar Center combat the unionization campaign. The sort of work Ciabattoni does goes by many names. Ciabattoni himself simply calls it labor relations consulting, a way to help workers make informed decisions about unionizing. But it is sometimes euphemistically referred to as "union avoidance" work. More pejoratively, unions like to call it "union-busting."
Whatever you call it, Ciabattoni's message about unions was clear, judging from secret recordings provided to The Huffington Post.
"You get a voice, that's true," he says of unionizing in one recording. "Just not your own. You give that voice away."
"Unfortunately, nowadays, unions don't work with companies," he says at another point. "It's division, division, division."
Guitar Center is in the midst of an ugly battle with RWDSU, as HuffPost has previously reported. Disgruntled workers have sought out the union to help improve wages and job security at the national music equipment chain. RWDSU has successfully unionized three stores, but it has also lost two elections and pulled its petition in at least one other.
The union has accused the retailer of a raft of unfair labor practices. Last month, a regional director for the National Labor Relations Board, the agency that enforces labor law, issued a complaint against the company alleging that it had refused to bargain in good faith with the union.
The consulting work done by Ciabattoni shows just how badly the retailer wanted to snuff out RWDSU's campaign before more stores unionized.
According to Labor Department documents, Guitar Center paid $50,000 last year to a group called the Labor Relations Institute, a firm that specializes in helping companies remain "union free." As the firm's website declares, "The best defense is a powerful offense. Make your workplace impervious to union attack." The documents indicate that LRI was guaranteed half, or $25,000, of that amount. The other $25,000 would be paid out as a "bonus." That bonus was contingent on the union losing the election or withdrawing its election petition.
As other Labor Department documents show, LRI, in turn, disbursed $23,116 to Ciabattoni last year, expressly for work at Guitar Center, where his job was "to communicate to employees regarding exercising their rights to organize and bargain collectively."
"Time is of the essence in commencing work on behalf of the Company," an LRI letter to Guitar Center states. "Any delay is injurious to the Company's chances of winning the election."
These days, there is nothing unusual about a company like Guitar Center hiring consultants in hopes of persuading its workers not to unionize. But Ciabattoni's meetings with Guitar Center workers were a touch out of the ordinary, given his long and not-so-distant union past.
Ciabattoni was a Teamster for 25 years. For 17 of those years, he was an elected union officer, according to remarks he makes in the recordings. In 2012, he was accused of misusing union funds, allegations that Ciabattoni denied. The U.S. Attorney's Office in Delaware declined to pursue charges after investigating the claims. (Ciabattoni would certainly not be the first former union organizer to become a consultant on the other side; Marty Jay Levitt is a famous example.)
A Guitar Center spokeswoman said the company would not comment on the meetings with workers. When reached by phone and told someone had given HuffPost audio of his meetings, Ciabattoni said his programs were copyrighted and demanded to know who had provided the recordings. When HuffPost declined to say, Ciabattoni responded, "Do we do this the easy way, or do we do it the hard way?" HuffPost was unable to clarify what the "hard way" entails. (Ciabattoni, in a far more affable exchange later, said he could not comment for this story.)
In the audio, Ciabattoni says his primary goal is to educate the workers. He warns that the union is going to call him "every name under the sun … union-buster, the basher, the Antichrist, the devil.
"And that's fine," he continued. "The only thing they're not going to be able to call me legitimately is 'liar.' I'm going to give you some information, a lot of information, actually."
Whether or not "union-buster" is a fair term, a clear anti-union message comes across in Ciabattoni's program. Unions, he claims, have deviated from their roots and no longer operate in the interest of workers. What they are after is dues money, he says. He draws on his own personal history to make his case.
"It's a shame. It's really changed, unfortunately," he says at one point. "My family, I'm a fourth-generation American, and all four generations were union members. This generation I'm not so proud of."
A common trope used in anti-union meetings is that workers don't need a "third party" such as a union. Ciabattoni frequently hits that note, describing unions as ineffective wedges that come between workers and their companies: "They [unions] prey on emotions," he says in one instance. In another instance, he says RWDSU is "a very small and a very weak organization. ... If you did your research, you probably would have chose another union." He also says union dues are "the first thing of importance to the union."
The bottom line, Ciabattoni argues, is that unions are declining for a reason. Union density in the U.S., he notes, is down to around 11 percent.
"If unions are doing everything they claim they can do for workers, and they're cashing in on all these promises, all these pie-in-the-sky guarantees they're giving, why is unionism dropping? Why is it on such a steady decline?"
One reason for that decline, among many others, may be the consulting industry that Ciabattoni is part of. Companies like Guitar Center would not pay labor relations consultants top dollar if meetings like Ciabattoni's were not generally effective. According to a 2009 study done by Cornell labor expert Kate Bronfenbrenner and published by the Economic Policy Institute, workers who sat through anti-union meetings at work were significantly more likely to vote against the union in their election.
Ciabattoni's meetings at Guitar Center were voluntary for workers. Though it has accused Guitar Center of unfair labor practices, RWDSU has not alleged that Ciabattoni ran afoul of labor law.
Pettit, the worker from Independence, came away from the whole experience believing Ciabattoni was a wise investment by Guitar Center. She didn't care for her time with the consultant -- "That's two hours of my life I'll never get back," she said -- but Ciabattoni seemed to have a strong rapport with a group of young male workers who spent hours with him over the course of days, she conceded.
Pettit describes herself as an early and adamant supporter of the union, believing that Guitar Center had squeezed its employees for too long. She believed RWDSU had a solid majority of Independence employees in its corner when they filed for recognition. But by the time the election rolled around, Ciabattoni had likely pulled at least one "yes" vote into the "no" column, Pettit said.
In the end, a single vote determined the election. According to election results certified by the labor board in October, the union lost the election by one ballot, 11-to-10.
Dispirited by the loss, Pettit said she quit her job three weeks later. She had worked at Guitar Center for nine years.
Related
Popular in the Community