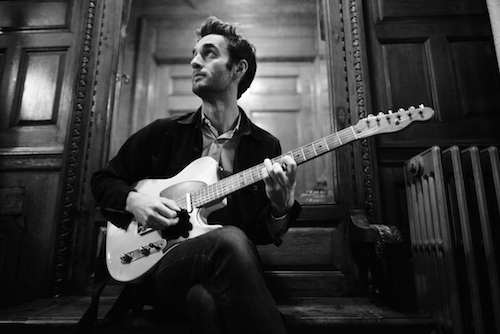 Denin Koch, Contributing Writer ZEALnyc, and Dan Ouellette, Senior Editor ZEALnyc, March 18, 2016
The last major gig guitarist Julian Lage played in New York was in October at Zankel Hall. He recently returned to the city to celebrate his new album Arclight with his steady trio mates bassist Scott Colley and drummer Kenny Wollesen at Rockwood Stage 2 for an intimate album release party.
Here he speaks about music, challenges, and his last album, the solo recording World's Fair.
Guitarist Julian Lage is no stranger to "paying his dues." In 2013, he suffered a playing injury during a live show that rendered his fingering hand entirely useless. The injury forced Lage to seek medical attention and overhaul his technique.
I honestly think that what I experienced was probably the best thing that could've happened to me,
Lage says in a recent phone interview.
At a certain point it was almost like my body just gave up and said, 'I can't do this anymore.' And I was trying to ignore it, and it just said, 'No really, I can't.'
Just two years after the injury, Lage is touring in support of his recording, World's Fair, an album comprised entirely of solo acoustic guitar on original tunes. The injury, he says, played a major role in developing the album's material.
It was actually exhilarating to think 'Wow, maybe there is a better way... maybe I could be way stronger than I ever expected as a guitarist,' so it was very inspirational. And working on World's Fair was a wonderful way to honor that and say, 'Yeah, I have to find music that I can play and isn't abusive.' And I was happy to find that the things that weren't abusive were also sounding stronger. They didn't sound abusive. So it's a correlation, you know, like if it feels good to play it might sound good to listen to as well.
With his new technique and focus, Lage sought a new level of artistry on World's Fair as well.
I was seeking to have miniature songs that functioned as little stories," he says, "maybe more so than technical studies, although, you know, each one of those has its own technical challenges. It's really just to see if it was doable.
Apparently it was. In his review of the album on allaboutjazz.com, Mark Turner calls Lage
a player with pronounced tonality and delicate touch who exudes a plethora of moods from his instrument.
Not bad for a man whose career was essentially over.
The SoCal product has been primed for musical success from a young age. Lage began his career as the subject of an Oscar-nominated film, Jules at Eight, which documented the young guitarist's unusual prowess. The childhood prodigy performed at the Grammy Awards at the age of 13. His adult years have seen similar success. His 2010 album, Sounding Point, garnered a Grammy nomination, and in 2012, Lage was awarded the Rising Star Guitarist award in the DownBeat magazine Critics Poll.
While it seems convenient to call Lage's style "jazz," the term excludes much of the virtuoso's broad experience and career. Aside from World's Fair, Lage's recent work includes collaborations with Punch Brothers guitarist Chris Eldridge and Wilco guitarist Nels Cline in duet settings. His current project finds him in an electric trio with bassist Scott Colley and drummer Kenny Wollesen in which he plays a Fender Telecaster.
[It's] a secret passion of mine,
he says in regards to strapping on the rock guitar.
Lage looks at jazz from an unexpected angle.
I would say I'm a fan, and I love improvised music and I love jazz and I love guitar. So I feel like a researcher more than anything, like I explore a little bit over here, I study this, I try to formulate it into cohesive projects or whatnot. At the end of the day, I don't feel necessarily like I'm trying to spearhead a specific path as much as just cultivate a very sincere curiosity for it. You know, always being like what don't I know about? What do I want to learn about? What am I drawn to? And that's usually the driving force within jazz.
In light of many innovations in the genre and a wealth of young players emerging onto the scene, Lage is optimistic about jazz's future.
I think we're on the verge of jazz becoming a little bit more acceptable,
In a funny way I think there's a lot of years of jazz musicians, especially young ones, myself included, talking that 'Yeah, this isn't really jazz, this is some other thing,' and there's a slight apologetic nature to it and there was that with me for a long time.
I guess I just more and more think that it's such an honor to be a jazz musician, especially in today's age. This is a genre that does have a long history of righteous and curious and forward-thinking people and music that speaks to a general or a visceral desire to connect and share and explore and experiment. I couldn't think of better actions to be associated with, at least for my personality type.
For Lage, it's an honor to be a jazz musician and given his recovery from injury a blessing to be able to play at all.
Lage tours this spring, with appearances in Richmond, San Francisco, Savannah, Denver, Madison, Ann Arbor, and Pittsburgh.
More information on Julian Lage here.
Read ZEALnyc Senior Editor Dan Oulette's coverage of Harlem's tribute to Charlie Parker here.
For ZEALnyc complete reporting on jazz, click here.
Photo provided by Julian Lage.
Calling all HuffPost superfans!
Sign up for membership to become a founding member and help shape HuffPost's next chapter