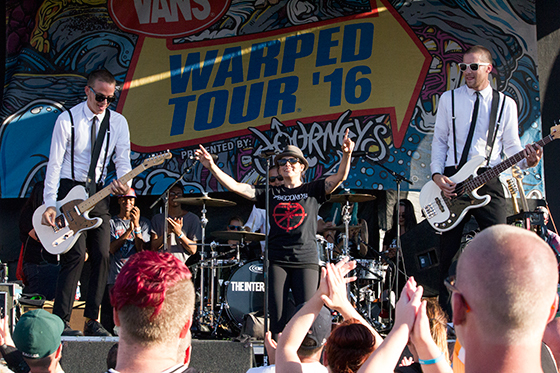 The Interrupters have only been around for a few years, but their impact in the Los Angeles music scene is already felt, so much that fellow punk rockers Rancid took them on tour back in 2013 and they are currently on this year's Vans Warped Tour. With a sound that couples real world issues over an enjoyable ska/punk vibe, the band fronted by Aimee Interrupter along with brothers Kevin Bivona (guitar), Justin Bivona (bass), and Jesse Bivona (drums) are no strangers to the LA music scene with all the members playing and collaborating with one another and in other bands before the conception of The Interrupters.
The Interrupters just released their second full-length album Say It Out Loud on Hellcat Records and I was able to chat with guitarist Kevin Bivona during their stop on the Vans Warped Tour in Auburn Hills, Michigan about the band's beginnings and how their sound was crafted and has evolved in such a short term as a band.
How long has the band been around?
We started this band at the end of 2011. We kind of conceptualized the idea and recorded some music the end of 2011. We didn't start playing shows as The Interrupters until the end of 2012. In 2013 is when we started touring. We put out a couple 7-inches. Our first record came out in 2014. So, we've only really been a band, honestly, from conception until now less than five years.
What were your best memories of those first few years conceptualizing this band?
You know what? It was so fun just writing these songs and starting something new was really exciting for all of us because all of us have worked on a lot of different music projects. In fact, Aimee and I were working on another solo record for her when she decided she wanted to be in a band. I was already in a band, so were my brothers. We were the backing band of their albums, so we're like 'Let's start a new band'. We came up with the band The Interrupters. Started messing around with the idea of ska and Tim Armstrong came in and produced the record pretty much immediately. Just discovering all that stuff and our sound and what we're about, what we're singing about, that's fun. I think my fondest memory was playing those first couple of shows. We didn't know how it was going to go live. Every show got a little better when we figured ourselves out, you know. By the time we got it figured out, we were really happy. We all felt really at home in this band, which was cool.
What were you all doing music-wise before this band?
All sorts of stuff. Aimee's been working as a songwriter and a solo artist. She grew up playing in bands, but she's done a lot of different things. Besides putting out her own records, been writing with other people. My brothers too, Jesse and Justin, drums and bass, they've played in a lot of different bands. They've been hired guns in different bands and gone out on tour. I'm more of a studio guy. I've recorded a lot of people and played on a lot of records in LA. Done a little bit of touring with other bands too. We all were so passionate about music. When music is your life, you don't always get that 'well I'm going to do what I want to do right now'. If you could figure out how to make a living in it, it's such a blessing and its so amazing. You kind of do whatever is your bread and butter, so if I'm playing guitar on a hip hop beat or if I get to play piano on a reggae album, you couldn't ask for anything better. We're lucky enough now to where our band is the thing that we're all focusing on, the thing that we're really passionate. We're going on tour with it. We're making record with it. Sometimes, your time doesn't happen right away, but I feel like our time is happening right now and its really exciting.
How long until you felt like there was some real traction with this band?
We were super lucky because we started doing shows in LA. A friend of mine named Elvis [Cortez], who plays in a band called Left Alone and we also played together in a band called The Transplants, he puts on shows in LA, like punk rock shows, ska shows. He had a really nice built-in infrastructure. Really cool scene from like South Bay all the way to Camona and around, and he put on these DIY shows and we got to play there. I remember the first show, by the third song, kids were dancing and I'm like 'These kids don't even know our music and they're dancing!' I think pretty much right away we felt it. I've work with Tim from Rancid for ten years just through The Transplants and stuff, so when Rancid went on tour in 2013 they took us with them as first of three opening acts. Right away, people liked our set and they would buy our 7-inch. We got a lot of love right off the bat.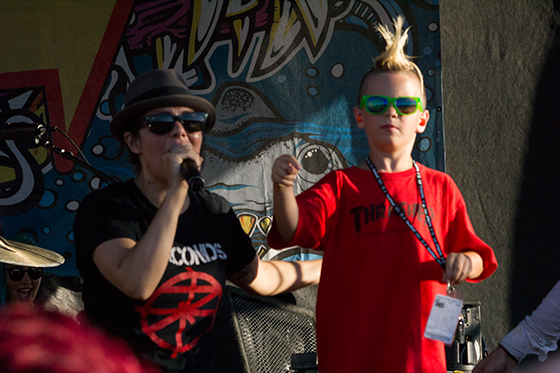 At your shows, what sort of energy are you trying to put out there?
We basically try to spread as much love as possibly. I know that sounds cheesy, but if you're lucky enough to play in a room with really good energy, you got to give that energy back. It's a big dance party. We address a lot of serious topics in our music maybe, but at the end of the day, our music is delivered in a fun, danceable way. We want everyone to just have a good time. That's our main goal. Everyone can go home smiling and feeling good about themselves, then we won.
Where do the topics that you guys talk about in your songs come from?
Everywhere. It could be some TV show we were watching, something that's on the news. Just a general feeling, it can kind of go all over the place. Usually, when we're writing, we have a topic in mind for the song. Sometimes, it just spontaneous. We'll be playing guitar and singing, and we'll sing a line. It comes from all over the place. It's definitely all stuff that we're passionate about. It's really hard to write a song about something that isn't your interest. People can see that. If you write about stuff that's true to you, it comes pretty natural.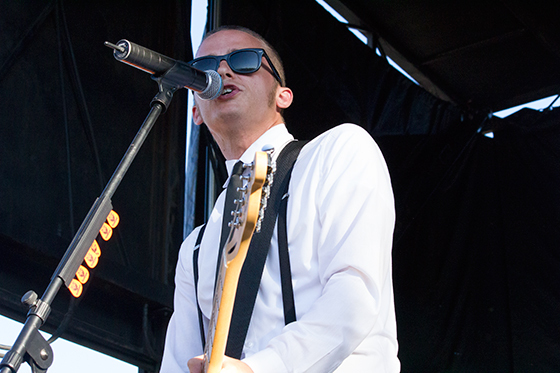 When one of your listeners puts on an Interrupters record, what do you hope they are getting out of it?
Whatever they are looking for. Whether they want to put it on and clean the house and its great background music for them, or they want to put it on and really connect with the lyrics and have a moment where they don't feel so alone. Whether they want to put it on at a party and people are just bobbing their heads and dancing around, whatever they're looking for. I feel like the beautiful thing about music is that it can be interpreted in any way and it can provide whatever energy you're looking for at that moment.
How long did it take to conceptualize the sound of this band?
I've always been a big fan of any juxtaposition, whether it's really sad lyrics put to a happy song or really major chord changes, happy chord changes, put to a really aggressive sound. I feel like all my favorite bands had that juxtaposition. Even going back to The Beach Boys Pet Sounds, the most beautiful chords with the most bittersweet melodies and lyrics. Like Rancid has some of the most catchy, hooky, fun songs delivered in a super aggressive way. It's almost disguising the fact that they're so up-tempo and major. It's something that we're all drawn to. When we started doing the first record, we basically figured out our own individual favorite things. I figured I like this gainy guitar sound. My brother likes to play bass with a pick. My other brother is a really straight forward drummer and listens to all sorts of punk rock. All of those things together and Aimee's voice is so versatile. She can kind of do anything vocally. Over this music, she's got more of a rasp and she's singing all over her range. Some songs she's singing at the bottom of her range, super low. Some songs she's screaming. It just works. Once we figured out where we fit in as individuals, that how it went.
(Photo Credit: Kelly Frazier)
REAL LIFE. REAL NEWS. REAL VOICES.
Help us tell more of the stories that matter from voices that too often remain unheard.