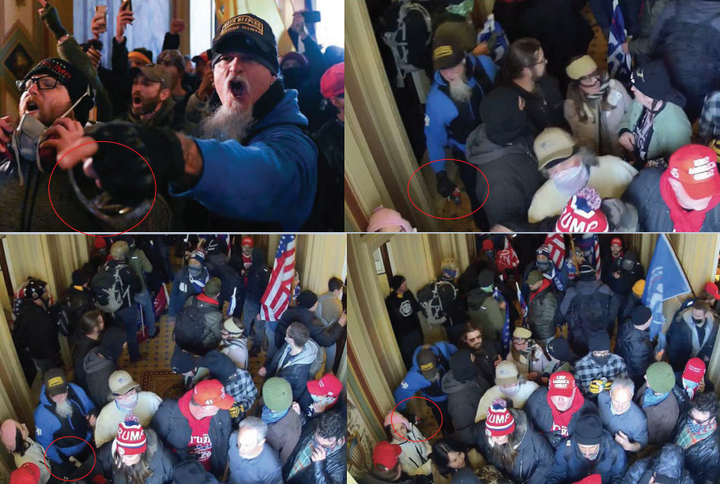 Jon Schaffer, a heavy metal guitarist who stormed the U.S. Capitol while wearing an Oath Keepers hat, pleaded guilty to two counts on Friday, becoming the first known Capitol insurrectionist to reach a plea deal with the federal government.
Schaffer, a lifetime founding member of the Oath Keepers, admitted that he "forcibly entered the Capitol to, and did, stop, delay, and hinder Congress's certification of the Electoral College vote" while carrying "a deadly and dangerous weapon, that is, a [canister] of bear repellent capsaicin pepper spray, commonly referred to as 'bear spray.'"
A copy of the plea agreement was not immediately available, but it requires Schaffer's cooperation with the government. Judge Amit P. Mehta accepted Schaffer's guilty plea. Schaffer's attorney noted that his client was an internationally known recording artist, and the government didn't object to Schaffer traveling domestically if he notifies pretrial services.
Friday marks 100 days since the Capitol insurrection, and the Justice Department said that more than 410 defendants from at least 45 states have been arrested for participating. More than 100 defendants have been charged with assaulting, resisting or impeding officers, while 35 face charges of doing so while using a deadly or dangerous weapon. More than 350 have been charged with entering or remaining in a restricted federal building or grounds, and over 160 defendants have been charged with corrupting or obstructing an official proceeding.
There have also been more than 30 serious felony conspiracy cases brought against various defendants.
Support HuffPost
The Stakes Have Never Been Higher
Popular in the Community