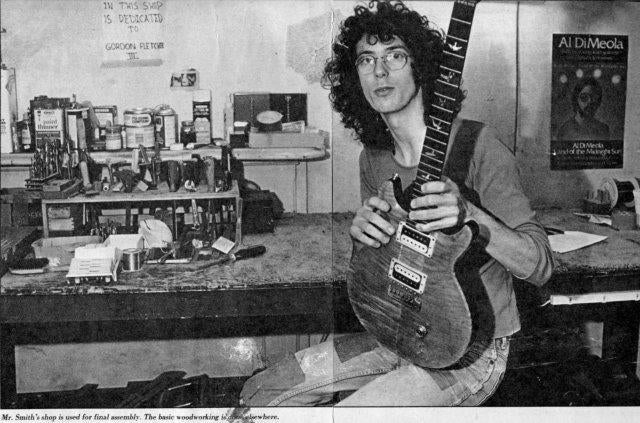 Brett Berhoff invites us for an exclusive backstage experience in his Legends of Music series where he spends time with the most inspiring minds from around the World.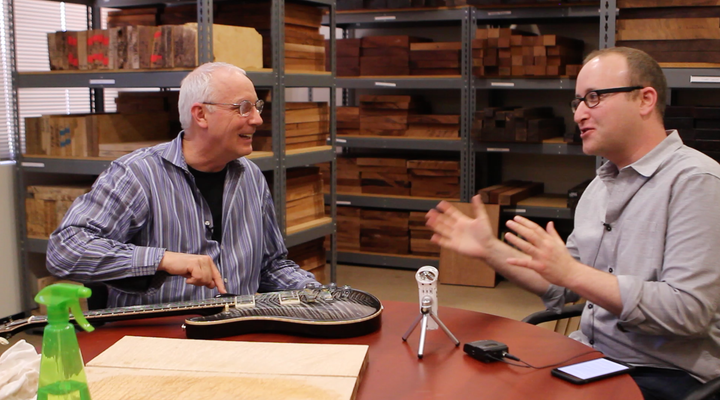 Today I'm spending time with the world famous Paul Reed Smith, founder of PRS Guitars. These incredible instruments are found in the collections of the Metropolitan Museum of Art, National Guitar Museum, Musical Instrument Museum, and the Smithsonian.
PRS Guitars are played by countless Rockstars including John Mayer, Carlos Santana, Blake Shelton, Neal Schon (Journey and Bad English), John McLaughlin(Top ranked in Rolling Stone Magazine's Greatest Guitars of All Time), Linkin Park, Orianthi (Michael Jackson and Alice Cooper), Mark Tremonti (Creed and Alter Bridge), Zach Myers and Eric Bass of Shinedown, Ricky Skaggs, Martin Simpson, Tony McManus, Warren Haynes and Derek Trucks(The Allman Brothers Band).
I started my visit with a private factory tour and witnessed the place where the magic happens. I am honored to share with you one of the great highlights of this VIP tour. The creation of the Private Stock Super Eagle for John Mayer. John Mayer will be playing the music of Jerry Garcia on this guitar with the Dead & Company Tour. This guitar was created by combining the vision of two brilliant Legends of the music world; Paul Reed Smith and John Mayer.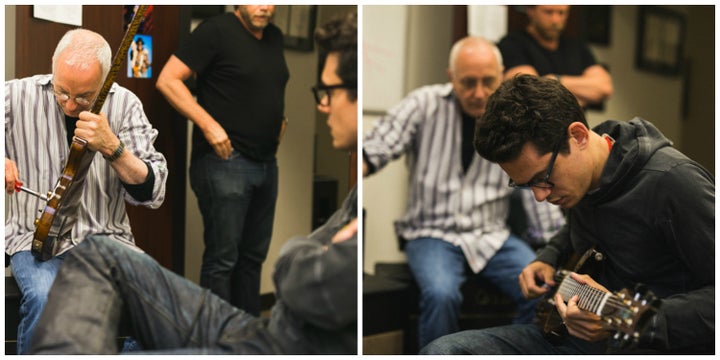 "Paul and I worked very closely to create this guitar, and the result is an incredibly refined and elegant instrument. It has a completely new sound and spirit. It's been a joy to play and I'm excited to share that experience with other guitar players" - John Mayer.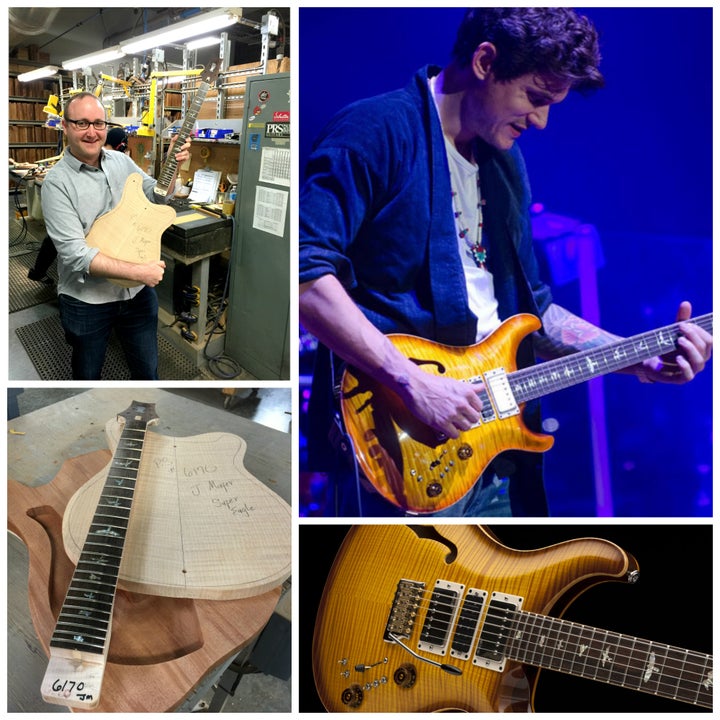 Once we completed the tour,
Paul Reed Smith and I sat down to chat in the exclusive wood vault.
Brett: The first thought that came to my mind is if PRS and what you've created here was an automobile line, who would you align it with? There are mass produced cars, and hand-crafted cars, something similar to what is happening at your company.
Paul: The car analogy is a very interesting analogy because for our industry, I was in diapers when the first guitars came out, so I'm late to the party. You know, I've been in some new cars, I was stunned at what a good and well-made device it was. Just unbelievably well-made device. That's what we're trying to do here, just make a tool for a musician to make a living on, for an enthusiast to enjoy on the couch or somebody in a band to be playing. We want the "car" to work as you drive it off the lot. Very, very often in our industry you drive it off the lot, and you need to take it to the repair center the next day, and we don't want that to happen. On Friday mornings, we go through cases just like our customers do, and we want our guitars to be not just gig-ready, but studio-ready coming out of the box.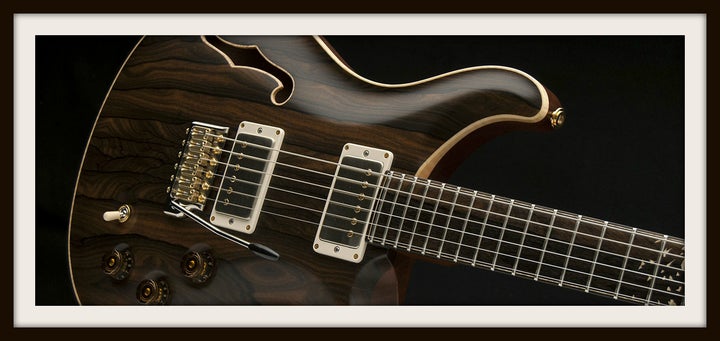 Brett: I'm interested to hear about what goes into the guitar that you can see, and what goes into the guitar that you cannot see. I would imagine that a Paul Reed Smith guitar, it's what you cannot see that people appreciate the most.
Paul: I'm not so sure because 80% of information is brought in with people's eyes. I have seen people fall in love with this one PRS, but they need it in blue. They would walk away from the guitar which they love over color which I don't completely understand. That's cool. Why don't we do it your way? We'll go through everything you can see and everything you can't see. That's never been asked. It doesn't surprise me you asked it, so let's go through it. [Paul dives into heavy detail of what you can and cannot see in the full audio show here] What can't you see? Thousands of things and it frustrates me because we take our competitors' guitars apart, and we know what they are doing. We can tell you what they are doing and what they are not doing.
"Just because it looks like something you love doesn't mean it sounds like something you love" -Paul Reed Smith.
Brett: When I was walking through the factory, the highlight for me was watching the passion and emotion on everyone's face. They were very proud of what they were doing, regardless of if they knew someone was watching or not, they were passionate.
Paul: Fair enough. I like that. I try to thank people at the all factory meetings.
"You can hire somebody to do a job, but you can't ask them to love it. Unless you put a lot of care and love into this thing it's not going to come out looking like that!"-Paul Reed Smith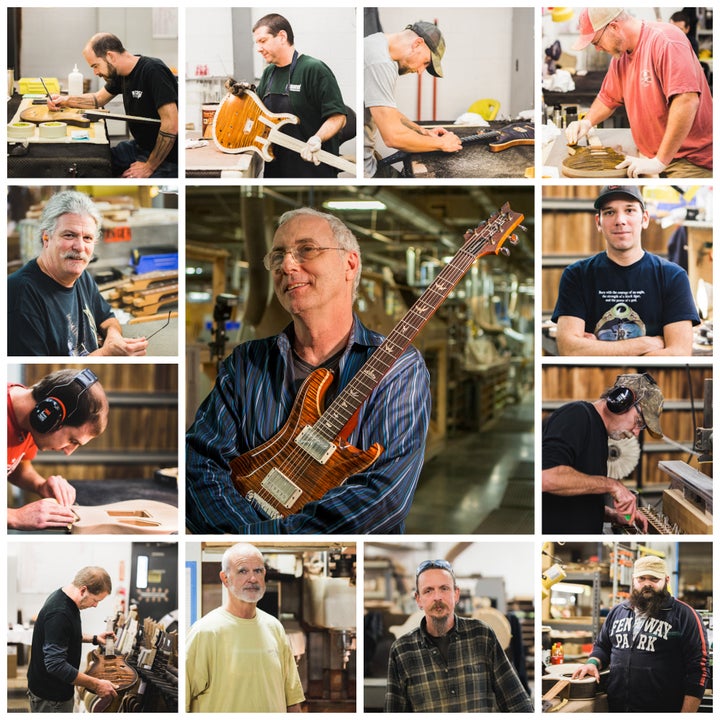 "Do you think there are any Ghosts in the building?"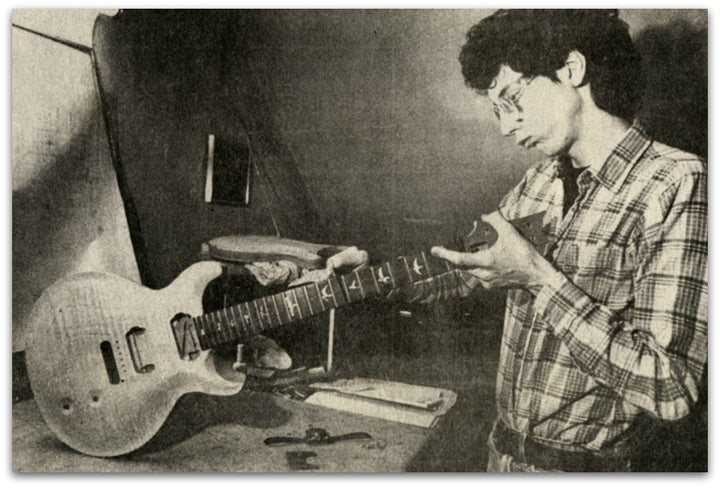 Brett: Do you think it has to do with the age of the building?
Paul: I think it has to do with what happened in the building.
Brett: So the past of the building is a result of whether or not a ghost is going to show up?
Paul: I don't know! We're all trying to describe the same thing, and we can't get our hands around all these religions in my mind, but no I don't think there's a ghost here. I haven't run into a ghost. I did see a bald eagle when I was coming out of the parking lot. That was cool, and it was a big one too.
Brett: Wasn't there a ghost in one of your offices?
Paul: Of course there was. Have you met a ghost?
Brett: I haven't met many people who have met a ghost. That's why I'm asking you!
Paul: Eh. Eh. Maybe if you live in an old town. Go live in an old town and hear a few stories. The weird thing was ...I knew it was a woman. So I went to my landlord, I was mad and said "You rented me a room with a ghost in it!." He said that woman has never hurt anybody. How did he know it was a woman unless he had run into it!? So I go back to the Rams Head Tavern where I lived and I asked them. They said the same thing. She's been around. We had all had the same experience. It was not a coincidence. It smelled musty. You could put your head in it and out of it. It was weird. I have no idea what really is going on, but I'm telling you we saw some stuff we can't explain.
Brett: Did it play into anything you were doing at the time? I mean it's a pretty significance experience. Did it translate into anything or was it just another tenant in the building?
Paul: It was just another tenant in the building.
Brett: Are you against musicians smashing instruments? Does that bother you?
Paul: Not at all. I think it's great for our industry. It's bringing attention to the
instruments. Anything that's bringing attention the instrument is okay with me. It's like on American Idol when they go "that's a little pitchy". They were bringing attention to the fact that people needed to sing in tune. The fact that they weren't playing guitar wasn't the best thing for our industry, but I like that guitars are part of the fabric of our culture.
Brett: What's your take on quality?
Paul: I like things that you get a heart-hit out of where it feels like you got hit in the heart. Where you're doing something and it feels like it was a good moment. I enjoy that that part of the job. Somebody once said, of the job of the spiritual warrior is to stand at the edge of the river and pick up moments as they come. When it gets good, they come so fast you can't even believe they are coming. I don't know. Giving a shit. Maybe. I don't really know how to answer that question. It's a good question. We don't walk around and go, "Quality, quality, quality."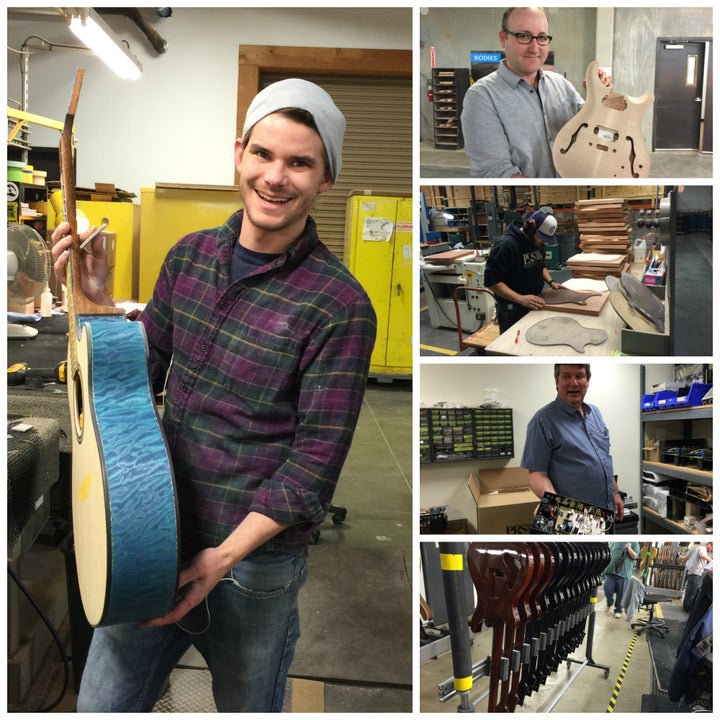 Brett: What guitar glows in your mind as a pivotal or favorite guitar in your history?
Paul: I had a dream that if I could build Carlos Santana a guitar, everything in my life would change. That was the idea. I built him one and then I got an order for another one. The Tom Snyder show was on, and they had him on for 20 minutes. It was nothing but closeups of the guitar and the moment it happened, it had happened.
Brett: There is a pulse in this place and I can feel it.
Paul: There's a spiritual richness in this place somehow, and I enjoy it. Thank you for doing this piece.
Remember to sign up at BrettBerhoff.com to follow the story further. Paul and I meticulously went through the wood vault to start the build of a new masterpiece. You will have the exclusive opportunity to watch the process.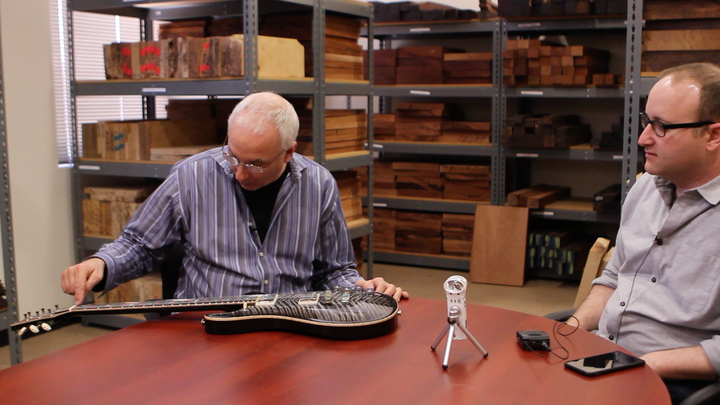 Thank you Paul and the entire PRS Team for the warm invitation and good times. -Brett Berhoff