It seems that every girl in the state of Gujarat dreams of it: The annual nine-night Navratri celebration honoring the Hindu goddess Amba and her nine reincarnations. This year, the "world's longest dance festival," conducted in the streets throughout Gujarat, begins on October 13.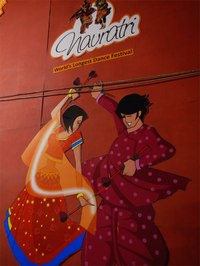 I'm no dancer, but nevertheless I got dragged into the circle dances when I paid a visit here last year. That's because the Gujarati tourism office dreams of Navratri, too. Ever since home politician Narenda Modi became India's prime minister in 2014, tourism officials have been eager to capitalize on the new prominence of India's industrious, westernmost state.
No coincidence, then, that the sustainable-tourism conference that I was addressing in Ahmedabad, the commercial capital, was timed to coincide with Navratri. Authorities wanted us international visitors to experience Gujarat's shiniest hour--well, 216 hours. (Full reveal: In exchange for my speech, Gujarat Tourism paid my expenses.)
Navratri comes every September or October, depending on the Hindu calendar. Well in advance, newspaper stories geared for young women address the thrilling challenge of what to wear for the dances this year. For nine successive evenings, boys and men, girls and women (especially girls) all don the fanciest, most colorful costumes they can find and join in the garba circle dances.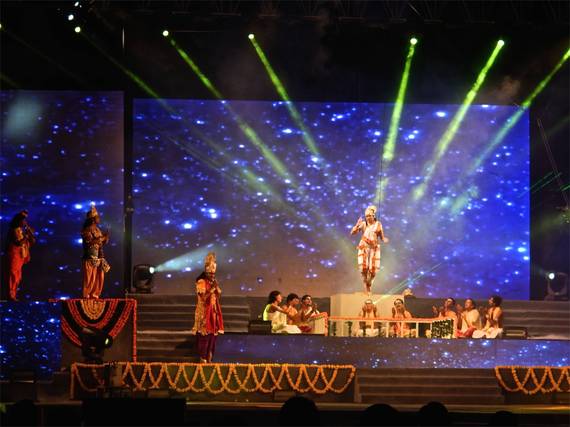 Don't miss festival launch on the first night, a Bollywood-style extravaganza (above) on a huge outdoor stage. Then take an evening to sample any of the local community celebrations -- literally dancing in the street -- bracketed by prayer at mobile shrines to the goddess. A guide can help you find the best of the neighborhood dances and explain what's going on. Dancers often pull foreign visitors into the garba circle -- with some glee, I might add.
Unless you're a dancing fiend, two nights of the nine will probably suffice, because there's plenty more to see and do.
1. Traffic-snarled Ahmedabad itself (pop. 5.5 million) dances to the beat of commerce, not tourism. While the city is short on charm, freedom from tourist buses does give you a sense of authentic India, complete with sacred cows adding to the avenue chaos. (The cattle like to be in traffic; it helps keep the flies away.)
Don't miss the fascinating Heritage Walk through the teeming old town, founded in 1411 AD, where you'll tour Hindu and Jain temples, Islamic monuments, and the unique semi-enclosed neighborhoods called pols.
Here's a sampling of what else you can see and do around Gujarat:
2. Discover the state's world-renowned intricate textiles at the Patola House, Patan and other venues.
3. Visit temples (below) and mosques built long before Columbus reached America.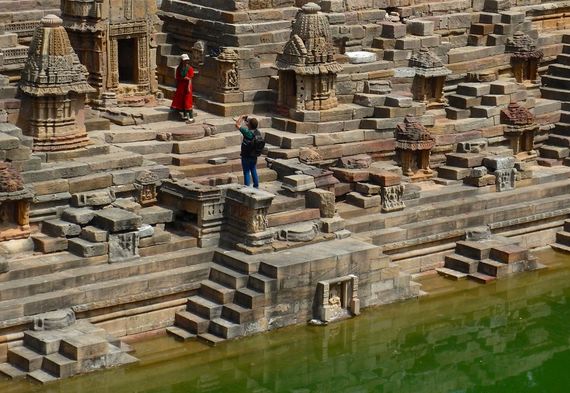 4. Roam the short-lived capital city of Champaner, a World Heritage site abandoned to the bats and monkeys 500 years ago.
5. Yes, India has lions. Take a safari to the Gir National Park, home to the last Asiatic lions in the wild.
6. Devote a couple of days to the tribal desert resort of Hodka, with its own unique culture.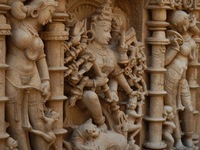 7. Visit at least one of Gujarat's several jaw-dropping step-wells. I had never even heard of step-wells before my arrival. They're basically upside-down temples, open to the air, that descend to pools of precious water, several stories below the dusty surface. Most spectacular is the excavated and restored Rani-ki-Vav (below), almost a thousand years old and one of India's newest World Heritage sites. Stairs take you deep into the earth via seven terraced and pillared levels, the walls encrusted with some 500 intricate Hindu sculptures (above, right) and 1,000 lesser carvings, leading to the circular pool of the well itself, 90 feet below ground level. Fantastic.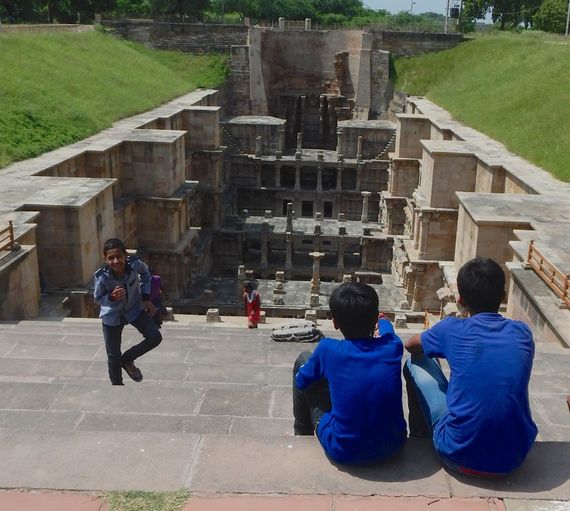 And one thing not to do in Gujarat
A caution note for many Western visitors: Gujarat is not for tipplers. Mahatma Gandhi came from here, and state law honors his prohibitionist philosophy. Foreigners can get a special liquor permit, but it's not much fun, since it only allows you to drink in your hotel room. Instead, embrace asceticism with a visit Gandhi's inspiring Ahmedabad ashram, fountainhead of India's drive for independence in the 1940s.
Authentic India
From a destination-quality point of view, Gujarat strikes me as pure India, still unadulterated by international tourism. You're unlikely to be besieged by touts and beggars. English is spoken, sort of -- a patchy thin veneer over the native Gujarati. The people are friendly, the streets filthy, the culture deep and complex, the traffic crazy, the dances fun, prices affordable, and the weather hot. Enjoy!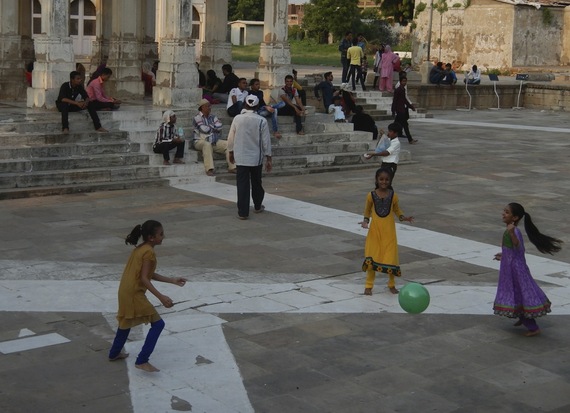 All photos by Jonathan B. Tourtellot