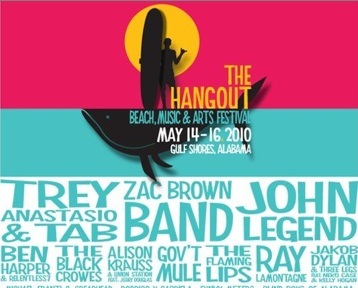 Looking to do your part in helping clean up the Gulf of Mexico post-BP Spill while festing? This weekend you can hang out at the Hangout Beach Music and Arts Festival in Gulf Shores, Alabama with the Concert for the Coast (described by the Huffington Post's Andy Bernstein HERE). Hangout attendees who can prove that they've received beach cleanup training can attend the festival for free. And this Sunday you also can party at Gulf Aid in New Orleans (its origins described HERE).
John Legend is doing double duty for the coast, playing the Concert for the Coast and Gulf Aid this weekend. At the the Hangout Beach Music and Arts Festival, all proceeds from the Friday to Sunday festival will benefit coastal cleanup and preservation from the BP oil leak. Headliners are Trey Anastasio & TAB, Ben Harper, Zac Brown Band, The Roots, John Legend, Michael Franti & Spearhead, the Black Crowes and Gov't Mule.
HeadCount will host a panel with environmental activists and musicians on Sunday featuring members of Guster and ALO, and HeadCount, Sierra Club and the Gulf Coast Alliance will stage a letter-writing drive on issues like the recently-introduced Big Oil Bailout Prevention Act, which would raise the cap on oil companies' liabilities from $75 million to $10 billion in the case of oil spills.
"The Gulf Coast is what makes the Hangout Music Festival so unique," Shaul Zislin, co-creator of the Hangout Music Festival. "It is one of the most pristine coastlines in all of America, and we will donate every penny above our costs to keep it clean." A three-day weekend pass is $150 and is available at http://hangoutmusicfest.com.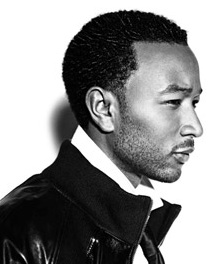 Back in New Orleans, celebrities filming locally including Tim Robbins will rock out at Sunday's Gulf Aid with musicians Lenny Kravitz, Dr. John, Mos Def, Allen Toussaint, Big Chief Monk Boudreaux, Johnny Sansone, Kermit Ruffins, Rebirth, Shamarr Allen and more at Mardi Gras World East Bank. As listed on its web site, the newly formed Gulf Relief Foundation will be in charge of distributing the funds from Gulf Aid to wetlands recovery efforts and fishermen displaced by the the BP Deepwater Horizon oil rig spill. Tickets for the noon to 10 p.m. event are $50, free for kids under 10 years old, and further information is available at http://www.gulfaid.org.
Radio station WWOZ-FM of Treme fame is scheduled to broadcast from both festivals, so if you're otherwise engaged you can be there in spirit.
Popular in the Community