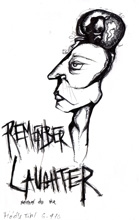 Frances Bean Cobain-the daughter of the late Kurt Cobain and comeback queen/Meghan McCain bestie Courtney Love-stepped out on her own as an artist Friday at La Luz de Jesus Gallery in East Hollywood for the debut show of her drawings.
For the opening Frances' drawings were shown under the pseudonym Fiddle Tim, allowing the art to stand on its own. The pieces-several of which sold during preview-are fiendish and disturbing, reminiscent of George Grosz. The only drawing to reference fame is Scumfuck, the exhibit's centerpiece portrait of G.G. Allin; others display angst, anger and power struggles. To see more, click here.
In December 2009 17 year-old Frances filed a restraining order against her mother after placing herself under the temporary guardianship of her paternal grandmother and aunt. Permanent guardianship was granted earlier this year and will last until Frances turns 18 in August.
Popular in the Community