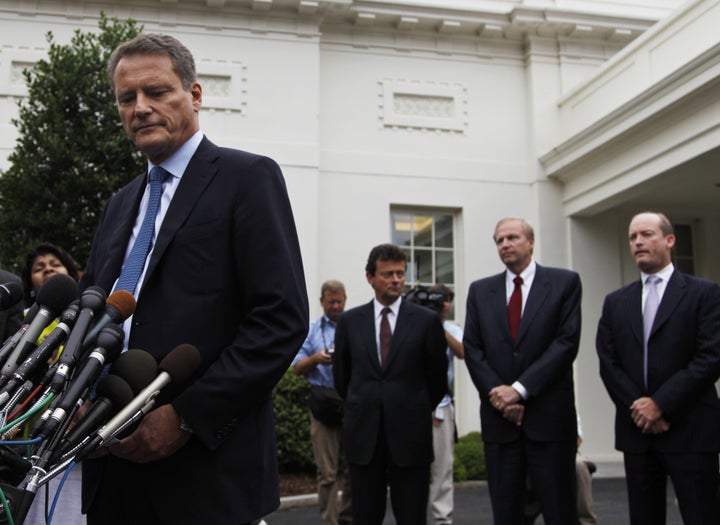 Gulf Coast law firms Levin Papantonio, Eastland Law and others have begun filing a series of civil RICO actions in Florida, Mississippi, Louisiana and Alabama to hold BP accountable for the false assurances it gave the American people that it could handle a worst-case scenario deepwater oil spill. The suits allege that BP committed mail fraud, wire fraud and potentially other RICO predicate act violations when the company sought permits from the federal government for deepwater offshore drilling, knowing that it did not possess the technical expertise or equipment necessary to respond to an emergency such as the ongoing Deepwater disaster.
This is the only RICO claim out of the more than 200 lawsuits filed so far against BP - and that doesn't even count claims against Transocean, Halliburton and other associated defendants. All the other legal cases filed so far against BP are based on negligence associated with the Deepwater Horizon oil rig explosion, violations of various environmental statutes, and other legal angles.
By choosing the RICO approach, the Gulf Coast attorneys hope to provide an avenue for all Americans impacted by the disaster to stand up to the oil companies and prosecute them in civil court for their unlawful conduct.
The RICO suits allege that BP and its CEO Tony Hayward engaged in a pattern of fraudulent misrepresentations when the company asserted in its regional oil spill and exploration oil spill emergency response plans that it had the equipment and technology to respond to a deepwater accident. BP claimed in some of the plans that it had the capacity and expertise to respond to a spill of as much as 250,000 barrels per day.
"BP was more interested in making billions of dollars from offshore drilling and cutting corners on oil spill response safeguards at the expense of protecting the Gulf ecosystem, the public and our plaintiffs in the Gulf region from environmental and economic disaster," according to Hiram Eastland, principal attorney with Eastland Law Firm in Greenwood, Mississippi.
"As we have heard from Congressional testimony in front of Senator Boxer's and Representative Markey's committees over the past few weeks, there is in fact a lot of evidence already presented about BP's illegal conduct. This is exactly the type of conduct that RICO provides a measure of accountability and justice for, and we intend to see to it that such a pattern of unlawful conduct is dealt with under the full due process of the law."
The Justice Department launched civil and criminal investigations into BP's false statements about their oil spill response plans on June 1st. But the lawsuits brought by Levin Papantonio and the other law firms are civil claims based on the RICO statute, which enables a private individual harmed by the actions of a criminal enterprise to file a civil suit and, if successful, collect treble damages from the defendant.
"The civil RICO action that we recently filed in Florida, and the RICO actions we plan to file in Mississippi, Louisiana and Alabama, are solidly based on unlawful conduct that is already apparent from testimony and other documents that have already played out on the national stage in the last several weeks."

"BP's pattern of making false submissions to the government to get the permits that allowed it to make billions from offshore drilling constitutes a pattern of mail fraud, wire fraud and other unlawful RICO predicate act conduct that is tailor made for this RICO class action."
The coalition of law firms bringing the suits anticipates uncovering further evidence of BP's shenanigans through the discovery process, and will likely add additional claims - and defendants - as a result.
"These claims are just the tip of the iceberg, and we fully anticipate adding additional claims and defendants as this civil litigation progresses. The public deserves to know the whole truth."

"It's not just the people of the South, but people from all over the country who have come to love the Gulf of Mexico and our Gulf shores just as much as we do. They love our pristine seashores, our pelicans and sea gulls and sandpipers, our dolphins and our seafood and the whole way of life we enjoy on the Gulf Coast. And they passionately believe as we do that it's past time to get action, if not get medieval on BP's unlawful conduct and what they have done to our shared waters and our Coast."
Ongoing investigations, as well as the discovery process, could turn up new evidence of wrongdoing, not just on BP's part, but across the entire offshore drilling industry. Given the revelations last week by Rep. Ed Markey's committee that the five major offshore drilling companies had each submitted nearly identical response plan documents, there are hefty implications for all the major oil companies engaged in offshore drilling, some or all of which might be added as defendants in these RICO suits.
"There are a number of issues in addition to the textbook mail and wire fraud RICO predicate acts involved in our civil complaints that fully warrant further investigation and potential additional claims. Just the fact that other big oil companies admitted before Congress that they submitted essentially identical emergency response plans to secure offshore drilling permits - plans these companies now acknowledge they were never capable of carrying out - raises serious questions as to whether there was an overall conspiracy by Big Oil. All of these companies made such representations and assurances in order to make billions on offshore drilling while ignoring the need for actual safeguards against environmental and economic catastrophe."
Under the racketeering statute, a defendant may be guilty of a RICO conspiracy by merely agreeing to the "objective" of the conspiracy. That raises very serious questions about the fate of the entire industry, since all the major oil companies made the same misrepresentations in their response plans about their emergency capabilities. They led the public to believe they had it all covered, but as we see in the blackened Gulf today, not so much.
"They knew they were lying, yet they would rather go make the profits on dangerous offshore drilling and leave the American public at risk. They never should have been out there in the first place since they knew they couldn't respond to such a disaster. The exact cause of the disaster is irrelevant in this case. It wouldn't matter if it had been a meteorite that hit the rig. These companies falsely assured the public that they had a plan to handle such a spill, even though they knew all along they didn't. That's plainly illegal."

"There's been a lot of people prodding the administration about the need to talk tough to the oil companies. But we don't need tough talk to address their egregious behavior. We already have tough laws on the books that address such selfish, greedy, unlawful conduct."
"Big Oil's big lies are about to come home to roost," Eastland predicts.
Related
Popular in the Community