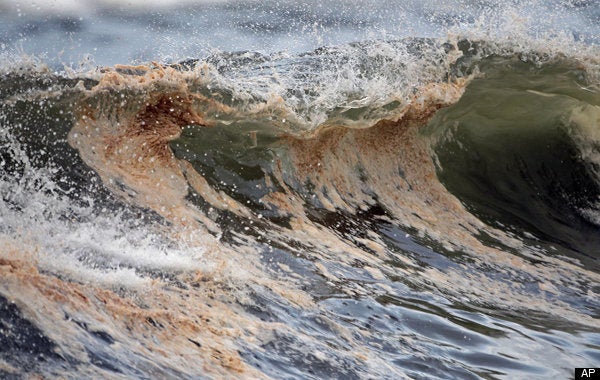 A Gulf-area wetland restoration company under heat for advocating taxpayer assistance for coastal cleanup efforts defended itself on Thursday against charges that it is merely doing the bidding of the oil companies that help fund its operations.
Officials with America's WETLAND Foundation insisted to the Huffington Post that recent charges of ethical impropriety are baseless and unfounded. On Thursday morning, a pair of environmental bloggers writing for the Huffington Post pointed out that America's WETLAND foundation partnered with a group called Women of the Storm to "spread the message that U.S. taxpayers should pay for the damage caused by BP to Gulf Coast wetlands." Brendan DeMelle and Jerry Cope noted that a host of prominent oil companies -- including BP, Shell, ExxonMobil, Citgo and Chevron -- are listed as donors to the organization, creating the bizarre spectacle of the oil industry using a perfectly-named front group to solicit taxpayer assistance for BP's cleanup bill.
Foundation officials acknowledged to HuffPost that oil companies, such as Exxon and BP, have given donations to the group. But they insisted that those donations were for purely scientific or ecological functions, noting that the companies have been donors for many years.
Moreover, the officials stressed, their campaign did not revolve around getting taxpayers to pick up the tab for coastal cleanup following the Gulf oil spill. Rather, what the organization wanted from the government was a long-term commitment to restoring the Gulf's wetlands.
"It couldn't be further from the truth," Sidney Coffee, senior adviser for America's WETLAND, said of the charges being leveled against her group. "We want BP to pay every damn penny that they should be paying and more."
"The S20 billion escrow account set aside by BP we definitely want a piece of that," Coffee added. "All we are saying is that, as that process goes through, a portion of those funds be put into coastal restoration."
"We have long advocated for a national commitment towards these wetlands... It is because of federal actions taken by Congress that we have all of this sentiment channeled into the Gulf," said Coffee. "Do we take money form oil companies to do these kinds of initiatives and raise awareness... you bet we do. They need to be paying and they need to be at the table."
America's WETLAND also shot a video featuring a cadre of Hollywood stars, demanding that the country use the BP oil spill to make a firm commitment to restoring the Gulf coast.
"Perhaps the celebrities featured in the group's videos are unaware of AWF's true intent, and signed up thinking that they were helping the Gulf Coast cause in the wake of the BP gusher?" the authors asked.
By Thursday morning, Sandra Bullock, one of the actors in the "Restore the Gulf ad, had severed her ties to the campaign, telling Think Progress that she was never informed of the organization's ties to Big Oil.
"We were just shocked to see this type of criticism," said Val Marmillion, managing director of the America's WETLAND campaign, which was founded in 2002. Acknowledging that oil companies had donated to the group, Marmillion insisted that there is a wall between them and the board. "The board is totally benign," he said.
BP, he added, had only donated a "small amount" to America's WETLAND (though he did not specify what constituted a small amount). As for the broader campaign, Marmillion stressed that oil industry officials had donated to the organization out of recognition that the scope of the wetlands problem is impossible to ignore. Another, perhaps more plausible, explanation, is that companies like Shell Oil are, as the Washington Post put it, "worried about its offshore drilling platforms."
"We are not at all happy with the BP spill and we have been working with industry to say that," said Marmillion. "If they were all on the board and making decisions for us everyday that would be one thing. But that is just not what's going on."
Popular in the Community