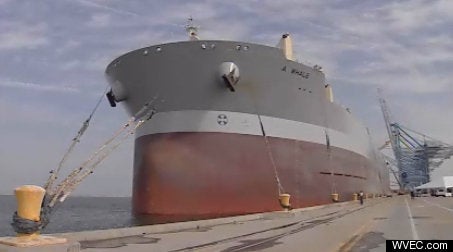 A massive, newly-retooled supertanker that its owner claims could skim millions of gallons of oily water a day is now in the Gulf of Mexico, where government and BP officials intend to run tests shortly to see if it actually works.
With residents of four states complaining about the dearth of skimming vessels off their shores, the 10-story tall, 372-yard long Taiwanese-owned behemoth -- called A Whale -- could be an enormous boon to the region.
Or it could be a really, really big disappointment.
Nobu Su, the CEO and founder of Taiwan Maritime Transport (TMT), told reporters in Norfolk on Friday that on account of the special holes he had cut in its sides, his vessel would roll across the Gulf "like a lawn mower cutting the grass."
Though the ship and the process are entirely untested, Su insisted A Whale could ingest and process some 15 million gallons of oily water a day. By comparison, the entire emergency response since BP's Deepwater Horizon rig exploded on April 20 has collected 28 million gallons of oily water.
Over at the unified command center in downtown New Orleans, federal and BP officials are said to be responding with a combination of enthusiasm and caution.
"They're about as excited as you can be about something that you have no idea what it can do," said Kati Walsh, a spokesperson for the disaster's Joint Information Center. "They want to remain in a neutral position about it until after it proves itself," she said. "We don't want to get everybody excited about something that may or may not work."
The next step will be for officials to set up a meeting and test the ship's abilities, Walsh said.
That sounded good to Scott Segal, a lobbyist with Bracewell & Giuliani, the law firm TMT hired to represent its interests in Washington. "Their intention is to coordinate with federal authorities on a test, as soon as possible," Segal said of his clients.
But communication appears to be a problem. Segal didn't know the unified command's intentions until he heard about them from the Huffington Post. And the unified command didn't know the ship was already in the Gulf, which, according to the latitude and longitude Segal provided to HuffPost, it is.
No meeting or test has yet been scheduled because federal and BP officials "haven't determined the what or when or how it will get here," Walsh said.
The ship was built in South Korea, has a Liberian registry and is owned by a Taiwanese company, but Walsh said the Jones Act -- which limits the operation of foreign flagged vessels in U.S. waters -- was not a factor as much as the nature of the ship.
While more traditional "vessels of opportunity" are allowed to start skimming without government pre-approval, this one would not be allowed to do so, she said. "The ship was just built, it hasn't been proven yet, hasn't been officially or formally tested yet."
Even if everything goes according to plan, the ship will suck oily water into its huge tanks for processing, then pump still somewhat polluted water back into the Gulf -- possibly requiring a waiver from normal environmental regulations.
And then of course there's the small matter of money. Even if TMT gets permission to begin operations, just how much will it insist on getting paid?
Frank Maisano, a spokesman for with Bracewell & Giuliani, made it clear this is not a charity operation.
"Mr. Nobu has already sailed the ship around the world and modified it at his own expense," Maisano told HuffPost. "I'm sure that he's looking at least to recover his costs."
WATCH a report from when the ship docked in Norfolk, from WVEC.com:
Related
Popular in the Community