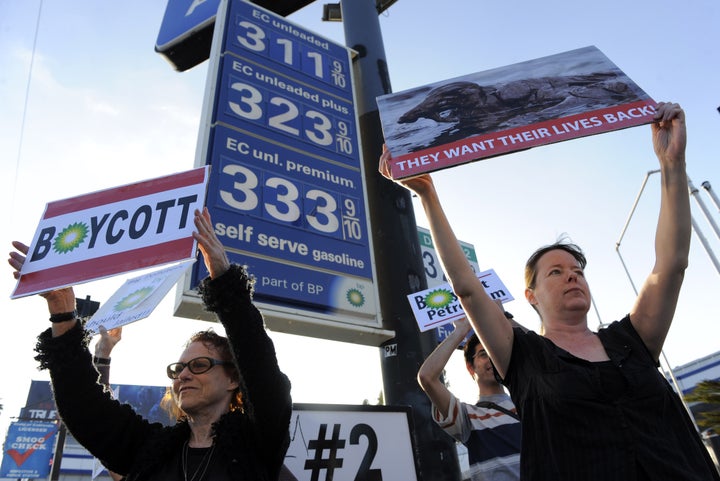 One Wall Street analyst has a very dire projection about the economic effects of the BP oil spill. David Kotok, the co-founder and chief investment officer of Cumberland Advisors, a Sarasota, Florida-based investment advistory firm, has projected that the spill will cost 1 million permanent jobs in the next five years. (Hat tip to Politico's Morning Money.)
The price of real estate properties around the Gulf of Mexico has been projected to fall up to 10 percent -- erasing some $4.3 billion in value -- Bloomberg noted recently.
According to a recent USA Today/Gallup poll, 8 in 10 Americans think that the Gulf oil spill will damage the economy and push up commodity prices.
Five states are now suffering because of the BP spill. Florida, Alabama, Louisiana, and Mississippi are hit by oil slicks that are devastating their fisheries and tourism. Texas is a casualty along with the others because the drilling moratorium that was poorly designed by Obama's team was created out of a political response.


The moratorium payback will be the loss of thousands of jobs.


We now add the Alaska pipeline as a possible casualty, because of insufficient throughput due to the shutdown of existing drilling thousands of miles from the Gulf. The pipeline is built for 2 million barrels a day capacity. It currently carries about 700,000 which is near the minimum necessary to operate. It is supplied by oil drilled offshore. If it doesn't maintain sufficient volume of warm oil the oil will cool and congeal. Five existing offshore wells that would keep the volume sufficient are now affected by the Obama moratorium.


We estimate that an extended moratorium, which we now expect to continue because of Obama political calculus, will cost up to 200,000 higher-paying jobs in the oil drilling and oil service business and that the employment multiplier of 4.7 will put the total job loss at nearly 1 million permanent employment shrinkage occurring over the next few years. Five states have a regional recession/depression development underway. Alaska could become the sixth state on the damaged list.
Calling all HuffPost superfans!
Sign up for membership to become a founding member and help shape HuffPost's next chapter