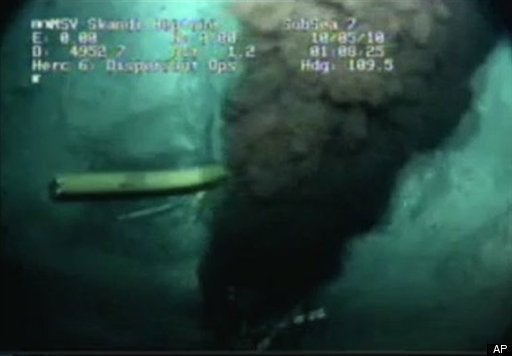 UPDATE: BP has relented and will release a live video feed of the gushing oil well in the Gulf of Mexico, according to a press release from Rep. Edward Markey (D-Mass.). The video is expected to be posted to Markey's website, globalwarming.house.gov, but technical difficulties are creating a delay.
Rep. Edward Markey (D-Mass.) on Wednesday lashed out at BP for hiding the true extent of its now four-week-old oil spill in the Gulf of Mexico, and demanded that the oil company and the Coast Guard make a live video feed from the source of the leak continuously available to the public.
The few videos BP has released so far have been short and of poor quality, but the footage of filthy plumes of oil and gas endlessly billowing into the Gulf's clear waters has nevertheless given the public a visceral sense of what's at stake -- and has given some scientists reason to believe that BP's 5,000-barrel estimate for daily flow is off by a factor of 10, 20, or even more.
"Oil has been spewing into the ocean for 30 days yet the true extent of this spill remains a mystery," Markey said. "BP thinks this is their ocean. This is BP's spill, but it is the American people's ocean....
"I just think that it's irresponsible and this continues to be a blistering, scalding indictment of the attitude that BP has brought to this problem."
Markey was speaking at a sparsely attended briefing of his House Energy subcommittee intended to provide members with a better idea of the scope of the spill.
Frank Muller-Karger, an oceanography professor at the University of South Florida, pointed out that despite a fellow witness's detailed satellite pictures showing the slick covering thousands of square miles, researchers still have no idea how much oil remains underwater.
He warned that administration officials are minimizing the impact of the spill by only considering what they see on the surface. "I think there's an enormous amount of oil below the surface that unfortunately we can't see," he said. "This is a very large problem."
Muller-Karger said the underwater oil is likely to "spread horizontally rather than vertically." Underwater currents could then take it to the shores of Cuba and Mexico, as well as the United States. Food safety is a big concern. And globs of oil could slowly emerge from the depths for a long time to come.
"I think this is a problem that we're going to have to live with for years, not just months," he said.
As the Huffington Post first reported last Thursday, federal officials have made no concerted attempt to measure or track the oil underneath the water's surface. And as we reported on Tuesday, the National Oceanic and Atmospheric Administration currently does not have a single research vessel taking measurements below the surface.
Muller-Karger said the government needs to launch a major initiative to take measurements under water, both now and in the future. "We are caught in a situation of ignorance about what's going on under the surface," he said.
Based on the original video released by BP, another witness, Purdue University mechanical engineering professor Steve Wereley, had estimated the oil spill rate at 70,000 barrels a day. On Wednesday, Wereley said that the new videos, showing a second leak, upped his estimate by another 25,000 barrels a day.
Under questioning by Markey, Wereley said of BP's 5,000 barrel figure: "I don't see any possibility, any scenario under which their number is accurate." But neither Wereley nor Markey acknowledged that NOAA has independently settled on -- and is sticking to -- the same, apparently preposterous, figure.
But it wasn't NOAA under Markey's sights.
BP's reluctance to definitively determine how much oil is leaking "raises concerns that they are hiding the full extent of the potential damage of this leak," Markey said. "BP may have no interest in determining the extent of their damage," he said, "but the American people do."
*************************
Popular in the Community