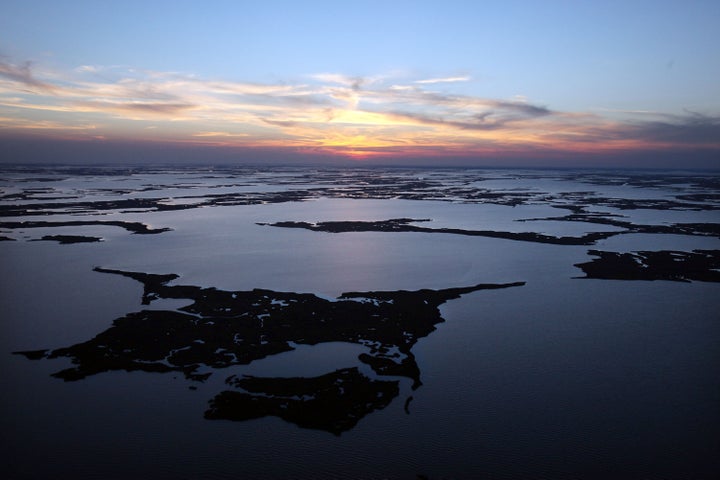 WASHINGTON -- Danielle Thomas spends much of her day with the phone to her ear, listening to hard-luck stories about Alabama workers still dealing with the fallout of last year's Gulf oil spill. Thomas is an attorney with a legal-aid group that's helping people navigate the sometimes-byzantine compensation process overseen by the Gulf Coast Claims Facility (GCCF), which administers payouts from BP to workers and business owners affected by the disaster. Nearly a year after the spill, she says a lot of Alabamians are still adrift and waiting for their checks.
"These people are still really, really hurting," said Thomas, whose group, Legal Services Alabama, deals with many service-industry employees who were stung by a drop-off in tourism last summer. "Bills are coming due, or they're already way past due. They're borrowing from friends and families. There are people living out of cars with their children. ... It's unbearable for people."
The explosion of the Deepwater Horizon rig last April 20 ushered in a torrent of litigation and a massive, $20 billion compensation program. According to GCCF's most recent figures, the fund has paid out nearly $4 billion on some 300,000 claims thus far. Kenneth Feinberg, the well-known mediation lawyer the White House appointed administrator of the GCCF, says he's pleased with his team's progress. Still, lawyers helping claimants say many have gotten bogged down in the program's bureaucracy.
"I'm doing my best," said Feinberg, who ran the September 11th Victim Compensation Fund as well. "The program is not perfect, but I think we are achieving what BP and the administration wanted to see done."
A $20 billion payout scheme doesn't come without a few hitches. Many claimants argue that the methodology for compensation is too rigid, gauged as it is on workers' past wages rather than what they expected for 2010 and beyond. They also claim the system can be too arbitrary, with some claimants waiting on money when their colleagues, who seemed to work in the same capacities and at similar wages, have already received their checks. And some say the process is simply taking too long. According to Thomas, in some cases claims that were supposed to be processed within 90 days have sailed past the 110-day mark, putting already-strapped claimants in a jam.
"With the sheer magnitude of the claims, you're going to have some delays," Feinberg said, adding that many of the claims have insufficient documentation. "I do not agree with the criticism that the program is not processing claims."
Feinberg has withstood some withering criticism from residents at town hall meetings, and he's taken shots from a number of Gulf-area politicians whose constituents are calling in with woeful tales of stalled cases. Sen. Richard Shelby (R-Ala.), hardly the harshest of Feinberg's critics, told The Huffington Post, "We continue to hear from Alabamians frustrated with the opaque and seemingly ever-changing compensation guidelines."
Mississippi Attorney General Jim Hood, who in legal briefs and news reports has blasted what he sees as a lack of transparency, recently filed a motion asking that a federal judge step in and audit the process. Hood also said that a recent bump in the money BP pays to Feinberg's firm -- from $850,000 to $1.25 million per month -- "speaks volumes" about Feinberg's role in the process. Feinberg, in response, said the comment "almost rises to the level of defamation."

"Mr. Feinberg is in over his head," Hood told HuffPost. "With 9/11, that was a finite number of people. This is a massive undertaking." Hood says that during a recent string of town hall meetings claimants complained to him that they were getting lost in continual requests from the GCCF for documentation on their earnings. "They're leading people on and not paying claims," Hood said. "They can make the rules up as they go."
One of the most contentious issues in the claims process has been the so-called "quick payment." In such cases, the fund will promptly dole out $5,000 to individuals and $25,000 to businesses if the parties relinquish their right to sue for further damages. Some lawyers believe that claimants are being steered by GCCF claims processors toward these payments -- something Feinberg has steadfastly denied. Legal-aid lawyers like John Jopling, whose Mississippi Center for Justice has heard from 535 claimants asking for help, worry that some workers are accepting quick payments out of desperation when they could have more money coming their way down the road.
"Why would you [accept] that," Jopling asked, "unless your circumstances were such that you needed money so badly that you'd forgo any scientific evidence of what the safety or seafood issues were and just cash in."
"The problem is people need the money now," said Sister Mary Ellen Lacy, who has been assisting claimants in Bayou La Batre, Ala. "They're more apt to take the quick pay," which comes in 14 days.
Feinberg, however, believes people tend to take the quick payment for one of two reasons: Either they received an emergency payment last year and feel "adequately compensated" already, or they simply lack the proper documentation to prove further damages. If people were being pushed into quick payments, "you would think there would be a flood of citizen complaints in the Gulf," he said, "and we haven't seen that."
Lacy says many people haven't received checks because of lost or insufficient documentation, and a lot of the confusion is due to the fact that it's "just a huge, huge operation." She added, "I've seen people who feel they got treated right… but I've seen predominantly people who are still struggling with how to make sense of it all."
Another common complaint has been a perceived capriciousness in the handling of claims. There are cases that have baffled some lawyers.
"There are inconsistencies in the results, despite similar or identical facts," said Jopling. "Even people at the same place, with the same employer and the same function. Seven of them got their claim accepted, four got their claim denied. Why?"
In some cases, the claims problems are simply logistical. Members of the Gulf's considerable Southeast Asian fishing community complain that there aren't enough claims agents who speak their languages. David Pham, who works for BPSOS, a Vietnamese advocacy group with an office in Bayou La Batre, says his group's claimants from Southeast Asia are being funneled toward the one claims agent in the area who speaks Vietnamese. Many of those claimants -- who are shrimpers, oystermen, and workers from the local seafood-processing plants -- have to find their own translators to get them through the process. Pham says he's also uncomfortable with the quick-payment element.
"We're afraid they're just going to accept it," said Pham, who estimates only about half of the area's seafood plants have re-opened. He says most of the locals feel strapped, particularly after the winter off-season. "No one's getting paid right now. Everyone's been idle. Some did go back to work but it's limited what you can do. You've got to wait for the trucks from Texas and Florida to bring in oysters."
Thomas, the attorney at Legal Services Alabama, says she's now handling around 100 claims cases, with at least three new ones coming across her desk each day. Some people merely have simple questions; others have complicated cases that won't be resolved soon. A lot of the claimants come from the Gulf Shores area, where they worked in restaurants and hotels, and now the emergency money they received from the fund last year has run out.
"A lot of the jobs they depended on are gone," said Thomas. "But the bills don't stop coming."
Support HuffPost
The Stakes Have Never Been Higher
Popular in the Community