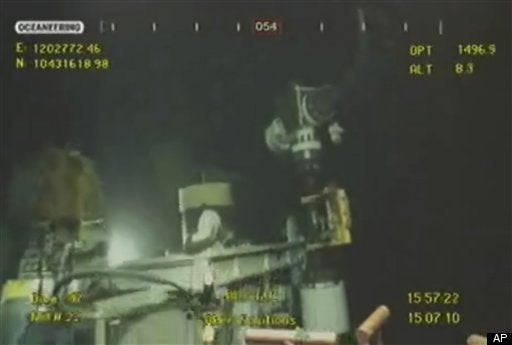 NEW ORLEANS (Associated Press) - The Gulf Coast found itself in an odd moment of limbo Saturday: The oil has been stopped, but no one knows if it's corked for good.
The clock expired on BP's 48-hour observation period and the government added another day of critical monitoring. Scientists and engineers were optimistic that the well showed no obvious signs of leaks, but were still struggling to understand puzzling pressure readings emerging from the bottom of the sea.
It's possible the past three days will be only a brief reprieve from the flow of oil bleeding into the Gulf. Retired Coast Guard Adm. Thad Allen, the government's point man on the crisis, decided Saturday that after the testing was complete, the cap will be hooked up through pipes to ships on the surface that will collect the oil.
That likely means releasing crude back into the water temporarily to relieve pressure. It still would not be gushing at the rate it had been before BP's latest fix.
It will take months, or possibly years for the Gulf to recover. But if the coast was on edge about the impending decision, it wasn't apparent.
In fact, there were signs that people were trying to get life -- or at least a small part of it -- back to normal.
In coastal Alabama, lounge chairs for rent outside of hotels were full and swimmers bobbed in emerald green water virtually oil-free, save for a few small tar balls.
Calls started flooding into the reservations switchboard at Kaiser Realty Inc. in Gulf Shores, Ala., almost as soon as BP confirmed Thursday that oil had stopped flowing into the Gulf, said marketing director Emily Gonzales.
"Are they what we want them to be? No, but it is far better than it was," she said.
People also were fishing again, off piers and in boats, after most of the recreational waters in Louisiana were reopened late this week. More than a third of federal waters are still closed and off-limits to commercial fishermen.
"I love to fish," said Brittany Lawson, hanging her line off a pier beside the Grand Isle Bridge. "I love to come out here."
Lawson and her boyfriend's family were catching redfish, mullet and flounder, but mostly hard-head catfish, a throwback fish. They planned to keep the catches they could take home.
"It is encouraging. We're getting bites. I mean, it's catfish. But it's bites. It's something," she said.
And even though it was only days since the oil was turned off, the naked eye could spot improvements on the water. The crude appeared to be dissipating quickly on the surface of the Gulf around the Deepwater Horizon site.
Members of a Coast Guard crew that flew over the wellhead Saturday said far less oil was visible than a day earlier. Only a colorful sheen and a few long streams of rust-colored, weathered oil were apparent in an area that was covered by huge patches of black crude weeks earlier. Somewhere between 94 million and 184 million gallons have spilled into the Gulf, according to government estimates.
Kendra Sanders was buying Creole tomatoes at a produce stand in Jesuite Bend. "At least we still got these. Until a hurricane comes along and blows the oil in here. Then it'll be no shrimp and no vegetables," she said.
The one certainty is this: No new oil has been added to the mess for two days now since BP's experimental cap was holding, at least for now.
BP began Saturday saying they were feeling "more comfortable," though Kent Wells, a BP PLC vice president, cautioned the evaluation was not over. BP and the government want to make sure the well can stay bottled in case of a hurricane, when ships would have to leave the area.
Wells said engineers glued to an array of pressure, temperature, sonar and other sensors were seeing no evidence of oil escaping into the water or the sea floor. Undersea robots were also patrolling the well site for signs of trouble.
The cameras showed some activity midday Saturday. The robots passed a wand-like object back and forth, and appeared to be digging dirt-like debris out of a pipe. Meanwhile, a glowing globe appeared on the sea floor as bubbles swirled around. BP didn't explain what they were doing, and to a viewer, it was like watching a foreign film without subtitles.
BP shut valves in the cap Thursday, stopping the flow of oil into the Gulf for the first time since the April 20 explosion on the leased oil rig Deepwater Horizon killed 11 workers and unleashed the spill 5,000 feet below the sea.
Concern that the cap could cause oil to break out of the well at the seafloor lessened.
Pressure readings Saturday morning were 6,745 pounds per square inch and rising slowly, Wells said. The figure was below the 7,500 psi that would have reassured scientists the well was not leaking, but still high enough that it could be all right.
A low pressure reading, or a falling one, could mean the oil is escaping. Wells said pressure continued to rise very slowly.
The most likely reason the pressure is low is more oil has bled out than estimated, experts say. Last week, when an old cap was removed allowing oil to flow unimpeded into the water, the spew wasn't as violent as it had been.
"Depletion is actually pretty normal," said Don Van Nieuwenhuise, Director of Professional Geoscience Programs at the University of Houston. "At first it flowed very powerfully, and when you're producing too much too fast for too long, it takes longer to pull the oil."
Either way, the cap is a temporary measure until a relief well can be completed and mud and cement can be pumped into the broken well deep underground to seal it more securely than the cap. That means the best fix still won't be completed until later this summer.
BP is drilling two relief wells, one of them as a backup. Wells said work on the first one was far enough along that they expect to reach the broken well's casing, or pipes, deep underground by late this month. Then the job of jamming it with mud and cement could take "a number of days through a few weeks."
Until then, the limbo may continue.
Related
Popular in the Community