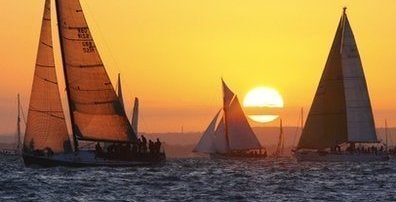 RAPHAEL SATTER, Associated Press
LONDON — In what one environmentalist described as "yet another public relations disaster" for embattled energy giant BP, CEO Tony Hayward took time off Saturday to attend a glitzy yacht race around England's Isle of Wight.
As social networking sites like Twitter and Facebook lit up with outrage, BP spokespeople rushed to defend Hayward, who has drawn withering criticism as the public face of BP's halting efforts to stop the worst oil spill in U.S. history.
Spokeswoman Sheila Williams said Hayward took a break from overseeing BP efforts to stem the undersea gusher in Gulf of Mexico so he could watch his boat "Bob" participate in the J.P. Morgan Asset Management Round the Island Race. The 52-foot yacht is made by the Annapolis, Maryland-based boatbuilder Farr Yacht Design.
The annual one-day race is one of the world's largest, attracting more than 1,700 boats and 16,000 sailors as world-renown yachtsmen compete with wealthy amateurs in the 50-nautical mile course around the island.
Robert Wine, a BP spokesman at the company's Houston headquarters, said it was the first break that Hayward has had since the Deepwater Horizon rig exploded April 20, killing 11 workers and setting off the undersea oil gusher.
"He's spending a few hours with his family at a weekend. I'm sure that everyone would understand that," Wine said Saturday. "He will be back to deal with the response. It doesn't detract from that at all."
Wine described the race as "one of the biggest sailing events in the world and he's well known to have a keen interest in it."
He said Hayward will be returning to the United States, though it's unclear when.
Still, hobnobbing with millionaires and their yachts is likely to be a hard sell in the Gulf, which is struggling to deal with up to 120 million gallons of oil that have escaped from the blown-out well. Oil has been washing up along the Gulf Coast from Louisiana to Florida, killing birds and fish, coating delicate marshes and wetlands and covering pristine beaches with tar balls.
Hayward already angered many in the U.S. when he was quoted in the Times of London as suggesting that Americans were particularly likely to file bogus claims. He later shocked residents in Louisiana by telling them that no one wanted to resolve the crisis as badly as he did because "I'd like my life back."
A pair of relief wells that won't be done until August is the best bet to stop the massive spill. By late June, the oil giant hopes it can keep nearly 90 percent of the flow from the broken pipe from hitting the ocean.
Coast Guard Adm. Thad Allen says a newly expanded containment system is capturing or incinerating more than 1 million gallons (3.8 million liters) of oil daily, the first time it has approached its peak capacity.
Just minutes after reports about Hayward emerged Saturday, the issue became a hot topic on social networking sites, with people on Twitter passing along the news and reacting to it every few seconds. Some comments called the move "mindboggling" while others noted he had gotten his life back – while Gulf residents had not.
British environmental groups immediately slammed Hayward's outing. Charlie Kronick of Greenpeace said Hayward was "rubbing salt into the wounds" of Gulf residents whose livelihoods have been wrecked by the disaster.
"Clearly it is incredibly insulting for him to be sailing in the Isle of Wight," he said.
Hugh Walding of Friends of the Earth said Hayward's choice of venue was sure to arouse anger.
"I'm sure that this will be seen as yet another public relations disaster," Walding said.
On Thursday, Hayward told lawmakers on a U.S. House investigations panel that he was out of the loop on decisions surrounding the blown well. Both Democrats and Republicans were infuriated when he asserted, "I'm not stonewalling."
The next day, BP Chairman Carl-Henric Svanberg seemed to suggest that Hayward was being withdrawn from the front line of the oil spill response, although his comments were later qualified.
"It is clear that Tony has made remarks that have upset people," Svanberg told Sky News television, adding that Hayward was "now handing over" daily operations to BP Managing Director Bob Dudley.
Williams said Svanberg was misunderstood and that only a transition to Dudley, an American with 30 years in the oil business, had begun.
"Hayward is very much in charge until we've stopped the leak," she told the AP on Saturday.
Wine said "there's not a hard and fast date" on when Dudley will be completely in charge.
It was not clear whether Hayward actually took part in Saturday's race or attended as a spectator. Williams said Hayward was there with his son. A British news agency took a picture of what it thought was Hayward on the yacht that he owns with other investors, but BP would not confirm that it was Hayward.
Peta Stuart-Hunt, a press officer for the event, said Hayward "wasn't listed on any of the crew list."
"If he is on the boat, he's in contravention of the rules," she said.
Hayward's boat finished fourth in its class. This year's attendees at Isle of Wight race included British Olympic gold medal sailor Ben Ainslie.
Associated Press Writers Ramit Plushnick-Masti and Ray Henry contributed to this report from New Orleans.
Related
Popular in the Community