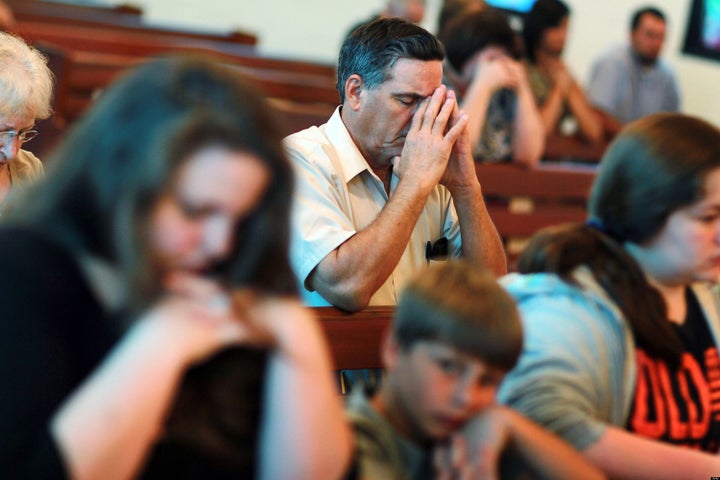 By Bruce Nolan
Religion News Service
NEW ORLEANS (RNS) Twice a day, precisely at 10 a.m. and 2 p.m., alarms ring on dozens of cell phones, alerting those participating in the Rev. Jim Woodard's week-old Internet prayer initiative to spend one minute praying for relief from the BP Gulf oil spill.
In Meraux, Cesar Lopez rises each morning at 4:30 a.m. and says the rosary, as he does every day, remembering especially to pray for relief for families stricken economically by the spill.
And in Violet, a coalition of Christian pastors has begun laying plans to pray with out-of-work fishers at least three mornings a week in Shell Beach, Delacroix and Hopedale as the men gather before dawn to learn whether BP will put them to work that day.
"Whatever BP decides to do, that's down the road," said Brandy Shelton, who lingered after the service last Sunday (June 6) at Christian Fellowship in Violet.
"Right now, the only thing I can do is stay in faith with those families and pray for them. And if our church is doing anything for them, to assist in that way."
Around southeast Louisiana, people who know nothing of the daily technical battle to stem the spill, including many who do not have family or friends yet affected, nonetheless say that concern about the oil spill has landed heavily in their interior lives, where they pray quietly in search of understanding or ask for comfort for themselves or others, according to the dictates of their faiths.
In churches, especially in Plaquemines and St. Bernard parishes, the spill weeks ago found its way into every message and homily, as pastors seek to give it meaning, encourage parishioners in the face of hardship, or summon them to good works.
And the Council on American-Islamic Relations asked Muslims around the country this week to include special prayers for oil spill relief in their Friday worship services.
"You hate to beat a dead horse," said the Rev. John Arnone, who pastors two Catholic parishes in St. Bernard, one of them with a substantial number of hard-hit fishing families. "You've got to mention it, even though it's on everybody's mind. You don't want to wear them down, but we have to be mindful that we are here to support one another. That's why I keep doing it."
On Memorial Day, a team of evangelical pastors motored out onto Lake Borgne and prayed together, asking God for relief. One of them, the Rev. Jim Jeffries, said they poured salt over the water, commemorating a biblical act of healing by the prophet Elisha.
Woodard, who spent decades working as a land company manager in the oil patch around Venice before founding The Crossroads church in Belle Chasse eight years ago, said a particular Scripture passage rang in his mind as an appropriate response to the spill, whatever the oil industry engineers do.
Woodard has launched a website, http://www.prayforourcoast.org, urging readers to consider Chronicles 7:13-14, in which God promises to heal the land if people turn to him in prayer.
"I know people are already praying," Woodard said. "I'm not downplaying that. But I thought, what would happen if we focused all that? What would happen if we got people to stop, twice a day, and pray about this?"
"The idea of expecting God to intervene and heal something as messed up as this is asking something foreign to a lot of people," Woodard said. "Frankly, I think he's in the miracle business, and this is a great opportunity."
After Hurricane Katrina, some Christians--vocal, but largely out of the mainstream--proclaimed that the storm was God's punishment of New Orleans for a range of public sins ranging from racism to Mardi Gras.
And in recent weeks, in some places around the country, some Christians and others have interpreted the spill as evidence of human arrogance, or as a sin of negligence against the gift of creation.
But in St. Bernard and lower Plaquemines parishes, where oil and seafood are the twin economic engines, few claim to detect any divine message behind the blowout of the Deepwater Horizon on April 20, the deaths of 11 workers and the rig's subsequent fouling of the Gulf of Mexico.
"If you ask 10 Christians, you might get 10 different answers," said the Rev. Keith Stone, an evangelical pastor whose Louisiana Healing Center was organizing help to fishing families, one of many faith-based aid efforts in the region.
Stone is part of a coalition of St. Bernard evangelical pastors who have coordinated a food giveaway, as well as the continuing early-morning ministry to fishers hoping to go out and work the spill. The relief efforts complement those of Catholic Charities, which has established four centers in South Louisiana handing out food, grocery gift cards and other aid.
Even so, "my first response is prayer," Stone said. "Then, what can I do to help someone else in their time of need."
If the meaning behind the spill is inscrutable, what many residents of St. Bernard and Plaquemines do know is that Hurricane Katrina taught them that faith will help them endure this, too--although how is yet unclear.
Katrina smashed both parishes. Five years later, a conservative estimate is that half of St. Bernard's 65,000 people have not returned--and those who did reclaimed their homes only through unyielding tenacity.
"With Katrina, when we first came back, everything was devastated," said Phyllis Diecidue, a curriculum specialist with the St. Bernard parish school system.
"So many people looked around and said, `How can we rebuild? How can we ever come back?' But faith in God is what got us through this.
"I think God is going to prevail. To some (families) it doesn't seem like that, and I can understand that. I can sympathize," she said.
But that will happen, Diecidue and others said, in the sustaining aid neighbors will extend to one another in the midst of government and corporate red tape.
"He's the same God who came through for us after Hurricane Katrina," Shelton said.
"If he did it then, he can do it now."
(Bruce Nolan writes for The Times-Picayune in New Orleans.)
Popular in the Community