Nothing says "I LOVE YOU NEVER LEAVE ME I MEAN IT SERIOUSLY" quite like bringing home a firearm on Valentine's Day.
Impact Guns, an online gun retailer based out of Utah, is hosting a truly bizarre Valentine's Day giveaway, offering the winner a free Smith & Wesson Shield 9 along with two dozen roses. We're not quite sure what to make of it, except think that the rock band Guns N' Roses should be peeved.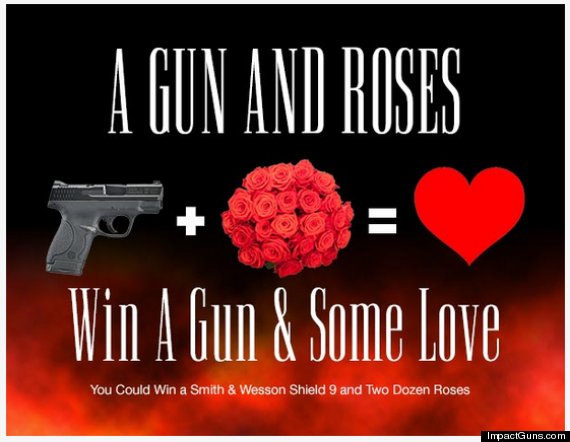 According to Craig Ball, director of operations for Impact Guns, 5,000 entries have been submitted since the sweepstakes launched this morning.
"Showing your love for a loved one and being able to defend them all in one is as good as it gets," Ball told The Huffington Post in a phone call on Friday.
Impact Guns isn't alone in promoting firearms on Valentine's Day. A local Texas police department encouraged giving a gun for Valentine's Day. According to Al Jazeera America, a Facebook message posted by the Rosenberg Police Department included a photo of a gun and read, "Men... Valentines Day is about one week away... why not the gift of safety?" It looks like the posting has since been deleted.
In America, 64 percent of women who are murdered are killed by a family member or intimate partner, HuffPost previously reported. According to one study, in domestic violence situations, having a gun in house means a woman is eight times more likely to be killed.
Popular in the Community