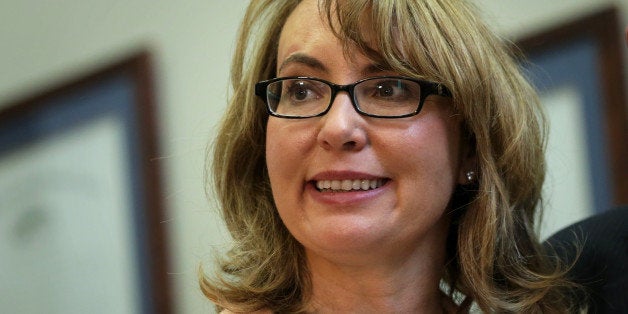 WASHINGTON -- Americans for Responsible Solutions PAC, the political arm of former Rep. Gabby Giffords' (D-Ariz.) anti-gun violence group, will wade into the 2014 midterm elections in a bid to make gun control a wedge issue among voters.
Mark Kelly, Giffords' husband and the co-founder of ARS, briefed reporters Tuesday on the group's federal election priorities this year, which include plans to engage in several high-profile Senate and House races in support of Democratic and Republican incumbents who have backed stricter gun laws.
In the Senate, that includes lawmakers who voted last year for legislation that would have expanded background checks on gun purchases, but succumbed to a GOP-led filibuster: Democratic Sens. Mark Udall (Colo.), Mary Landrieu (La.), Jeanne Shaheen (N.H.), Kay Hagan (N.C.) and Al Franken (Minn.), and Republican Sen. Susan Collins (Maine). The group will also help prop up Democratic Rep. Bruce Braley, who is running for Senate in Iowa. Braley had argued last year that the Senate background checks bill didn't go far enough.
At least two incumbents who voted against the background checks legislation can breathe easy -- the group will not target Democratic Sens. Mark Pryor (Ark.) and Mark Begich (Alaska), both considered vulnerable as they seek reelection in deeply conservative states.
"We don't see any point in working against the efforts of Sens. Pryor and Begich," said ARS senior adviser Pia Carusone. "If there was such a Republican running against one of these Democrats, we might have made a different decision, but there's not."
"That's not part of the DNA of our group -- to defeat people who will be replaced by candidates that are even worse on this issue, to be blunt," she added.
As for House candidates, the group will support the reelection campaigns of Reps. Michael Fitzpatrick (R-Pa.), Ron Barber (D-Ariz.), Carol Shea Porter (D-N.H.) and Ann McLane Kuster (D-N.H.). All four races are considered to be highly competitive and are taking place in states where voters have shown more favorable attitudes toward measures that would reduce gun violence.
The question that remains is whether the coalition of groups seeking to combat gun violence can match the intensity of the National Rifle Association. The NRA, along with the rest of the gun lobby, continues to leverage its widespread influence on lawmakers as they weigh any form of gun control. In Colorado, gun rights activists, bolstered by the NRA, successfully recalled two state senators last year after they voted for a comprehensive package of stricter gun laws. A third state senator in Colorado was forced to resign months later amid a similar recall effort.
Carusone acknowledged that ARS does not yet possess a war chest as large as the NRA, which brings in an estimated $200 million annually, but said it's received $14.5 million in donations since its creation in January 2013. Kelly said more than 600,000 people have signed up to be part of the movement.
"It used to be out of balance, the political end of this debate, [and] it's not going to be out of balance anymore," Kelly said. "We are going to be a considerable force here in 2014 and beyond and, because of that, I think you're going to have members of Congress and elected leaders around the country … starting to think differently about this issue."
Carusone said it hasn't been determined how much the group will spend on this round of elections, noting the emphasis was on using its money "efficiently and effectively." Spending levels will vary depending on the individual requirements of each race, she added.
Michael Bloomberg, who is leading his own gun control efforts, showed less sympathy toward Pryor, in particular, after last year's vote in the Senate. The former New York City mayor's anti-gun violence group, then called Mayors Against Illegal Guns, ran an ad attacking Pryor at the time that drew the ire of Democrats in Washington. Back then, Democratic leaders made a similar argument to the one Carusone made on Tuesday: Ousting Pryor would only tip the Senate toward a Republican majority -- one in which any stricter gun laws wouldn't stand a chance.
Kelly said it was important to note that senators who voted against the bill may have already learned their lesson. At the time of the vote, 90 percent of Americans said they supported universal background checks, thus prompting considerable backlash when the measure failed.
"If given the opportunity again, we may see a different vote," Kelly said. "I can't speak for the senators specifically about this, but I think they heard loud and clear from their constituents and from folks around the country that they made a poor choice on this piece of legislation."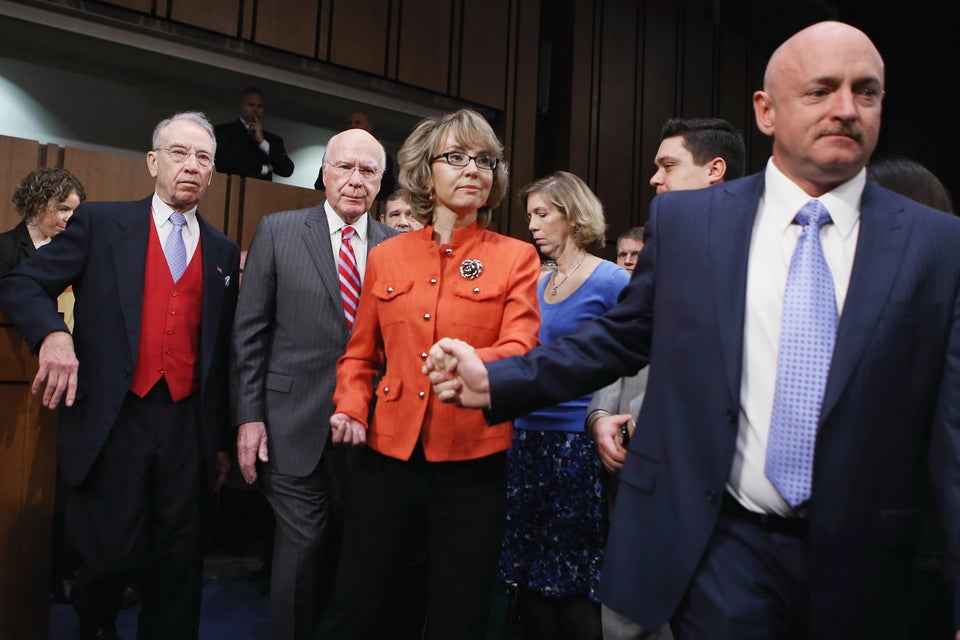 Giffords Appears At Gun Control Hearing
Popular in the Community