Forget Hillary Clinton and Bernie Sanders. Advocates of gun control say they were the real winners of Tuesday's Democratic presidential debate.
After years of hedging against stricter gun control, couching proposals in paeans to gun ownership or more commonly, avoiding the issue altogether, the Democratic Party's top presidential contenders were breathlessly competing to prove their gun control bona fides and opposition to the National Rifle Association.
"Four years ago it would have been considered unthinkable ... that the candidates would be falling over each other to demonstrate their strong stance for sensible gun laws and against the gun lobby," said Dan Gross, president of the Brady Campaign To Prevent Gun Violence. "That they would actually brag about their negative NRA ratings -- for people like me, who have been working in this field for so many years, it was almost surreal to watch."
Ladd Everitt, communications director of the Coalition to Stop Gun Violence, said the debate made clear that "the political dynamic on guns in the Democratic Party has changed completely." 
"When you're at the point when a candidate on the national stage is declaring, 'It's time the entire country stood up against the NRA,' it's leaping high-five time," Everitt added, referring to a comment by Hillary Clinton.  
The NRA was mentioned 14 times during Tuesday's debate, and none of the mentions was positive.
Sen. Bernie Sanders (I-Vt.), the candidate whose commitment to gun control came under the greatest scrutiny, bragged of his D-minus NRA rating, and his support for a ban on assault weapons and other gun control measures despite representing Vermont, "a state which has virtually no gun control."
That discussion contrasts with a Democratic presidential debate in April 2007 -- less than two weeks after the mass shooting at Virginia Tech -- when candidates struck a much more apologetic tone, even when they endorsed similar policies like closing the so-called gun show loophole for background checks. Then-Sen. Joe Biden (D-Del.) prefaced his remarks by noting that he owned a shotgun and a pistol. Then-New Mexico Gov. Bill Richardson (D) assured voters that as a "westerner," he understood that the "Second Amendment is precious."
And in a Democratic debate in January 2004, former Vermont Gov. Howard Dean (D) bragged about his ties to the NRA. Dean said that the gun group had a good reputation in "rural states like mine" and that he had "done a lot of conservation work with" it.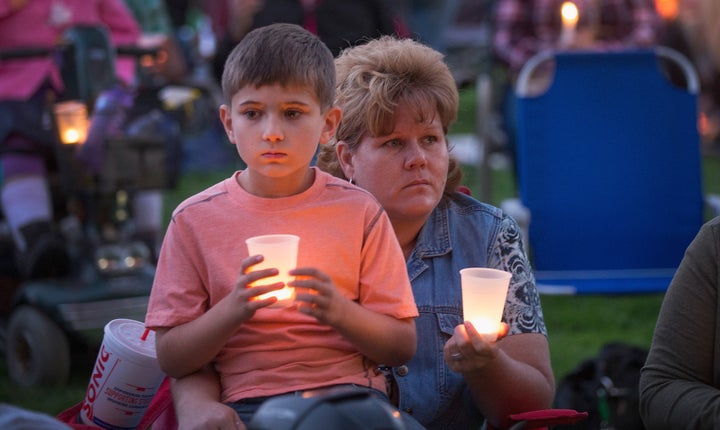 The Brady Campaign has been advocating the expansion of background checks first imposed in the 1994 Brady Bill to private, unlicensed gun sales and to close other loopholes that enable criminals and people with mental illnesses to acquire guns.
The 2013 Manchin-Toomey amendment, the last bipartisan congressional push aimed at closing the so-called gun show loophole on background checks, failed in the Senate, even though it came in the wake of the 2012 massacre at Sandy Hook Elementary School.
Gross said Tuesday's debate was a "tipping point."
"This is an issue that candidates on the right side, the correct side of it, are running toward and the candidates on the wrong side are running from," Gross said. "That really represents a sea change on this issue."
Gun control proponents said Democrats are simply catching up with popular opinion. And with enough pressure, they said they believe Republicans will, too.
Ninety-two percent of Americans -- including 86 percent of Republicans -- support requiring background checks for all gun buyers, according to a July 2014 Quinnipiac poll.
Lori Haas, whose daughter was wounded in the 2007 Virginia Tech massacre and is now Virginia state director of the Coalition to Stop Gun Violence, said she was optimistic about the prospect for new federal gun safety legislation.
"The political culture follows the popular culture," Haas said. "We've got the popular culture and the political culture is getting on board."
PHOTO GALLERY
Pivotal Moments In The U.S. Gun Control Debate
REAL LIFE. REAL NEWS. REAL VOICES.
Help us tell more of the stories that matter from voices that too often remain unheard.