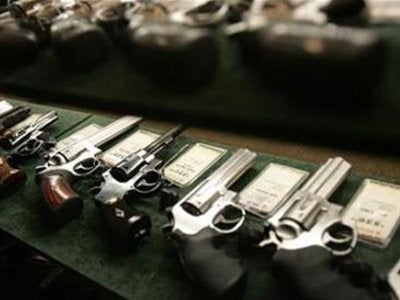 Gun control advocates, including relatives of individuals killed in two of the most notorious incidents of school-related gun violence, are making a major push to pressure lawmakers to restrict the sale of arms to criminals and the mentally ill. With a series of high-profile newspaper ads, they're also trying to counteract what is supposed to be a feisty day of protests by Second Amendment activists inside Washington D.C.
The Coalition to Stop Gun Violence placed print ads in the Denver Post and Boulder Daily Camera on Monday in which Tom Mauser, whose son was murdered 11 years ago at Columbine High School, urged Senator Mark Udall (D-Col.) to help close the so-called "Gun Show Loophole."
"Shortly after the tragedy at Columbine, 70% of Coloradans voted to close this dangerous loophole, but in many other states the loophole remains -- including every state surrounding Colorado... That means that Coloradans can still easily be victimized by guns brought here from other states. We need a federal law to close the Gun Show Loophole for good, just like we have in Colorado."
Separately, in the Richmond Times Dispatch on Monday, the group Virginians for Public Safety placed an ad signed by victim family members and survivors of the Virginia Tech massacre roughly three years ago. Reminding the state's two Democratic Senators (Mark Warner and Jim Webb) that they have, in the past, expressed support for stricter background checks on gun purchasers, the spot similarly presses for the closure of the Gun Show Loophole.
"Every day in the United States, 35 people are murdered with guns--that's a Virginia Tech sized massacre every single day. We have seen firsthand the incredible toll that gaps in the federal background check system have on public safety, and we live with the personal toll every single day of our lives."
On Monday, thousands of gun owners and Second Amendment activists are set to descend on the nation's capital to express their frustration with White House policy. In Virginia, there will be additional protests, at which demonstrators will be permitted to carry firearms. In a thread of irony, the latter protests are only allowed to take place because of an Obama administration decision that permitted protesters to bring guns into parks run by the National Park Service. The Washington Post reports:
When they stand on the river banks Monday and preach an activism that sounds to some like sedition, the armed demonstrators will have the full support of the federal government they fear, carefully detailed in the 26-page event permit, complete with the gun regulations of both Virginia and the Interior Department and a commitment to provide fencing, barricades and bike racks for the event.

"We handle tens of thousands of demonstrations of a First Amendment nature annually," said Dave Schlosser, spokesmen for the U.S. Park Police, "and we are handling this event no differently than any of the others. We assess what their needs are to allow us to facilitate a safe and successful demonstration so they can exercise their rights to free speech and free assembly without interference."
All of which illustrates a telling backdrop to the current gun-rights debates. Despite certain paranoia that Second Amendment advocates share over the president's supposedly restrictive approach to gun laws, Obama has been defined, first and foremost, by an unwillingness to engage the debate. If anything, he's riled gun control advocates far more than their opponents, with New York City Mayor Michael Bloomberg reduced to writing a stern letter to the president and the Department of Justice asking why basic action hasn't been taken on the gun-control policies.
Perhaps that explains why groups are now turning their sights on Congress as well. In addition to taking out ads on Monday, the Coalition to Stop Gun Violence sent a "thank you" note to Virginia Democratic Representatives Gerald Connolly, Jim Moran and Bobby Scott -- as well as Rep. Carolyn McCarthy (D-NY) and Rep. Mike Castle (R-DE) -- for supporting legislation that would require background checks on firearm purchasers at gun shows.
Those three Virginia Democrats, in turn, put out a "Dear Colleague" letter on Monday, urging other Representatives to sign on to their legislation.
"It is time for Congress to act," they write. "And the American people are on our side. In fact, Republican pollster Frank Luntz found that 69 percent of NRA gun owners and 85 percent of non-NRA gun owners support closing the loophole."
Popular in the Community