WASHINGTON -- Momentum grew for Senate passage of gun legislation when a bipartisan group of senators on Wednesday announced agreement on deals to expand background checks and tighten laws against gun trafficking.
The first breakthrough came in a deal on background checks announced by Sens. Pat Toomey (R-Pa.) and Joe Manchin (D-W.Va.), who agreed on an amendment that would exempt all "personal" transfers of weapons between individuals, but would close the infamous gun show loophole and also require background checks on Internet sales.
"All personal transfers are not touched whatsoever," said Manchin. "We've done these two [gun shows and Internet sales], and we've done them and done them right."
Toomey, who is well-regarded by the National Rifle Association, said he was not worried that backing a new gun law would risk his strong rating from the group.
"What matters to me is doing the right thing, and I think this is the right thing," said Toomey, who still declined to predict whether he would back the full gun control bill. He did suggest that the background check amendment would receive support in the House; such support would mark a major shift in the prospects for passing gun legislation.
The measure would also make it easier for people with concealed-carry permits in one state to transport their weapons through another state where they would otherwise be breaking the law, such as New York. Toomey and Manchin said it was a step toward full concealed-carry reciprocity across the country, which they agreed to drop for now.
"I hope we get there," said Toomey.
The NRA was lukewarm on the measure, releasing a statement that did not oppose it and called it better than the universal background check system that President Barack Obama and New York City Mayor Michael Bloomberg have been seeking.
"Expanding background checks at gun shows will not prevent the next shooting, will not solve violent crime and will not keep our kids safe in schools," the NRA said in its statement, which at least suggested that lawmakers who back the amendment won't be punished. It characterized the measure as an "overwhelming rejection of President Obama and Mayor Bloomberg's 'universal' background check agenda."
A Senate aide said that Sen. Chuck Schumer (D-N.Y.), an original backer of gun control legislation, called Vice President Joe Biden, Bloomberg and Mark Kelly, the husband of former Rep. Gabby Giffords (D-Ariz.), early Wednesday morning to inform them of the watered-down bill, which Schumer backs.
The other step forward came from Sens. Patrick Leahy (D-Vt.) and Susan Collins (R-Maine), who said they had come to an agreement with the NRA to beef up restrictions on gun trafficking.
The proposed Stop Illegal Trafficking in Firearms Act includes the first federal measures that would specifically prohibit the trafficking and straw purchase of weapons. Currently, the only federal law on straw purchases concerns filling out the paperwork to buy the weapon.
The measure would make it a crime to buy guns on behalf of individuals legally barred from possessing guns and would make it explicitly illegal to traffic two or more guns if a person had "reasonable cause" to believe a crime would be committed with any of those firearms. Violations would be punishable by fines, property forfeiture and prison sentences of up to 25 years.
"We worked with the NRA and with several other senators to ensure that nothing in our bill infringes on the Second Amendment rights of lawful gun owners and purchasers, while still providing a strong new set of tools for law enforcement officials," Leahy said in a statement. "We are pleased that the NRA agrees with us that this legislation is a focused approach to combat the destructive practices of straw purchasing and firearms trafficking while protecting the Second Amendment rights of Americans."
UPDATE: 4:24 p.m. -- On Wednesday afternoon, President Obama applauded Sens. Manchin and Toomey for reaching the deal, which he said "will make it harder for dangerous people to get their hands on a gun."
The president's statement contained a tinge of disappointment, given that the compromise legislation does not contain bans on either assault weapons or high-capacity magazines, both of which he has campaigned for in recent weeks.
"This is not my bill, and there are aspects of the agreement that I might prefer to be stronger," Obama said. But he added that the agreement "recognizes that there are good people on both sides of this issue, and we don't have to agree on everything to know that we've got to do something to stem the tide of gun violence."
Obama also acknowledged the rocky path ahead for the deal to become law.

"A lot of work remains," he said. "The Senate must overcome obstruction by defeating a threatened filibuster, and allow a vote on this and other commonsense reforms to protect our kids and our communities. Any bill still has to clear the House. So I'm going to keep asking the American people to stand up and raise their voices, because these measures deserve a vote -- and so do the families and communities they're designed to protect."
UPDATE: 8:54 p.m. -- The NRA firmed up its position later, opposing the overall bill and calling the Manchin-Toomey compromise "misguided."
NRA head Chris Cox made that position clear to senators in a letter released Wednesday night:
Before You Go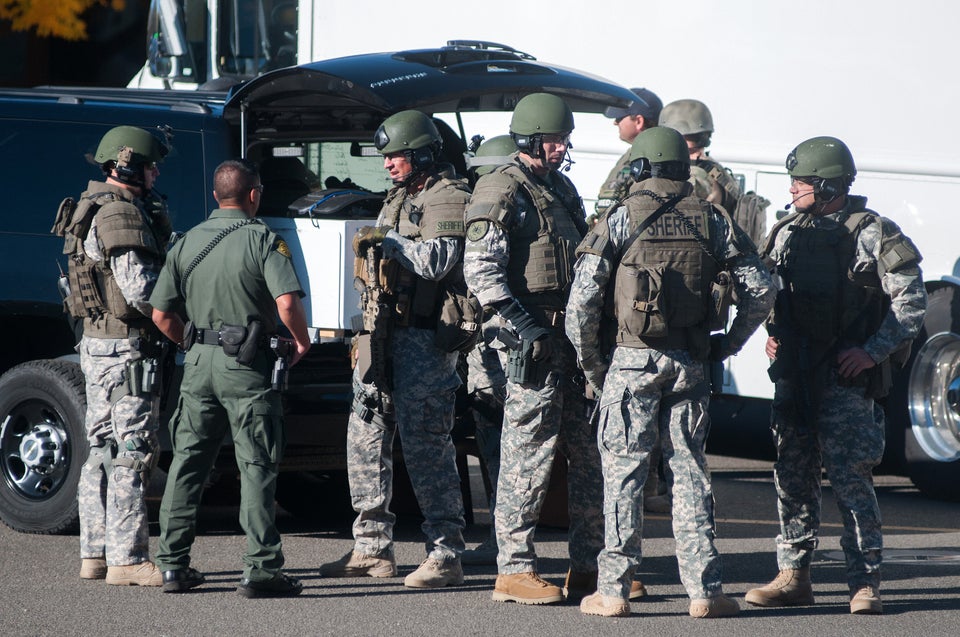 Shootings In America
Popular in the Community