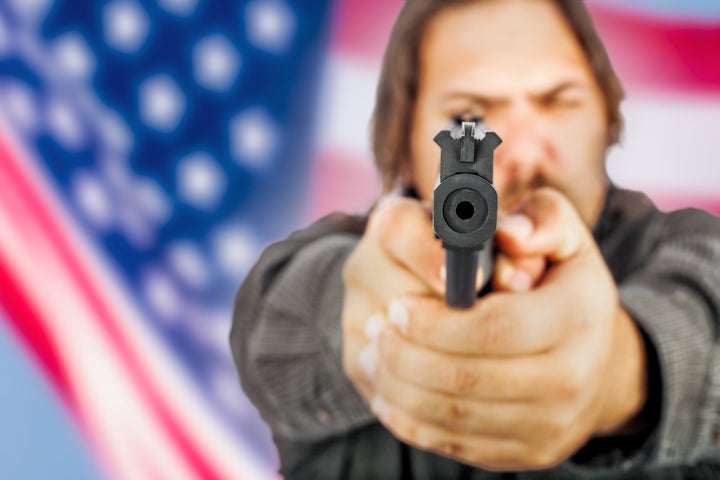 Despite the differing opinions on either side of the gun control debate, one thing holds true: crime rates in inner-city neighborhoods are harrowing.
Roy Innis knows this all too well. Two of his sons were killed with illegal guns, one in Harlem, and one in the South Bronx.
Innis is the national chairman of the Congress of Racial Equality (CORE), one of the oldest civil rights organizations. He considers the NRA a civil rights organization too, which is why he sits on its board.
"Who are the people who are the prime victims of gun violence?" he told The Huffington Post. "People in south Chicago, in Harlem, in South Bronx, in Washington D.C. But very few of these people, if any, have legal guns."
It's a striking trend, particularly since the black leadership has traditionally led the charge for gun control. The National Urban League is a member of The Coalition to Stop Gun Violence, and few organizations have put as much legal muscle behind the gun control fight as the NAACP. African-Americans are also less than half as likely as whites to own a gun, and they're far more likely to prioritize gun control over gun rights.
But while African-Americans on either side of the debate agree gun violence is a scourge in the inner-city, they disagree on another vital fact: whether gun control hurts more than it helps.
Targeting blacks is a new turn for the gun rights movement, but the arguments they're using are not. For decades, black opponents of gun control have also been fighting their cause under the banner of civil rights, although their ranks have dwindled.
Armed self-defense had a critical role in the civil rights movement. In certain southern states, black-armed groups would guard voter drives and the homes of civil rights leaders. In her landmark reports on lynching, Ida B. Wells, a co-founder of the National Association of Colored Women, wrote, "a Winchester rifle should have a place of honor in every Black home" for the "protection which the law refuses to give."
When Rosa Parks and her husband began organizing activist meetings in their home, she claims she had no place to put the refreshments "with the table so covered with guns." Even Martin Luther King, Jr. applied for a concealed firearm permit, after his house was firebombed.
This tradition has shaped the politics of many black gun rights advocates. Former Secretary of State Condoleezza Rice has said her defense of the second amendment is rooted in memories of growing up in Birmingham, Ala., when her father and his friends would guard their streets against white terror groups.
For many blacks, gun control is an emotional issue. "When we talk about gun safety, gun violence, we say, 'My kids should have a right to go to school without being shot,'" Hilary Shelton, the Washington bureau director of the NAACP, told The Huffington Post.
It's already much harder to buy a gun legally in many black communities. In Chicago, for example, gun stores are banned, as are assault weapons and high-capacity magazines. In Washington D.C., all guns must be registered, and it's almost always illegal to carry a firearm.
But violence in the poorest parts of these cities remains stubbornly high. Gun control proponents say the laws are too limited, while gun rights advocates claim they've only further concentrated guns in the hands of criminals. Innis believes one of his children could have been saved, if an armed good Samaritan had been standing by.
"The only thing that's going to stop a bad guy with a gun is a good guy with a gun," says Micheal Cargill, a black gun shop owner in Austin, Tex., who only applied for a concealed gun license after his grandmother, who decided to get a nursing degree at the age of 70, was mugged and raped on the way home from the library. Cargill said he faced hostility from friends and neighbors when he started his business. "It's not typical in the African American community," he said. "It's something frowned upon."
The need for self-defense is often felt more acutely in neighborhoods, where there's the sense that the police will take a long time to come, or may not come at all.
"These black people living in these hyper-ghettos feel like they're on their own," says Yale University sociology professor Elijah Anderson, author of the classic "Code of the Street," who's spent most of his adult life studying these communities.
"To protect yourself from criminals, to protect your daughter, to protect your son, you have to show this person in no uncertain terms that if the police don't deal with you, I'll deal with you. I'll kick your ass," he told The Huffington Post. "This is a decent person who goes to church. An old lady who's 65 years old, who has a gun."
Gun Rights As Citizenship
For many black gun rights activists, policies that disarm minorities eerily echo old racist claims that blacks were unfit for citizenship. Throughout the country's history, it's been harder for minorities to get their hands on firearms.
Black gun rights advocates often point this out, from the explicitly racist gun laws of our early republic, to racially suspicious laws, like bans on cheaper guns, stricter regulations in black communities, and the major 1968 gun control act, which came on the heels of several race riots.
Even Supreme Court Justice Clarence Thomas, in his concurring opinion overturning the Chicago handgun ban, detailed the long history of whites disarming blacks. Thomas' defense of gun ownership was so fervent that an op-ed in the Washington Post called it "straight from the heart of Malcolm X."
This line holds a clue as to why black pro-gun voices are so marginal today. In the 1970s, black arguments for armed self-defense were often confused with calls for black violence. In response, civil rights groups like the NAACP distanced themselves from the pro-gun wing of the movement to gain wider support with whites, according to Nicholas Johnson, a professor at Fordham University School of Law, who's writing a book on the black tradition of gun ownership.
The strategy worked, he says. And when those groups found a home in the Democratic Party, they ditched the pro-gun talk altogether. Today, race beats gender, age, geography, and politics as the most powerful predictor of whether an American owns a gun.
Calling all HuffPost superfans!
Sign up for membership to become a founding member and help shape HuffPost's next chapter