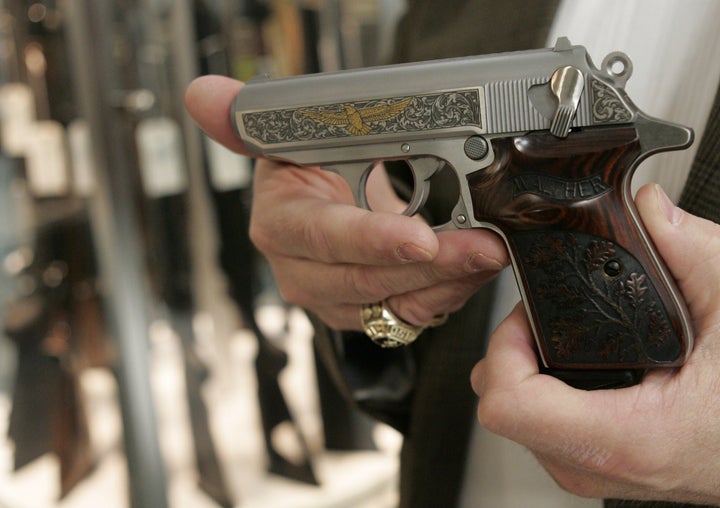 Americans United for Safe Streets, a non-partisan group advocating gun control, is set to launch a seven-figure ad campaign Thursday targeting candidates on public safety and closing gun loopholes.
A television ad in Virginia features the brother of a Virginia Tech victim and mailings in Michigan, Ohio and Pennsylvania call on Congressional candidates to fight gun crime.
The campaign will target a handful of Republican hopefuls and could be a boon to their Democratic counterparts, including Philadelphia-area Democrat Bryan Lentz, Ohio Democrat Betty Sutton, Virginia Democrat Gerry Connolly, and Michigan Democrat Gary Peters.
Most of these Democrats face tight races. The Washington Post has reported the Democratic Congressional Campaign Committee is increasingly confident Sutton will win in light of harassment allegations against opponent Tom Ganley. But Vice President Joe Biden was out campaigning for Lentz Wednesday, and late Tuesday night the DCCC gave Connelly's campaign a $1.1 million boost. Gary Peters meanwhile, now holds a small but significant edge over his Republican opponent.
Americans United for Safe Streets spokesman Alexander Howe said the organization is not picking sides.
"The campaign is intended to highlight the records and positions of various candidates surrounding public safety. We'd like all of our public officials to be tough on gun crime but as a non-partisan advocacy group we are not endorsing any candidates."
House Republicans targeted by the ad campaign include Pennsylvania Republican Pat Meehan, Ohio Republican Tom Ganley, Virgina Republican Keith Fimian, and Michigan Republican Rocky Raczkowski.
Watch the ad calling on Fimian to close the gun show "loophole," a gap in the law that allows some sellers at gun shows in Virginia to sell weapons without conducting a background check of the purchaser.
Popular in the Community