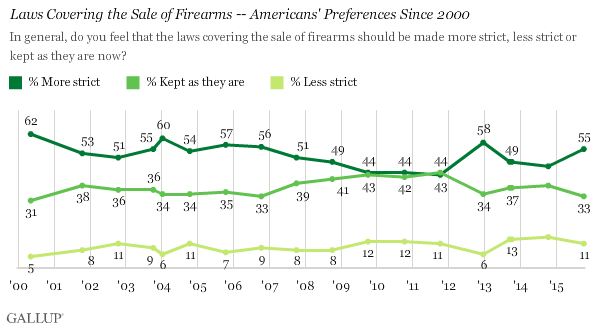 Gun control has become a deeply polarizing issue in recent years, a trend that shows little sign of abating. In the Gallup poll, partisanship appears to be the most salient factor: Democrats are 50 points likelier than Republicans to say gun laws should be made more strict, while the gap in opinions between gun owners and non-gun owners is just 28 points.
That's one of the reasons it's proved difficult in the past to translate pro-gun control sentiment into actual legislative results -- even though certain measures, like universal background checks, are widely popular.
Another reason is that even Americans who want stricter gun laws rarely see it as a top issue. A HuffPost/YouGov survey taken immediately after the Oct. 1 shooting at Umpqua Community College in Oregon found support for stricter handgun laws, but also pessimism about the likelihood of seeing such laws enacted. Just 39 percent of people in that poll thought it would be politically possible to pass stricter gun laws, and 35 percent thought that such laws would reduce shootings. Fewer than one-fifth of registered voters both favored stricter handgun laws and said the issue would be very important in determining their presidential vote next year.
Gallup surveyed 1,015 adults between Oct. 7 and Oct. 11, using live interviewers to reach both landlines and cell phones.
Popular in the Community