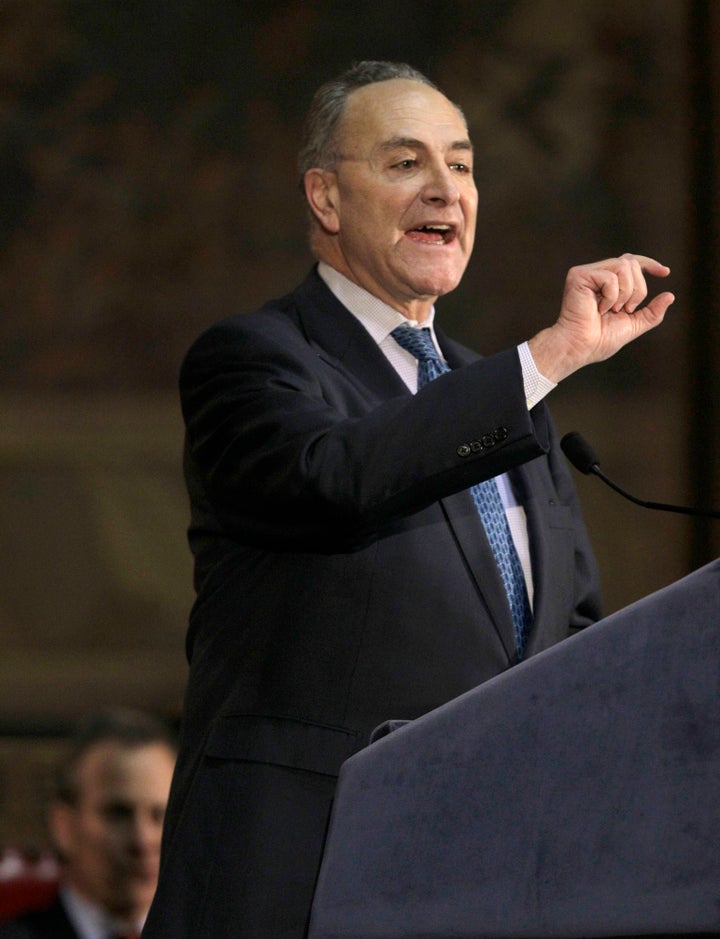 WASHINGTON -- Polls conducted in five key states show large majorities in support of closing loopholes in the national background check system for firearm purchases.
In Arizona, Colorado, Indiana, Ohio and Virginia, Democratic and Republican polling firms commissioned by Mayors Against Illegal Guns, a coalition of more than 550 U.S. mayors, found that more than 83 percent of respondents, including more than 75 percent of gun owners, favor requiring that gun purchasers pass a background check. Additionally, more than 82 percent of respondents support requiring those who sell at gun shows to run background checks for all firearm sales.
"Today's polling shows that a strong majority of Republicans, Democrats and Independents support common sense laws that keep guns out of the hands of felons, the mentally ill and chronic drug abusers," said Sen. Chuck Schumer (D-N.Y.) in a statement to The Huffington Post on Wednesday evening. "Americans of all political stripes recognize the need for sensible laws that keep guns away from dangerous people. It's time we fix our gun checks in America."
Schumer introduced a bill Wednesday that would require all gun buyers to undergo a background check and increase penalties for states failing to comply. Modeled after a Mayors Against Illegal Guns proposal, the legislation would also require that states submit a higher percentage of their records on individuals to the National Instant Criminal Background Check System.
The legislation comes almost two months after the shootings in Tucson, Ariz., in which Jared Loughner, who appears to have a history of mental illness and drug abuse, is accused of killing six people and critically wounding 13 others, including Rep. Gabrielle Giffords (D-Ariz.), after legally purchasing a Glock 19.
"Two of the most heinous acts of gun violence in the last four years were perpetrated by individuals, who under the law, should have absolutely no access to a gun," Schumer said in a statement announcing the legislation, alluding to Tucson and the 2007 shootings at Virginia Tech. "Despite this fact, lax reporting by states and federal agencies has allowed guns to get into the hands of dangerous individuals with consequences that have been tragic and deadly. This legislation does nothing to impinge upon gun owners' rights, but it does provide greater incentive for reporting individuals who should not have access to guns to a national do-not-sell list."
In the wake of Virginia Tech, Congress passed a law requiring states to share the names of the mentally ill with the national background check system. But almost four years later, more than half of states are not complying with the law, according to a recent review by the Associated Press. Though the submission deadline was in January, nine states haven't supplied any names to the database, while 17 other states have submitted fewer than 25 records, suggesting a woefully incomplete list.
But the outlook for pushing background check reforms through the 112th Congress doesn't look good.
"I think these efforts are long overdue, but, given the strength of the gun lobby and the Republican House, it will be difficult to get passed," Ian Bartrum, professor of constitutional law at Drake Law School, said in an interview with The Huffington Post.
Managed by Momentum Analysis, the polls surveyed 600 registered voters in each of the fives states. Each survey has a margin of error of 4 percent.
Support HuffPost
The Stakes Have Never Been Higher
Popular in the Community