WASHINGTON -- Senate Majority Leader Harry Reid (D-Nev.) likely has the votes on gun control legislation to clear its first procedural hurdle -- a victory for the gun control community, though one that hardly guarantees the bill's passage.
The majority leader announced on Tuesday evening he would submit for a vote the bill to expand background checks, implement a federal trafficking statute and enhance school safety measures. That would set up a Senate vote on Thursday. To help push matters along, President Barack Obama was spending Tuesday calling senators to lobby them on the gun measures, a White House official confirmed. The official did not reveal which senators would be receiving calls.
At least eight Republican senators said that they would support bringing the measures to the Senate floor for amendment and debate. A number of others said they had not ruled out voting to clear that first procedural hurdle.
Should those numbers hold, Reid will have the 60 votes needed to move forward on gun policy reform. Two members of his own caucus said they were noncommittal on the first procedural vote, but their defections (should they happen) would be insufficient to sustain a filibuster.
The procedural victory would give gun control advocates much-needed time to alter the language of the bill. Reid announced that negotiations over the bill were still ongoing between the two parties. But it won't resolve the bill's fate: Reid will have to secure 60 votes once more to end the debate and amendment period. And none of the Republican senators who said they'd support the first procedural vote would go as far as to say they'd sign off on the second.
In the high-stakes debate over gun policy, however, procedural victories are nothing to scoff at, especially with 14 Republican senators, including Minority Leader Mitch McConnell (R-Ky.) threatening a filibuster of all measures.
Among the GOP congressmen set to buck their own leadership on the vote is Sen. John McCain (R-Ariz.), who called a filibuster "incomprehensible." McCain was joined by Sens. Kelly Ayotte (R-N.H.), Jeff Flake (R-Ariz.) and Johnny Isakson (R-Ga.), who told CBS' "This Morning" that the legislation "deserves an vote up or down."
Sen. Tom Coburn (R-Okla.), who has negotiated background check legislation, has said he would not support an initial filibuster. "Absolutely," his spokesman John Hart replied, when asked if that position still stood. "Eschewing this debate is a 'stupid party' strategy."
Sen. Dean Heller (R-Nev.) announced on Wednesday that he won't back a filibuster, stating that "the discussion needs to be had" on gun legislation.
Sen. Susan Collins (R-Maine) said it was her "hope" that the Senate "can have a fully open debate, and if that occurs, I will certainly vote to proceed to the bill."
Sen. Lindsey Graham (R-S.C.) offered similar conditions for his support on the first cloture vote.
"As long as we get amendments, no, I want to proceed to the bill," he said, when asked about a filibuster. "I think we should be allowed to amend it. I'm not afraid of this debate, I welcome this debate."
In an email to The Huffington Post, Graham's spokesman, Kevin Bishop, said that Graham wants "a full and fair debate on the Senate floor with multiple amendments, ability to change the bill, ability to bring up our own bill, etc."
Whether Reid will grant him that is not yet clear. There is no current agreement as to how many amendments the majority leader will allow. Adam Jentelson, a spokesman for Reid, told The Huffington Post that Reid "wants to try and precipitate as open an amendment process as possible. He very much wants this to be an open amendment process where as many people as possible can get votes that they want."
Even if Graham were to vote to sustain a filibuster, Reid could still have enough Republican support to overcome it. Sen. Mark Kirk (R-Ill.) would be a likely "yes" on both the cloture vote and final passage of the bill, having been supportive of background check legislation in the past. His office, however, did not immediately return a request for comment.
Other Republicans left the door open to backing the first cloture vote on gun legislation. Sen. Orrin Hatch (R-Utah) was noncommittal when asked by reporters on Tuesday. Sens. Rob Portman (R-Ohio) and Ron Johnson (R-Wis.) both said they would look at the legislation before deciding whether to support a filibuster. But each said they would filibuster a measure that infringes on Second Amendment rights.
Sen. Bob Corker (R-Tenn.) said he didn't know "how anybody can make a decision about what they're going to do on a piece of legislation until they saw what it was."
Reminded that 14 of his colleagues were doing just that, he replied, "Well, I'm not one of them."
The only Democrats so far that Reid has to worry about are Sens. Max Baucus (D-Mont.) and Mark Pryor (D-Ark.). The Arkansas Democrat told Reid he was still uncommitted on the cloture vote. Baucus, meanwhile, said he needed to "know what's in the bill first."
"My primary focus is the state of Montana," said Baucus. "They're my employers. I'm just an employee ... I'm just going to wait and see what's proposed."
UPDATE (4/9/13, 7:25 p.m.): Politico reports that Reid has filed a cloture motion to block any GOP efforts to filibuster a gun control bill.
This article has been updated with additional information on the White House's involvement in supporting the bill.
CORRECTION: A previous version of this article misspelled Sen. Mark Pryor's name.
Before You Go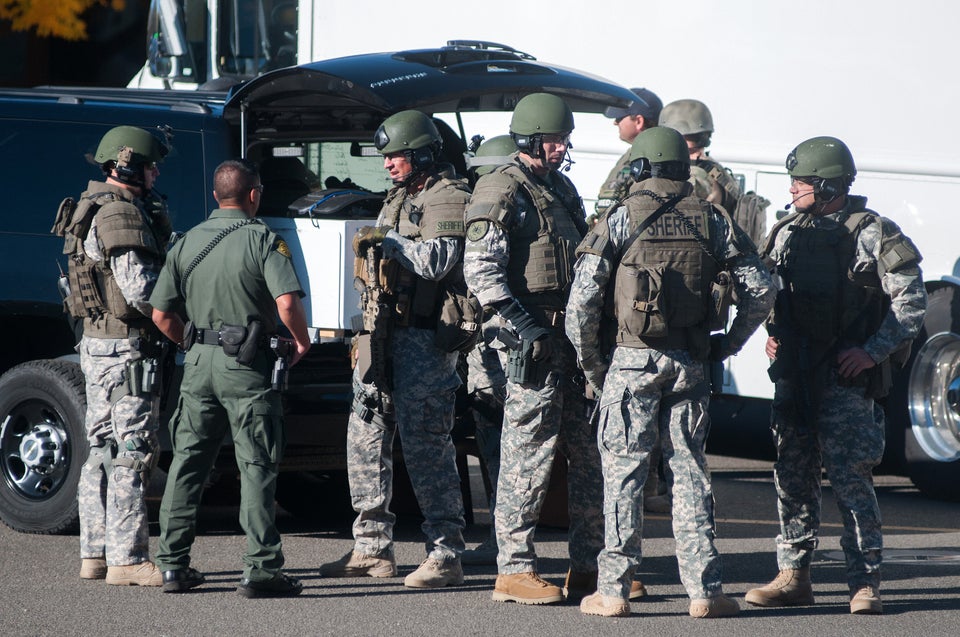 Shootings In America
Popular in the Community