Lawmakers, often split along party lines, have debated whether strengthening restrictions on guns would curb America's all-too-common mass shootings, or whether it would be more effective to increase the number of guns in schools and other soft targets. At the federal level, President Donald Trump announced on Tuesday that he'd ordered Attorney General Jeff Sessions to take steps to ban bump stocks, a device that allows a semiautomatic rifle to fire as quickly as a machine gun.
Here's what some states have done, and not done, in the wake of the shooting at Marjory Stoneman Douglas High School.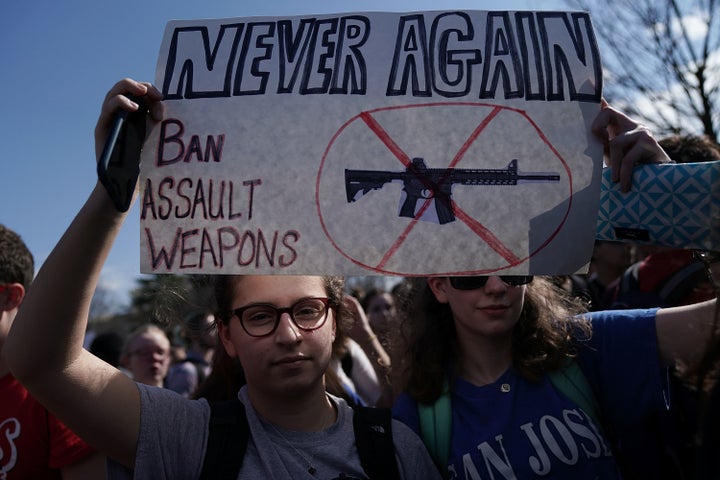 Florida
State lawmakers on Tuesday refused to debate a gun control measure that would have banned any "selective-fire firearm capable of fully automatic, semiautomatic or burst fire," including the AR-15 rifle, the type used in the Parkland shooting. State Rep. Kionne McGhee (D) pushed to bring the bill out of committee and to the floor, but the proposal was rejected in a 36-71 procedural vote. A Florida Senate committee, however, endorsed a proposal to put law enforcement officers in every school in the state.
Hawaii
Lawmakers in Hawaii are considering a bill that would make it a felony to own or sell multi-burst triggers on firearms and other trigger modifications. H.B. 1908, introduced in January, has passed out of the state House Judiciary Committee, and a second hearing took place on Wednesday before the House Committee on Consumer Protection and Commerce. The bill would amend existing state law such that anyone who manufactures, imports into Hawaii, sells, or owns a bump stock could be charged with a felony.
Pennsylvania
Pennsylvania lawmakers have introduced 11 bills meant to curb gun violence in the week since the Parkland shooting. The measures covered by the bills range from making it harder for citizens to get access to assault-style weapons, like the one used in Parkland, to requiring background checks for all gun sales. State Rep. Warren Kampf (R) introduced seven of the 11 bills, including one to ban bump stocks. Several of the bills would make it possible for individuals to petition a court to remove someone's guns if they show signs of violence.
Illinois
Illinois state Rep. Marty Moylan (D) introduced a bill two days after the Florida shooting to ban the manufacture, sale, purchase, and possession of "rate of fire enhancements," a category of devices and accessories that includes bump stocks. Moylan and state Sen. Julie Morrison (D) have also doubled down on their calls to move forward gun control bills introduced before the Parkland shooting, including one to ban assault weapons and one to ban unregistered, often home-manufactured weapons known as "ghost guns."
Wisconsin
Republican lawmakers on Tuesday blocked Democrats' attempt to vote on a bill that would implement universal background checks for gun purchases in Wisconsin. Democratic lawmakers had attempted to bring the bill to the floor for a vote, but Republicans used a procedural tactic to avoid the vote and replace the measure with one to fund school grants to provide firearms to safety officers and curb illegal firearm purchases. Lawmakers approved that measure by a 71-24 vote.
Arizona
Republican state lawmakers on Tuesday blocked their Democratic colleagues' attempt to push for a vote on a bill to ban bump stocks and other rate-of-fire modifications. Nearly a dozen other gun-related measures have stalled in the state legislature recently, only one of which has received a hearing. That bill, which passed out of a state House committee on the same day as the Parkland shooting, would end gun safety requirements previously imposed on foster parents; in other words, it represents an attempt to erode gun restrictions, not strengthen them.
South Carolina
Republicans and Democrats in South Carolina debated measures to curb gun violence in the wake of the Florida shooting. House Minority Leader Todd Rutherford (D) said he planned to introduce a bill to ban the sale of AR-15 rifles to anyone under the age of 20 ― a measure that Republican lawmakers in the state largely oppose. Instead, Republicans have pushed measures to arm teachers and allow concealed-weapon permit holders to carry their firearms in more locations.
Ohio
State Sens. Michael Skindell (D) and Charleta Tavares (D) this week proposed a ban on "assault weapons," defined in the bill as any automatic or semiautomatic firearm with the capacity to accept 10 or more cartridges. The measure would require owners of assault-style weapons to dispose of the firearms, and would make it a felony to own such a gun.
Oregon
Gov. Kate Brown (D) spoke before the state Senate Judiciary Committee on Tuesday, throwing her support behind a proposal to expand an existing ban on the purchase or possession of firearms or ammunition by people convicted of stalking or domestic violence or who have a restraining order against them. The state House approved the legislation on Feb. 15, a day after the Florida shooting. It is now being considered by the state Senate.
New Jersey
Gov. Phil Murphy (D) signaled his support on Tuesday for a number of bills currently moving through the state legislature, including measures to reduce the permitted size of ammunition magazines, require background checks for private gun sales, and ban certain types of firearms and ammunition.
Missouri
Republican lawmakers this week postponed hearings on six bills that would roll back restrictions on gun rights. The bills include measures to block colleges from banning firearms on campus; allow concealed-carry permit holders to bring their guns into churches and other houses of worship; and make it illegal to require electronic tracking systems for firearms. The hearings are now scheduled for Feb. 26.
Popular in the Community