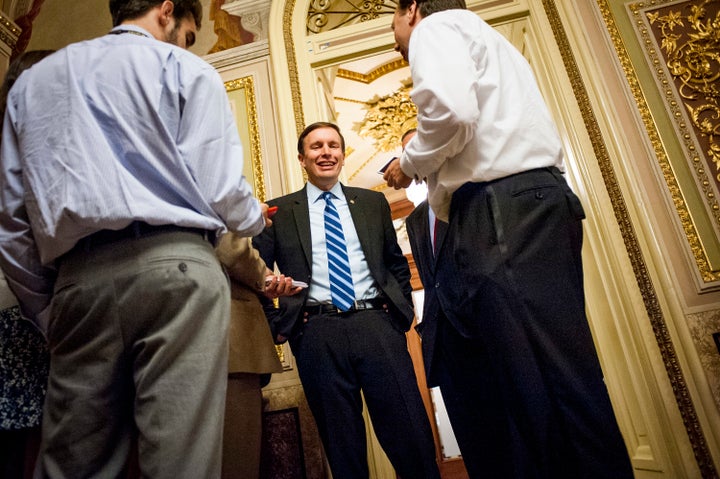 WASHINGTON -- After last month's massacre in Orlando, Democrats in Congress pushed legislation aimed at stopping suspected terrorists from buying guns.
Mass shootings by terrorists make up a small percentage of gun deaths in the U.S., however. The majority of gun deaths are actually suicide, which probably comes up less often in the gun debate because people don't fear it.
"The focus largely is on gun murders and mass shootings because those are things you can't control," Sen. Chris Murphy (D-Conn.) told "So That Happened," the HuffPost Politics podcast.
"It's probably a real false sense of security that people have that they wouldn't be a victim of suicide," Murphy continued. "Most people are talking about the mass shootings, about the gun violence that happens in our cities, because they think that's much more of a threat to them than being involved in a suicide."
According to the most recent data from the U.S. Centers for Disease Control and Prevention, 33,636 Americans died from firearm injuries in 2013, and 63 percent of those were suicides.
Research suggests that gun availability can be a risk factor for suicide, which is the 10th leading cause of death in the United States.
Need help? Call the National Suicide Prevention Lifeline at 1-800-273-8255.
Murphy led Senate Democrats in an effort to force votes on gun control in the U.S. Senate last month. The following week, Democrats in the House staged a "sit-in" to protest the lack of action in Congress on guns. Neither chamber seems likely to approve gun restrictions anytime soon.
Murphy said the Senate is at a "stuck moment" on gun control but that June 2016 will be looked back on as a watershed moment.
"So, That Happened" is hosted by Jason Linkins, Zach Carter and Arthur Delaney. Joining them this week: Sen. Chris Murphy (D-Conn.), historian William Hogeland, and Democratic congressional candidate Zephyr Teachout.
Popular in the Community