WASHINGTON -- The Senate will consider a compromise bill this week to expand the current background check system for gun purchases. The bill, which is authored by Sens. Pat Toomey (R-Pa.) and Joe Manchin (D-W.Va.), faces a tough path for passage.
The Huffington Post is keeping a "whip count" of the vote with updates about where senators stand on the proposal.
49 DEMOCRATIC SENATORS SUPPORT THE DEAL
All of the party's leadership and some moderate-minded Democrats, including Sens. Bob Casey (D-Pa.), Kay Hagan (D-N.C.) and

Jon Tester

(D-Mont.) will vote for the legislation.
Sen. Frank Lautenberg (D-N.J.), a vocal gun control advocate who has been out of the Senate while battling an illness, supports the proposal. "Senator Lautenberg is feeling better and hopes to be in Washington for gun votes this week," his spokesperson told The Huffington Post.
4 DEMOCRATIC SENATORS ARE UNDECIDED ON THE DEAL
Sen. Mark Begich (D-Alaska) has not yet decided how he will vote, his office confirmed. "He is still reviewing the legislation," said spokeswoman Heather Handyside.
Sen. Joe Donnelly (D-Ind.) is "reviewing the Manchin-Toomey legislation to ensure we improve our background check system while also protecting the rights of law-abiding gun owners," said spokeswoman Elizabeth Shappell.
2 DEMOCRATIC SENATORS OPPOSE THE DEAL
Sen. Heidi Heitkamp (D-N.D.) said she opposes the deal on background checks in a statement: "I commend Senators Manchin and Toomey for working so hard to bring a serious bill to the floor. However, in its current form I do not see a path for my support."
Sen. Mark Pryor (R-Ark.), who was one of two Democratic senators to vote against bringing the gun bill to the floor debate, told The Huffington Post he will be opposing the Manchin-Toomey amendment.
4 REPUBLICAN SENATORS SUPPORT THE DEAL
Sens. Susan Collins (R-Maine), Mark Kirk (R-Ill.) and Pat Toomey (R-Pa.) all plan to back the legislation.
Sen. John McCain (R-Ariz.) was the last remaining undecided Republican on the deal, announcing just over an hour before amendments were set to be voted on that he backed the Manchin-Toomey compromise.
0 REPUBLICAN SENATORS ARE UNDECIDED ON THE DEAL
41 REPUBLICAN SENATORS OPPOSE THE DEAL
All of the Senate Republican Party leadership and some Republicans with a history of deal-making will vote against the measure.
Sen. Kelly Ayotte (R-N.H.) said in a statement that while she still believes the background check system should be improved, she cannot support Manchin-Toomey because it would "place unnecessary burdens on law-abiding gun owners and allow for potential overreach by the federal government into private gun sales."
Sen. Saxby Chambliss (R-Ga.), whom Democrats believed was a likely pick-up to support the amendment, told reporters he would oppose the deal: "I don't think it's the right thing to do." His office did not return a request for additional comment from The Huffington Post.
Sen. Tom Coburn (R-Okla.), who was in negotiations with Democrats over background check legislation, will oppose the deal, his office confirmed.
Sen. Bob Corker's (R-Tenn.) office said he would not support the proposal as written but added that he is "open to supporting amendments to achieve what he believes is the central issue: preventing violence by dangerous, mentally ill people."
Sen. Jeff Flake (R-Ariz.) announced in a Facebook post that he opposes the deal: "Manchin-Toomey would expand background checks far beyond commercial sales to include almost all private transfers -- including between friends and neighbors -- if the posting or display of the ad for a firearm was made public. It would likely even extend to message boards, like the one in an office kitchen. This simply goes too far."
Sen. Lindsey Graham's (R-S.C.) office said he will oppose "the Toomey-Manchin background check amendment. The proposal, while well-intentioned, is not a solution to illegal gun violence."
Sen. Dean Heller (R-Nev.) said in a statement that he could not vote for the compromise: "Despite the good faith efforts of Senators Manchin and Toomey, the onerous paperwork and expansion of federal power mandated in this legislation are too great of a concern. I believe that this legislation could lead to the creation of a national gun registry and puts additional burdens on law-abiding citizens."
Sen. Lisa Murkowski (R-Alaska) said in a statement that she would not be supporting the Manchin-Toomey deal and instead would back an alternative offered by Sen. Charles Grassley (R-Iowa). She stated she was concerned about the bipartisan compromise "adding any new steps or layers of bureaucracy for any law-abiding Alaskan who wants to purchase a firearm for sport or protection."
Sen. Roger Wicker (R-Miss.), who voted to bring gun legislation up for debate and amendment, told C-SPAN that he couldn't support the deal without several concerns being addressed.
This article is being updated continuously as senators come out for or against the deal.
Image by Andrei Scheinkman and Aaron Bycoffe.
Before You Go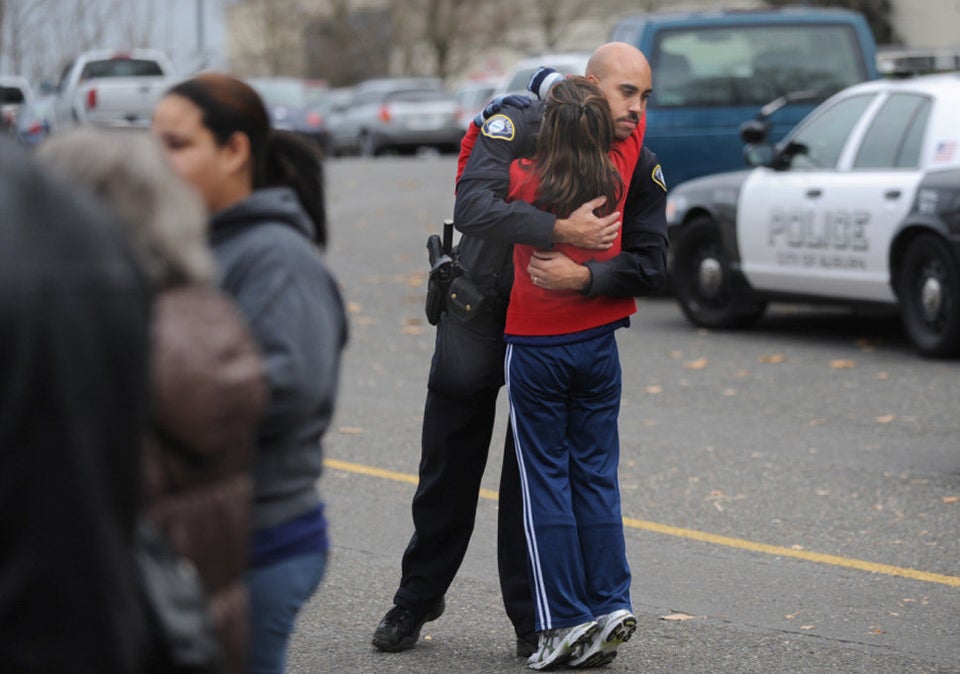 Obama's Gun Control Proposal Explained
Popular in the Community