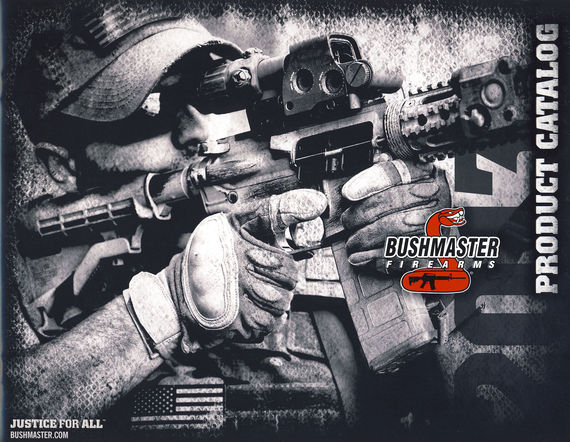 Billed as the largest gun trade show in the world, the SHOT Show is sponsored by the National Shooting Sports Foundation (NSSF), which, in a grim coincidence, is based in my hometown of Newtown, Conn.
The SHOT Show is the primary marketing opportunity for firearms companies to hawk their new products to gun dealers. Increasingly, these sales pitches feature assault rifles, high-capacity ammunition magazines, and accessories such as silencers. As a new report from my organization the Violence Policy Center (VPC) shows, the way the gun industry sells and markets its products today is as predictable as it is disturbing.
In the wake of declining household gun ownership, it is no secret that the industry has focused its marketing and sales efforts on military-style assault rifles. This is not your grandfather's gun industry that met the needs of hunters and sportsmen. Instead, gun companies are promoting assault rifles like the AR-15, AK-47, and numerous others as the profit center of last resort.
The nation's leading assault rifle manufacturer is Freedom Group (now officially Remington Outdoor Company, Inc.), the company that made the Bushmaster XM-15 used at Sandy Hook Elementary School in Newtown. Freedom Group is owned by Cerberus Capital Management, which, despite a promise made in the days following the Newtown massacre that it would divest itself of the gun conglomerate, has failed to do so.
To market its weapons, Freedom Group's Bushmaster brand uses images of shooters clad in military-style clothing and slogans like "Justice for All." Often gritty in their visual presentation, the graphics feature phrases like "Control Your Destiny" and "Bravery on Duty" and use touchtone words like "duty" and "patrol."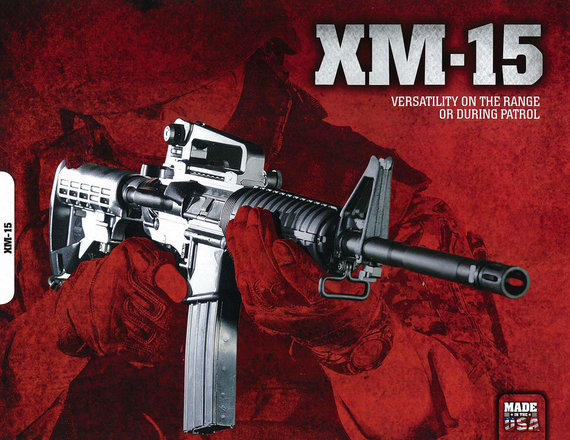 Another Freedom Group brand, DPMS/Panther Arms, describes its assault rifles as "Built to be as Tough as the Mission Ahead," while never defining what that "mission" might be.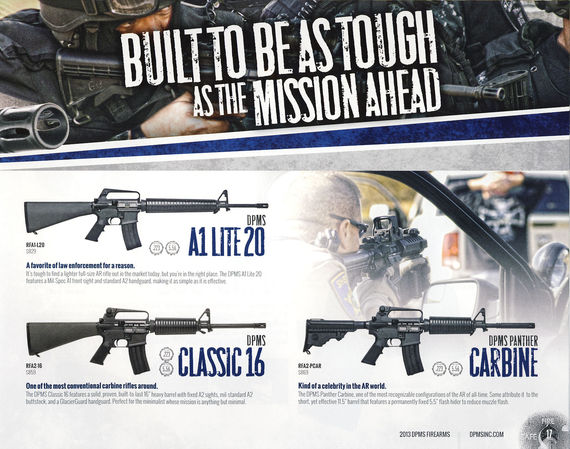 As the gun industry trade magazine Shooting Sports Retailer noted this past summer in its "Annual How To Sell Issue," this type of militarized marketing -- characterized as the "tactical coolness factor" -- often has little appeal for traditional buyers such as hunters:
Hunters, quite frequently, will not be impressed by the "tactical coolness factor" that has drawn many shooters into the shop looking for a new gun ... The tactical coolness factor does, on the other hand, attract a lot of first-time gun buyers. Many of them are younger and unfamiliar with firearms, making them prime candidates to be unsure of what to look for or even what they want. Unlike many of the hunting demographic, these potential buyers will likely be interested only in tactical guns, and the military-ish looks and features will be a big selling point with them.
NSSF and its industry partners are marketing, in the industry's own words, guns with "military-ish looks and features," without regard to what its customers can do with these specialized weapons as they embark on their own "patrol" to control their "destiny" and mete out their own version of "justice," whether in a school, movie theater, or other public setting.
Gun companies like Freedom Group have made a decision: They are willing to risk future mass shootings by selling military-style assault weapons that private citizens have no reason to own. It will be up to the rest of us to expose this shameful record and hold the industry accountable.
Calling all HuffPost superfans!
Sign up for membership to become a founding member and help shape HuffPost's next chapter