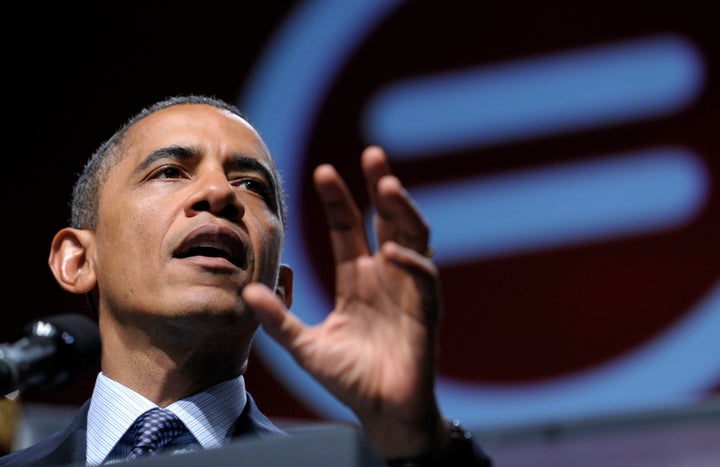 WASHINGTON -- President Barack Obama and Congressional leaders are in broad agreement that something needs to be done about gun violence in the wake of last week's shootings in Aurora, Colorado. It's just that neither side actually wants to offer up anything specific, let alone talk about the matter all that much.
One day after the president told a crowd in New Orleans that it is time to take "common sense" steps to reduce gun violence, his top spokesman Jay Carney was peppered with questions as to what, exactly, he would do legislatively to make that a reality. Carney responded with bromides and made several references to a "stalemate" in Congress on the issue.
"There are things that we can do short of legislation and short of gun laws, as the president said, that can reduce violence in our society," he said, pointing to actions Obama has taken in the past without changing current laws. "I know he will continue to press the Department of Justice to try to enhance the enforcement of existing laws, try to further develop our background check system so that it prevents criminals and those who should not have weapons from getting them under existing law."
The answer was evasive in its broadness. But it was still more detailed than responses coming from Mitt Romney's presidential campaign.
In an interview with NBC Nightly News on Wednesday, the presumptive Republican nominee told Brian Williams that "there are differences between myself and the NRA." But he did not go into detail about what those differences are. And when The Huffington Post asked his campaign twice to name them there was only silence.
Romney would tell CNN, in a later interview, that it is "misguided" to believe that laws against the instruments of violence would make violence go away. But that only invited scrutiny into his past positions, including his passage of an assault weapons ban while governor of Massachusetts and his 2004 declaration that "I don't believe that we have to have assault weapons as part of our personal arsenal."
The legislative branch, for its part, is hardly as engaged in debates over gun violence. Congressional leaders haven't given any support to the idea of new laws in the wake of the recent shootings. Senate Majority Leader Harry Reid (D-Nev.) has said the Senate schedule is too busy for a gun debate, and House leaders signaled Thursday that Obama will need to figure out the path forward on this one.

"AK-47s are not allowed to be in the hands of criminals. That is the law," House Speaker John Boehner (R-Ohio) told reporters at his weekly briefing. "If the president has proposals on other ways that we can address criminals owning guns, I'd be happy to look at them."

Boehner said "the most logical step forward at this point" is to review all the gun laws on the books to make sure they're working in the way they were intended to.
House Minority Leader Nancy Pelosi (D-Calif.), meanwhile, deferred to Obama when asked about gun reform.

"I support what the president said yesterday," Pelosi said at her weekly briefing. "He said we need to build a national consensus to reduce violence in our country . I think we have to, as the president has suggested, [have] everyone come together. I think a good deal of this will bubble up from communities that have been working on this on one side of the issue or the other."
Taken as a whole, talk of what to do about gun laws has resembled a game of political hot potato, with no one eager to be left with the task of actually putting their name behind a policy. Gun control advocates have welcomed the rhetorical support for taking action. But in the wake of Aurora, many have argued that the time has come for specifics and a bit of courage.
"[The President] is capable of taking a strong moral stance on an issue based on what's right and wrong," Dan Gross, president of the Brady Campaign to Prevent Gun Violence, told The Huffington Post earlier this week, referencing Obama's support for same-sex marriage. "That does give me hope that he will do the right thing in his second term. But I think it is important to underscore that that does not mean doing anything counter to his support for 2nd Amendment rights as has been defined by the Supreme Court."
Calling all HuffPost superfans!
Sign up for membership to become a founding member and help shape HuffPost's next chapter
BEFORE YOU GO