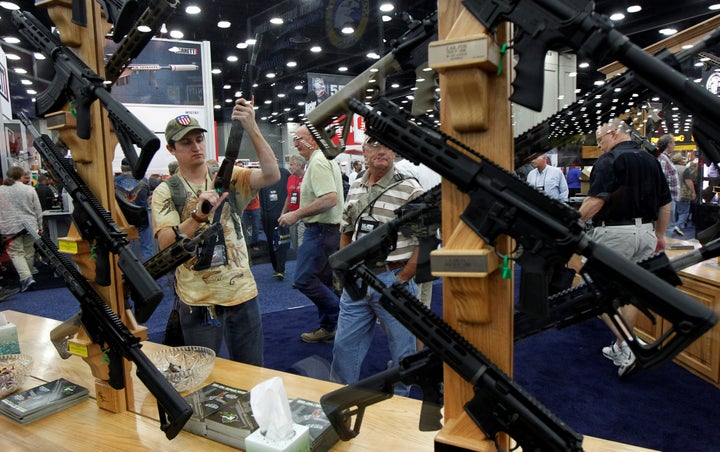 U.S. gun companies manufactured more than 11 million firearms in 2016, setting a new record in a year of sales driven by fear of a Hillary Clinton presidency.
Under President Barack Obama, people flocked to gun stores amid concerns about new regulations from the man the NRA called "the most anti-gun president in modern times." In reality, Obama ultimately did very little to strengthen gun laws, but fearful gun buyers helped companies ring up billions of dollars in sales each year during his administration.
Speculation drove the trend again in 2016, as polling suggested Clinton would win the election on a campaign platform that included support for stricter gun laws.
"There was a lot of talk that if the Democrats got in, then there would be tighter gun laws and more restrictions," said Mike Bouchard, a former ATF official who now leads the ATF Association, a group made up of current and former agency employees. "When people fear there's going to be a change in gun laws, they go out and there's going to be an increase in sales."
Gun companies ramped up production in 2016 to meet this demand, believing the surge would continue with Clinton in the White House. Instead, Donald Trump won, giving Republicans control of the presidency and both chambers of Congress. With gun control off the table, the industry corrected in 2017.
"Since President Trump took over, sales are down significantly from what I've been hearing from people in the industry, because consumers don't fear any changes," Bouchard said.
ATF won't release the 2017 manufacturing numbers for another year, but other data has already reflected a decline. In 2016, the FBI reported receiving a record 27.5 million gun background check requests, nearly double the 2009 total. Last year, though, the agency received 25.2 million requests (which was still the second highest total ever).
Background check requests offer a good sense of the size of the gun market, but aren't an exact reflection of sales. These numbers include denied requests and requests that were approved and involved the purchase of multiple firearms. They also don't count private sales that may not have required a federal background check.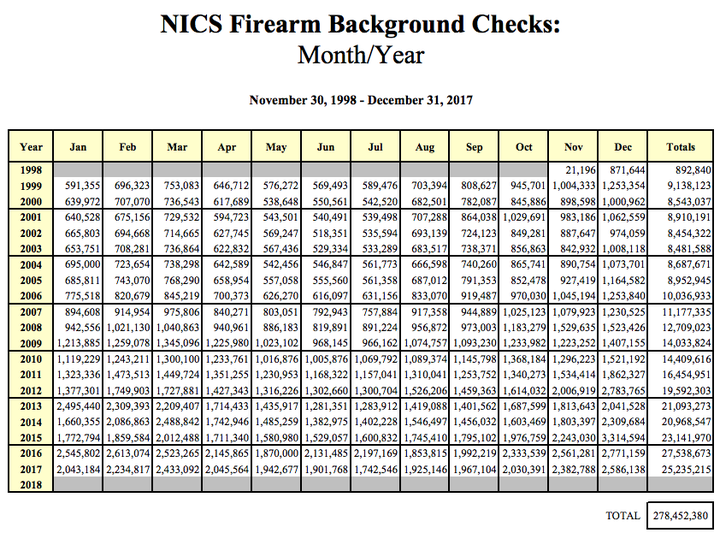 Gun industry analysts have reported seeing around an 18 percent drop in total transaction volume in 2017, with many companies offering heavily discounted products to account for decreased demand. Based on the number of background check requests, however, guns still flew off the shelves. All in all, 2017 may have been a down year in the gun world, but it was down from an all-time high following a period of unprecedented success.
History puts the explosive growth of the Obama years in context. Gun control ― or even the thought of gun control ― reliably drives the firearm market, and manufacturing saw a previous peak in 1994 after the passage of new federal gun laws under President Bill Clinton. There were 5.2 million guns produced that year, meaning 2016 more than doubled this previous record.
"I think potential purchasers were that much more afraid of Hillary Clinton," said Howard Wolfe, a former ATF supervisor. "She was very unpopular with that community, and even though she said she was not going to really do anything to impact on the Second Amendment, I don't think a lot of people believed her. So there were some people saying, 'This might be my last chance to buy a gun.'"
Despite the 2017 decline, some experts predict firearms business will return to an upward trajectory and could even eventually eclipse 2016.
"The numbers clearly will come back from the current levels," said Kevin Moody, a financial analyst at Moody's. "Will they ever surpass 2016 levels? I don't know. Maybe over time, but a lot of that will depend on politics."
"What would be a home run for the gun industry and what could put them beyond 2016 levels," he went on, "would be if you had a Democratic president and a supermajority in both the House and the Senate, because it would be a no-brainer that you could pass gun regulations."
If the past is any guide, a handful of massive firearm corporations will likely be responsible for driving much of this growth. Three publicly traded companies ― Smith & Wesson, now held under the American Outdoor Brands Corporation; Sturm, Ruger & Co.; and Vista Outdoor, which owns Savage Arms, a popular rifle company ― were responsible for manufacturing around 4.5 million firearms, or nearly 40 percent of all guns, in 2016, according to the ATF report.
With shareholders to appease and access to all the financial tools available to a supercharged capitalist enterprise, these businesses aren't going anywhere, said Tom Diaz, an author who has written multiple books on the gun industry.
"This is a much more sophisticated industry than it used to be in terms of financing and their corporate ability and their international linkages," Diaz said. "This is just like anything else that's an internationalized or globalized industry, and it ain't going back in the bottle."
Popular in the Community