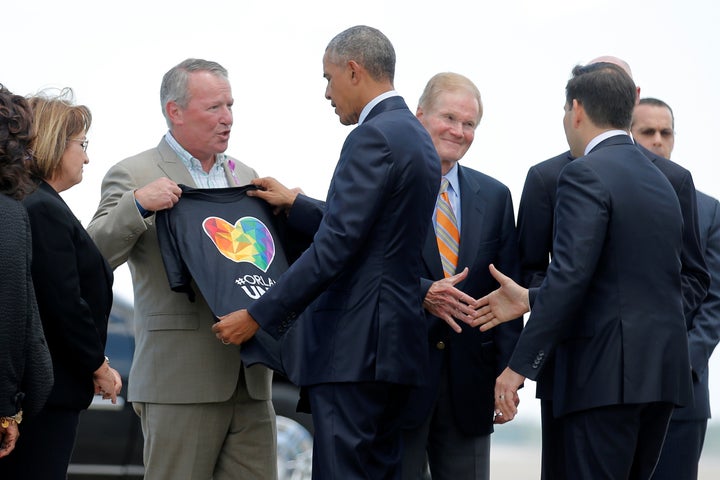 A 55 percent majority of respondents now say they support stricter guns laws, up 7 points since earlier this month. The share of Americans who believe that gun violence is a very serious problem rose by a similar margin, while the percentage who think that passing gun control is possible and that shootings are preventable saw smaller upticks.

Specific gun control policies are even more popular. Eighty-six percent of Americans polled support closing the so-called terror gap by passing a law preventing individuals on the terror watch list from purchasing firearms. Sixty-two percent back a ban on the sale of assault rifles.
Most Americans are classifying the shooting as both an act of terrorism and a hate crime -- 65 percent of respondents following news about the Orlando shooting say they have done so, as has the FBI. Thirteen percent say the attack was a hate crime but not an act of terrorism, 6 percent that it was terrorism but not a hate crime, and the rest are unsure.
More generally, Americans aren't convinced by Trump's attempt to paint a shooting carried out by a U.S.-born citizen as a consequence of lax immigration laws. Just 28 percent of respondents who followed news about the shooting say tougher immigration laws would have prevented the attack, while 44 percent say that stricter gun control would have made a difference.
Guns have risen in prominence as an election issue. Fifty-two percent of registered voters polled say that gun control will be very important in their vote for president this year, up 10 points from the previous survey.
That change comes largely from Democratic voters. Prior to the shooting, Republicans and Democrats were equally likely to rate gun issues as a very important election issue, at 45 percent and 44 percent, respectively. In the post-shooting survey, however, the percentage jumped to 63 percent for Democratic respondents, while the Republican percentage remained unchanged.
The shooting also may have modestly changed voters' minds about which party they most trust to handle gun issues. Prior to the shooting, Republicans had a 3-point advantage; afterward, Democrats gained a 1-point edge. While few members of either party budged, independent voters swung from giving the GOP a 17-point lead on the issue to giving Democrats a 6-point advantage.
It's less clear, however, whether the aftermath of the Orlando attack will directly benefit any presidential candidate, especially if it's framed as an issue related to terrorism rather than gun violence. Voters are somewhat more likely to disapprove of Trump's response -- 52 percent of those who followed news about the shooting disapprove of how he reacted, compared to 46 percent who disapprove of presumptive Democratic nominee Hillary Clinton's reaction. But 39 percent of voters say they trust Trump more than Clinton to handle the threat of terrorism, while 36 percent say the opposite. A solid fifth don't trust either candidate.
There's no guarantee that fears raised by the Orlando shooting will even last until the election. Far from reflecting an unprecedented sea change, the newest poll shows public opinion returning to about where it was after last year's shooting in San Bernardino, California. That attack, like a host of others before it, failed to produce much in the way of political change before the nation's concerns dissipated.
The HuffPost/YouGov poll consisted of 1,000 completed interviews conducted June 14 through June 16 among U.S. adults, using a sample selected from YouGov's opt-in online panel to match the demographics and other characteristics of the adult U.S. population.
The Huffington Post has teamed up with YouGov to conduct daily opinion polls.You can learn more about this project and take part in YouGov's nationally representative opinion polling. Data from all HuffPost/YouGov polls can be found here. More details on the polls' methodology are available here.
Most surveys report a margin of error that represents some, but not all, potential survey errors. YouGov's reports include a model-based margin of error, which rests on a specific set of statistical assumptions about the selected sample, rather than the standard methodology for random probability sampling. If these assumptions are wrong, the model-based margin of error may also be inaccurate. Click here for a more detailed explanation of the model-based margin of error.
Popular in the Community