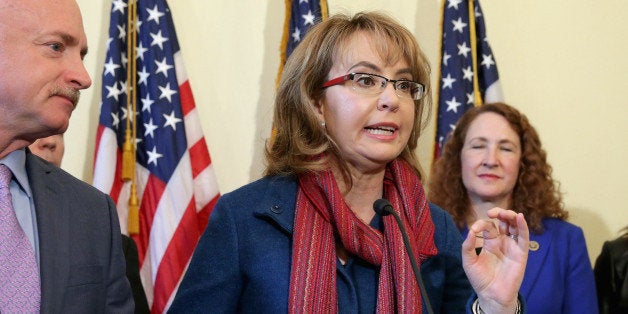 WASHINGTON -- Americans' overall appetite for stricter gun laws may have dropped since the Newtown shooting, but a newly released study shows that, more than two years later, public approval for many specific gun proposals remains strong.
Support for gun control as a general concept has been on the wane for years, as the issue has become increasingly polarized along party lines -- and while the 2012 mass shooting brought a pronounced spike, it soon receded. Gallup surveys found that the percentage of Americans calling for stricter laws on gun sales soared to 58 percent after the Newtown shooting before quickly returning to a near-low of 47 percent. A Pew Research poll conducted last December found that, for the first time in more than 20 years, the right to gun ownership was considered more important than gun control.
The authors of one study, conducted by the Johns Hopkins Bloomberg School of Public Health, worried the same might have happened to opinions on specific policies like background checks and a ban on assault weapons. In a previous survey, they'd found widespread public support for such measures -- but it was conducted two weeks after the shooting, when emotions were running high.
A follow-up conducted this January, however, found relatively little change in opinions. Eighty-four percent of Americans still favor requiring a background check system for all gun sales, while two-thirds or more favor policies such as banning the sale of large-capacity clips and semiautomatic assault weapons.
The largest change was a 10-point drop for prohibiting a person convicted of a serious crime as a juvenile from having a gun for 10 years, which remains popular at about 73 percent.
"Frankly, for me it was surprising to see that the results stayed so high," said Colleen Barry, an associate professor at Johns Hopkins and the lead author of the study. In 2013, she said, "there was a certain mood in the country at that point in the context of such a tragedy. Our survey results could have very easily reflected that mood in a way that wouldn't be stable over time."
The study found that when support did erode, it was mostly among Americans who didn't themselves own guns.
"I think the big takeaway from this study is that for a broad range of policies, we see high levels of support in the general public, and among both gun owners and non-gun owners -- and that the difference between those two groups is smaller than is typically communicated," Barry said.
Still, as the study's authors note, public opinion on those proposals hasn't translated into many legislative victories for the gun control movement. "Despite broad popular support for specific measures to keep guns from dangerous individuals, opponents of stronger gun laws have been more organized, singularly focused, and, until recently, better funded than supporters of these laws," they write in the Preventitive Medicine journal.
The Johns Hopkins poll was conducted Jan. 2-16 using the online GfK KnowledgePanel to survey 1,326 adults, including 524 gun owners.
Calling all HuffPost superfans!
Sign up for membership to become a founding member and help shape HuffPost's next chapter
BEFORE YOU GO
PHOTO GALLERY
Giffords Appears At Gun Control Hearing