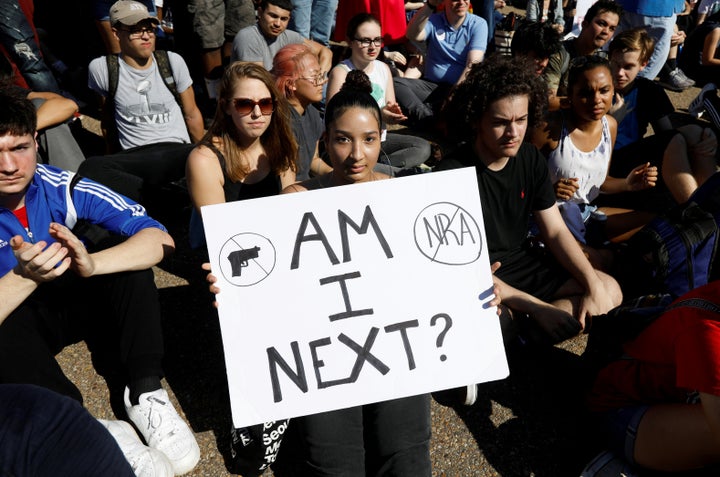 Dick's Sporting Goods is no longer selling military-style semi-automatic rifles like AR-15s ― the type of gun used in many recent mass shootings ― or high-capacity magazines, which enable shooters to fire more rounds without having to reload. The retailer will also stop selling any guns to anyone under age 21.
Walmart, which stopped selling military-style rifles in 2015, will no longer sell any guns to people under 21 and will pull items from its website that resemble military-style rifles, including toys and airsoft guns that shoot plastic pellets. Fred Meyer, which previously pulled military-style rifles from many of its stores, will now impose the same age restriction for all gun sales and ammunition.
These three companies alone make up a large portion of the gun retail market. Walmart, for one, is the world's largest retailer and has 5,358 stores in the United States.
But there are other large gun retailers that have gone silent since Parkland.
HuffPost reached out to several of them to see if they have any plans to change the way they sell guns along the lines of their competitors. None said yes.
Bass Pro Shops
Bass Pro Shops, one of the nation's largest privately owned companies, did not respond to a request for comment. Neither did Cabela's, which Bass Pro Shops acquired last year.
Both sell military-style semi-automatic rifles ― the type of weapon used in the Aurora, Colorado, movie theater massacre that left 12 dead; the San Bernardino, California, shooting in which 14 died; the Las Vegas shooting that left 58 people dead; and last month's Parkland massacre in which 17 died. Both companies also sell high-capacity magazines.
Bass Pro Shops and Cabela's have a total of 177 retail stores in the U.S. and Canada.
Academy Sports + Outdoors
The sporting goods discount store chain, which sells military-style rifles and high-capacity magazines, has no plans to change its policies on how it sells guns.
"We serve a broad base of customers, and outdoor sports, including hunting and shooting sports, are an important tradition and recreational activity for many of our customers and their families," said Elise Hasbrook, senior director of communications. "We are strongly committed to ensuring the legal, safe and responsible transfer of firearms. We follow all applicable regulations relating to the sale of firearms and regularly review our internal policies and processes to ensure our legal and responsible sale of firearms and encourage safe usage and ownership."
"As a Federal Firearms Licensee, we support the Fix NICS Bill to strengthen the background check system and require greater compliance with the law."
Academy Sports + Outdoors operates 240 stores in 16 states.
People angry about the company's inaction launched a petition on Tuesday calling on Academy's CEO, J.K. Symancyk, to stop selling military-style rifles. It had 9,135 signatures as of Thursday night.
Gander Outdoors
Gander Outdoors, which sells military-style rifles and high-capacity magazines, did not respond to a request for comment.
The outdoor retailer was acquired last year by Camping World after declaring bankruptcy. Camping World announced last month that it plans to open 69 Gander Outdoors retail stores by May.
Big 5 Sporting Goods
Christine Gleim, the senior vice president of Big 5 Sporting Goods, said the company stopped selling military-style rifles a couple of years ago.
"Big 5 made the decision to discontinue that product line in 2016, and the company no longer sells those rifles," Gleim said. "In 2016, Big 5 also discontinued high capacity magazines associated with those rifles. Big 5 has never sold bump stocks, slide fire or similar devices."
(The terminology around semi-automatic weapons can be very confusing. "Military-style" or "assault-style" rifles are used to describe guns like AR-15s, which are semi-automatic, which just means that a gun fires one bullet per trigger pull. But not every semi-automatic is modeled after a military weapon. The firearms industry says AR-15s are not "assault weapons" because they are not fully automatic, like a machine gun. Gun reform advocates say they are assault weapons because AR-15s are a semi-automatic version of the U.S. military's M16 rifle. Both have detachable magazines and a pistol grip. The AR-15 was included in President Bill Clinton's 10-year ban on assault weapons.)
Gleim did not indicate any changes to Big 5 Sporting Goods' gun sale policies.
Hyatt Guns
Hyatt Guns, which bills itself as America's largest independently owned gun shop since 1959, "does not plan to make any changes to our business plan going forward," said Justin Anderson, the shop's director of internet sales.
The Charlotte, North Carolina-based store sells military-style rifles and high-capacity magazines.
Gunrunner Auctions
Gunrunner Auctions isn't a retail store, per se, but it is a large online auction of guns. Its website says it sells nearly 20,000 firearms a year, ranging from Revolutionary War guns to modern-day handguns: "If it goes 'bang!' we've sold it!"
Owner Scott Weber said he will absolutely make changes to the way he auctions off guns in light of Parkland and other mass shootings ― he will try to sell more of them.
"I will be accepting even more semi-automatic firearms for sale!" he emailed. "The market will go out of sight. I figure if someone can go to war with firearms, then they can surely buy one when they get back at age 18!"
He had a lot to say about selling guns, so here's his full email response.
First of all, you MUST get your firearm terms correct if you are going to publish anything on this subject. There is NO SUCH THING as Dick's Sporting Goods selling "an assault rifle" because it does not exist. Rather it would be a termed a semi-auto rifle or semi-auto carbine. Also, there is no such thing as a "high capacity" magazine. Over 5? Over 10? Over 15? Over 20? Over 30? Over 90?

Kinds of firearms have nothing to do with these mass murders. Think about it: The SAME firearm that the school children call to save them is the SAME firearm that only some of the perps use.

Example: During a church murder spree earlier this year where members were caught unarmed, an NRA member with an AR-15 STOPPED the carnage by scoring three hits on the murderer and then chased him down in a truck until the perp bled out. So there is no such thing as a "bad gun" or an inappropriate firearm in the hands of a "good guy". Why would you ban a firearm? There is a Second Amendment in effect. Two, there are 450 million firearms in this country – nearly one for every man, woman and child!

My customers want the SAME firearm that the "bad guys" have so they can over-power them. I use my AR-15 for hunting and personal defense. The AR-15 started out in the civilian market, NOT the military.

I am sure I will have MANY MORE semi-auto rifles and semi-auto carbines offered on my online auction site because now EVERYONE will want one. When liberals attempt to introduce legislation for "bans" (no such thing as there are MILLIONS and MILLIONS of semi-auto rifles and semi-auto carbines in this country and NO ONE is going to "give up" any) they stimulate the market like never before. We always say Bill "Monica" Clinton was the world's greatest gun salesman ever with his "Assault Weapon Ban" (did not work whatsoever as production kept going with just a few cosmetic changes and it caused MILLIONS of Americans to arm up with them anyway – hence no one reinstated the "ban" – not even the most liberal of legislators), however Obuma was the world's best salesman (2016 there were 27.5 million firearm checks through NICS and way over that figure in private sales). A new record!

So will I make changes? Yes. I will be accepting even more semi-automatic firearms for sale! The market will go out of sight. I figure if someone can go to war with firearms, then they can surely buy one when they get back at age 18!

America's school teachers and staff MUST arm up. I am on the Cody School Board and we are currently putting through a policy that will arm our teachers and staff. We need the correct firearms to do this.

Good Americans will NEVER give up any kinds of firearms. Period. Rather they will more heavily arm up with mass murder sprees as reported by the media.

History clearly shows us this.

Best, Scott Weber, Gunrunner Auctions, Cody, Wyoming
Sears
This retailer shouldn't even be on this list, because Sears' policy is that it doesn't sell any firearms or ammunition. The only guns it does sell are "air guns/rifles that fire BBs and pellets," said Howard Rief, Sears' director of corporate communications.
But HuffPost found this military-style rifle for sale on Sears' website. It appeared to be for sale through a partnership with a third party, Nitro Gadget, but it still came up in a search on Sears' site.
A Sears spokesperson later told HuffPost it was a mistake and that the rifle was removed from the website.
"The third-party seller in question violated our Sears Marketplace terms and conditions which specifically prohibit the sale of firearms. We immediately removed the prohibited merchandise from the website. We will review this incident and strengthen our processes that enforce third-party seller adherence to our Marketplace guidelines."
Before You Go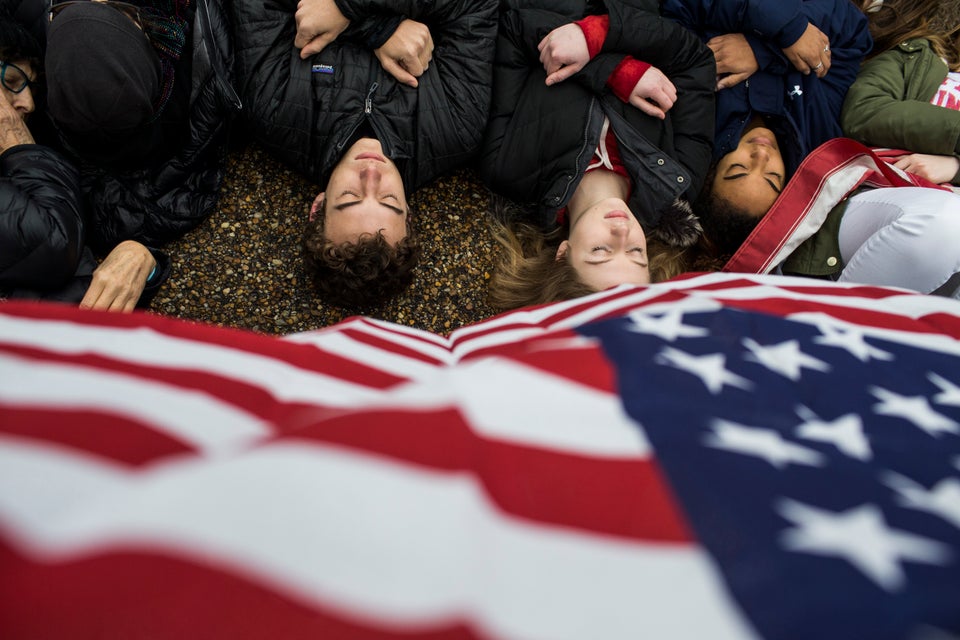 Students Protest Gun Violence At White House
Popular in the Community