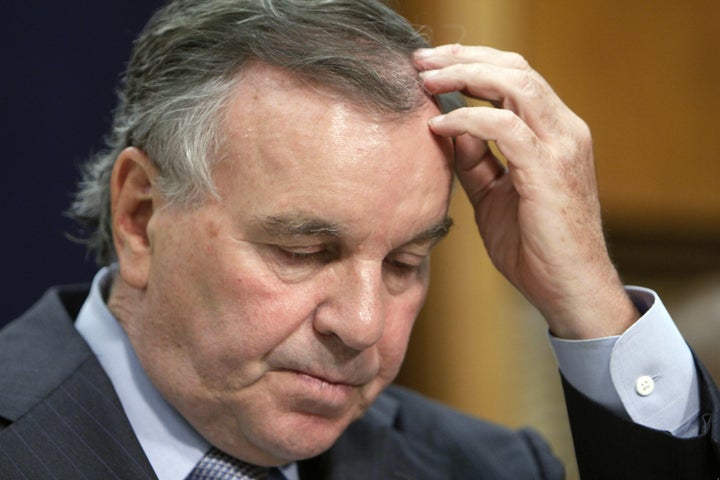 Gun rights advocates in Illinois filed a federal lawsuit against Mayor Daley and the City of Chicago Tuesday, claiming the city's gun ordinance--put in place following the Supreme Court decision that is expected to overturn the Chicago handgun ban--violates their rights.
In the lawsuit (download the filing here), the Illinois Association of Firearms Retailers and four Chicago residents claim that they should have the right to carry a handgun outside of their homes, and that the new gun ordinance, passed by the City Council last week, violates their constitutional rights.
The "Responsible Gun Ownership Ordinance" limits gun purchases to one per month, bans gun shops in city limits and prohibits gun owners from stepping outside their homes, even onto their porches or garages, with a handgun. It becomes law in 10 days, Corporation Counsel Mara Georges said.

...

The plaintiffs include Brett Benson, 37, a trader on the Chicago Mercantile Exchange who owns a farm in central Illinois; Raymond Sledge, 53, a public elementary school teaching assistant who owns his own home but lives with his mother, who lives near a high-crime area on the South Side, in order to take care of her; and a Chicago couple -- Kenneth Pacholski and Kathryn Tyler -- he works in aircraft restoration, she is a veterinarian. All the plaintiffs own multiple guns but keep them outside the city limits, the suit says.
Daley and the City Council rushed to approve the ordinance after the U.S. Supreme Court ruled that Americans have the right to have handguns anywhere for self-defense - making the city's 28-year-old ban on such weapons unenforceable.
Plaintiff Raymond Sledge's situation was explained in the lawsuit filed against the city on Tuesday:
The Sledge home is located just a few blocks from a high-crime area, and Mr. Sledge often has to travel through that part of town. According to the City Council representative for the area, Alderman Lyle, the neighborhood has a shortage of commercial establishments, and residents complain of high crime and poor city services. Since June 18, 2010, the following crimes have been reported within an eight-block radius of the Sledge home: battery, aggravated assault with a handgun, aggravated assault with a knife, and aggravated vehicular hijacking.

...

Both Mr. Sledge's house and that of his mother have been burglarized; in each instance the burglars broke into the garage and stole property. But a garage (attached or unattached) is expressly excluded from the statutory definition of one's "home,"... and therefore the Ordinance would criminalize use of a firearm to defend one's life, family, and property in one's own garage.
While the National Rifle Association did not join in on the city's lawsuit, they did issue a statement supporting the plaintiffs:
"The Supreme Court has now said the Second Amendment is an individual freedom for all. And that must have meaning," said Wayne LaPierre, executive vice president of the National Rifle Association. "This decision cannot lead to different measures of freedom, depending on what part of the country you live in. City by city, person by person, this decision must be more than a philosophical victory. An individual right is no right at all if individuals can't access it."
The plaintiffs want the new gun control ordinance to be declared "null and void."
Mayor Daley has repeatedly said he would do everything he can to limit the number of guns on Chicago's streets.
"As a city we must continue to stand up ..and fight for a ban on assault weapons .. as well as a crackdown on gun shops," Daley said last week. "We are a country of laws not a nation of guns."
Related
Popular in the Community