Candidates emerged victorious in dozens of pivotal races this week after running on platforms that included support for gun safety measures, and gun violence prevention groups are hailing those successes as a validation of their unprecedented election efforts, which included hundreds of endorsements and tens of millions of dollars in total campaign spending.
The issue of firearms was expected to play a role in the 2018 midterms, but it was unclear how important it would be. Although the gun safety movement has been growing steadily since the 2012 shooting at Sandy Hook Elementary School in Newtown, Connecticut, the massacre this February at a high school in Parkland, Florida, gave a surge of momentum to the cause. A new generation of young leaders emerged out of that tragedy, and current and former students crisscrossed the nation ahead of the election to register and mobilize voters around gun violence prevention.
In the NRA's home state of Virginia, Sen. Tim Kaine (D) handily defeated GOP nominee Corey Stewart, an NRA-backed county board supervisor and staunch defender of Confederate symbols and monuments. A short time later, Rep. Barbara Comstock (R) ― widely regarded as an NRA darling ― fell to Democratic challenger Jennifer Wexton in a battle for Virginia's 10th congressional district, which houses NRA's headquarters. Also in Virginia, Democrats Elaine Luria and Abigail Spanberger would go on to defeat GOP incumbents in their U.S. House races.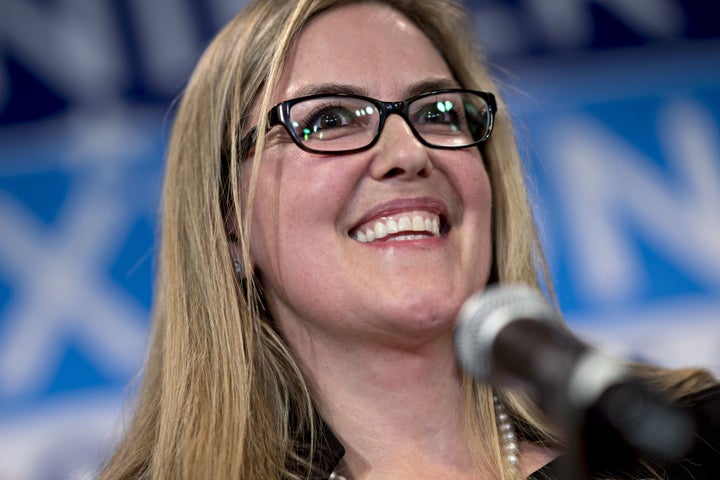 Kaine, Wexton, Luria and Spanberger all carried endorsements from leading gun safety groups, including the Brady Campaign to Prevent Gun Violence, Everytown for Gun Safety and the Giffords Law Center to Prevent Gun Violence.
Those organizations also backed Democrat Jason Crow, a U.S. Army Ranger veteran who toppled Rep. Mike Coffman (R) in Colorado. Crow supports a ban on assault-style rifles, and in January, he'll be sworn in to represent a district that includes Aurora, the site of the deadly 2012 mass shooting at a movie theater. The gunman there was equipped with a semiautomatic AR-15 rifle and high-capacity ammunition magazines, among other weapons.
In Texas, Democrats Colin Allred, Lizzie Pannill Fletcher and Veronica Escobar all won their U.S. House races with the help of gun safety groups. Allred defeated incumbent Rep. Pete Sessions (R), who had been a top recipient of NRA money over the course of his career. Gun safety advocates also claimed key House victories in other states, including California, Kansas, Minnesota, New Jersey and New York.
On Thursday, Democrat Lucy McBath won her House contest in Georgia, defeating a Republican incumbent in a traditional GOP stronghold. Gun reform was a major campaign issue for McBath, who became a prominent figure in the movement after her son, Jordan Davis, was fatally shot in 2012 by a white man complaining about him playing loud music in his car. With some races still too close to call at the time of publish, other advocates could still pick up more seats.
Brady, Everytown and Giffords also backed winners in U.S. Senate competitions. Democrat Jacky Rosen knocked out incumbent Sen. Dean Heller (R) in Nevada, and Sen. Tammy Baldwin (D-Wis.) fended off a challenge from Republican Leah Vukmir, who carried an A-plus rating from the NRA.
Gun safety advocates triumphed in gubernatorial races as well, with Democrat Adam Sisolak winning in Nevada, Democrat Tim Walz securing victory in Minnesota and Democrat Gretchen Whitmer defeating Bill Schuette in Michigan. The NRA had endorsed all three Republicans in those races. 
The cause of gun violence prevention also proved to be popular on the ballot, as voters in Washington state passed a measure to raise the legal age to buy semiautomatic rifles to 21, while also implementing enhanced background check, training and waiting period requirements for those firearms.
"Lawmakers will have to start proving that they're acting to stop gun violence in order to keep their jobs."

Shannon Watts, Moms Demand Action for Gun Sense in America
But Election Day didn't pass without disappointment for the gun reform movement. In Florida, young activists watched as Democratic gubernatorial candidate Andrew Gillum fell to NRA-backed Republican Ron DeSantis. Advocates could suffer another setback in the state's U.S. Senate race, though the tight contest between Sen. Bill Nelson (D) and Republican Rick Scott appears headed for a recount. And with the NRA endorsing candidates in hundreds of safer competitions across the nation, plenty of reliable pro-gun allies will be headed to Congress or governorships next year.
Still, to gun violence prevention advocates, Tuesday's results served as a clear sign that the intensity gap on gun policy has closed, and that the longstanding NRA stranglehold on the issue has been broken.
"Americans voting with gun violence in mind are voting for gun safety and against the NRA," said Shannon Watts, founder of Moms Demand Action for Gun Sense in America, an arm of Everytown, in a call with reporters on Tuesday.
Voters have grown tired of politicians offering the empty rhetoric of "thoughts and prayers" after national shooting tragedies, Watts added.
"Lawmakers will have to start proving that they're acting to stop gun violence in order to keep their jobs," she said.
With a Democratic-controlled House and new proponents of gun safety in Congress, Brady Campaign co-president Avery Gardiner expressed optimism that lawmakers would finally take action on key gun safety priorities.
"Expanded background checks, banning weapons of war, passing nationwide extreme risk protection orders ― at long last, all of these important measures will see a vote from a Congress committed to keeping Americans safe," Gardiner said in a statement.
Although the midterm elections mark a significant achievement for these advocacy groups, the work of stopping gun violence has only just begun, said former Rep. Gabrielle Giffords (D-Ariz.), who founded the Giffords Law Center after surviving a near-fatal shooting in 2011.
"When you're fighting to save lives, the stakes are simply too high to walk away," Giffords said in a statement. "Tonight's election shows, as Martin Luther King once said, that the arc of the moral universe is long, but it bends toward justice. We're committed to keep fighting for justice, no matter how long it takes."
This has been updated to reflect Lucy McBath's election win in Georgia.
Calling all HuffPost superfans!
Sign up for membership to become a founding member and help shape HuffPost's next chapter