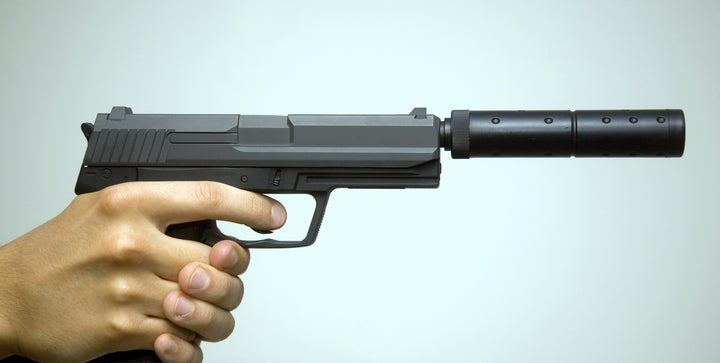 Fewer than 1 in 5 Americans support a GOP-backed push to weaken regulations on gun silencers, a new HuffPost/YouGov survey shows. But the majority of the public has also heard nothing about the bill.
For more than 80 years, silencers, also called suppressors, have been tightly regulated under the National Firearms Act. To obtain equipment covered under that law, buyers must first pay a $200 transfer fee, submit to fingerprinting and pass a federal background check ― a process that can take up to a year to complete.
Pending legislation in Congress would remove silencers from the National Firearms Act, allowing people to obtain them easily.
Just 18 percent of Americans favor changing the law to let people buy gun silencers more quickly and without paying a fee, while 68 percent are opposed, according to the survey.
Fifty-five percent said they'd heard nothing about the effort to loosen the restrictions.
The move to deregulate silencers lacks support even among some key pro-gun constituencies. Just 34 percent of those who voted for President Donald Trump are in favor of the change, while 52 percent of them oppose it. A majority of gun owners are also against it.
Forty-nine percent of Americans with a favorable view of the National Rifle Association say such restrictions should not be loosened, and only 38 percent say they should.
At the same time, the poll reveals that few people consider the current regulations too harsh. Just 11 percent say they believe the current law is too strict, while 39 percent say it isn't strict enough and 36 percent say it's about right.
Republicans have characterized the push to deregulate silencers as a matter of hearing protection for hunters and recreational shooters who regularly expose themselves to the blasts of high-volume gunfire. Silencers do not actually create quiet gunfire, but they make it safer to shoot without ear protection. Suppressed gunfire typically produces sounds of over 120 decibels, about the same as hitting a drum.
Under the current regulations, suppressors are rarely used in criminal activity. Opponents have raised concerns that making the devices widely available would lead to their greater use by criminals.
Those fears appear to be shared among the general public. Forty-five percent of Americans say deregulating silencers would increase crime, while 33 percent say it wouldn't have much of an impact.
The silencer measure is wrapped into a broader package of legislation, which had been expected to receive a vote in the near future. After the mass shooting in Las Vegas this month, however, House Speaker Paul Ryan (R-Wis.) said there were no plans to bring the bill to the floor.
Use the widget below to further explore the results of the HuffPost/YouGov survey, looking at the menu at the top to select survey questions and the buttons at the bottom to filter the data by subgroups:
The HuffPost/YouGov poll consisted of 1,000 completed interviews conducted Oct. 3-4 among U.S. adults, using a sample selected from YouGov's opt-in online panel to match the demographics and other characteristics of the adult U.S. population.
HuffPost has teamed up with YouGov to conduct daily opinion polls. You can learn more about this project and take part in YouGov's nationally representative opinion polling. More details on the polls' methodology are available here.
Most surveys report a margin of error that represents some, but not all, potential survey errors. YouGov's reports include a model-based margin of error, which rests on a specific set of statistical assumptions about the selected sample rather than the standard methodology for random probability sampling. If these assumptions are wrong, the model-based margin of error may also be inaccurate. Click here for a more detailed explanation of the model-based margin of error.
Calling all HuffPost superfans!
Sign up for membership to become a founding member and help shape HuffPost's next chapter