Speaking to a crowd of gun control activists and victims of gun violence Tuesday morning, Obama outlined his plan to implement stronger background checks in an effort to finally close the gun show loophole that allows purchasers to bypass background checks completely. 
Just ahead of his announcement, shares of Smith & Wesson and Strum, Ruger & Co.  -- both manufacturers of firearms -- saw a significant increase in shares, with Smith & Wesson shares up as high as 14 percent Tuesday, according to Market Watch and Google Finance.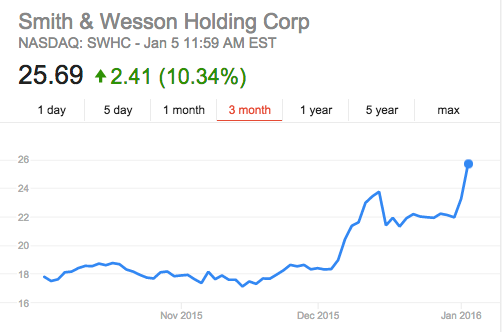 "You pass a background check, you purchase a firearm," Obama said in the East Room. "The problem is some gun sellers have been acting under a different set of rules."
Those rules included the ability to sell firearms at gun shows or on the Internet without conducting a background check on the purchaser, as long as the sellers declined to register as licensed dealers. Under Obama's new plan, all sellers of firearms will have to register as licensed dealers and conduct background checks. 
Rommel Dionisio, an analyst at the brokerage firm Wunderlich Securities, said the increase in shares is likely due to consumer fears that the government is trying to take away Americans' guns.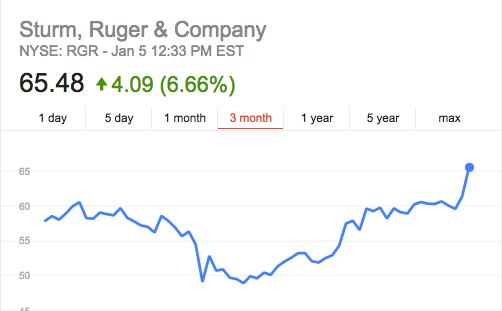 "The fear of gun control legislation prompts consumers to rush to buy certain classes of firearms," Dionisio said.
But it's not just fear of gun control that prompts buyers. New gun control measures are often called for after deadly mass shootings, which themselves push Americans to buy guns.
"When you see these mass shootings, it strikes fear into consumers' hearts," and notions of self-protection push them to buy guns, Dionisio added.
Shares for Smith & Wesson have risen 180 percent in the last 12 months, and Strum, Ruger & Co. increased 89 percent, according to Market Watch.
"We know we can't stop every act of violence, every act of evil in the world," Obama said. "But maybe we could try to stop one act of evil, one act of violence."
Calling all HuffPost superfans!
Sign up for membership to become a founding member and help shape HuffPost's next chapter