 According to the poll, 55 percent of Americans prefer that retailers and restauranteurs don't allow guns, while only 32 percent prefer that they do. The poll found a partisan divide, with a no-gun policy preferred by Democrats 72 percent to 19 percent, and by independents 48 percent to 34 percent. Republicans said they preferred establishments that allow guns 50 percent to 41 percent.
Sixty-four percent of gun owners said they prefer that businesses allow guns, but 63 percent of those who live in a household with someone who owns a gun and 65 percent of those with no guns in their household said they prefer the opposite.
The poll comes as a growing number of major businesses ask customers not to bring guns into their stores. Starbucks said last year that it would abandon its longtime policy of following the laws of the states where the store was located, instead asking customers not to bring guns. Chipotle made a similar move earlier this month. On Friday, both Chili's and Sonic announced that they would follow suit.
The new survey was conducted after Chipotle announced its new gun policy, but before Chili's and Sonic said they would do the same. By a 61 percent to 32 percent margin, most Americans said they approved of Chipotle's decision.
Many Americans would go further. Only 39 percent said they were in favor of open carry laws that permit gun owners to publicly carry their firearms in the first place, while 44 percent said they were opposed. Another 13 percent said they neither favor nor oppose open carry laws.
Here too, there was a partisan difference. Fifty-seven percent of Republicans and a 45 percent plurality of independents, but only 20 percent of Democrats, said they favor open carry laws. Sixty-eight percent of gun owners support open carry laws, but only 35 percent of those with a gun owner in the household and 28 percent of those with no guns in their household said the same.
The HuffPost/YouGov poll was conducted May 20 and May 21 among 1,000 U.S. adults using a sample selected from YouGov's opt-in online panel to match the demographics and other characteristics of the adult U.S. population. Factors considered include age, race, gender, education, employment, income, marital status, number of children, voter registration, time and location of Internet access, interest in politics, religion and church attendance.
The Huffington Post has teamed up with YouGov to conduct daily opinion polls. You can learn more about this project and take part in YouGov's nationally representative opinion polling. Data from all HuffPost/YouGov polls can be found here.
Before You Go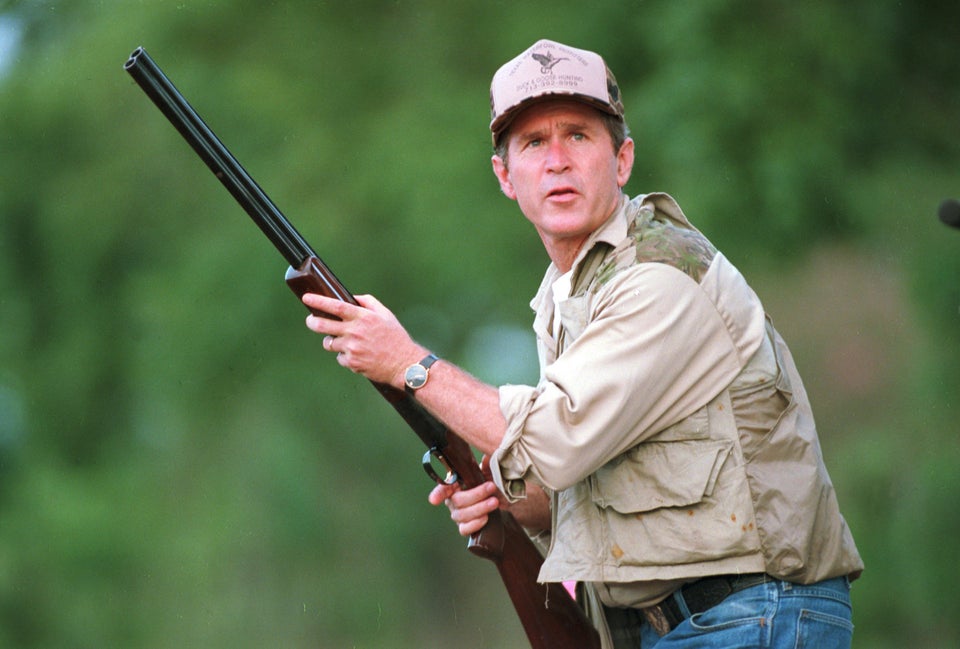 Politicians Holding Guns
Popular in the Community